Remember when cleaning was just a matter of soap and water and maybe some white spirit for difficult stains? Now you can spend hours just reading the bottles, trying to work out what's best for any surface, material or deposit. It can feel like that with stone sealants too, so we thought you'd find a quick rundown of what we've got on offer useful.
Dry Treat Meta-Creme
This non-drip, white/straw coloured cream is the easiest to use. Just apply a single coat using a foam roller or similar, leave for a minimum of an hour (or up to five, depending on the density of the stone) and polish off thoroughly. Depending on the porosity of the stone, it will cover between three and 10 square metres.
It's fascinating, state-of-the-art technology because the molecules, which as with the other sealants migrate through the stone after application, are hundreds of times smaller than those in the best competing fluorocarbon/siloxane sealers, and they continue to migrate and bond with the stone for an impressive 4-5 weeks. Water- and oil-repellency are adequate from Day One, but they increase significantly over that time, even on dense stones like polished granites w
hich those competing sealants barely touch.
The price is a bit higher than others we stock, and for this reason, as well as its low-VOC content (a world-first in impregnating sealants), we tend to recommend it for indoor use, though it can be used outdoors too. It carries a warranty of 15 years when applied by an accredited expert.
Dry Treat Stain-Proof and Stain-Proof Plus
Dry Treat Stain-Proof is our most popular sealant, and suitable for most natural stones in most situations, including floors, walls, swimming pool surrounds, patios, garages, kitchens and dining areas. It repels water and oil, can be used indoors and out, and is applied in two coats (sometimes three on a highly porous surface) with a low-pressure hand spray, brush or similar. Its molecules, like those in the Meta-Creme, are hundreds of times smaller than those in competing brands and so penetrate deeply. Application rate is around 1 litre per 2-25 square metres, depending on the porosity of the stone, and it carries a 15-year warranty when applied by the aforementioned expert.
Dry Treat Stain-Proof Plus is just like the Stain-Proof original, except it contains more active ingredient and so is ideal for really dense stone like marble, granite and quartz. Applied by an accredited expert, it carries a 25-year warranty.
Dry-Treat 40SK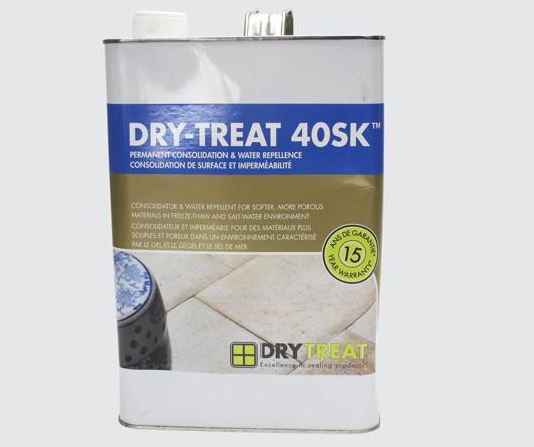 We only recommend Dry-Treat 40SK for more porous material such as sandstone and limestone, where it has a useful consolidating action that increases the strength of stone by up to 30%.  This helps create its penetrating water-repellent qualities and it's effective against damage by water and salts, giving excellent protection against efflorescence, spalling, picture framing and salt-spalling.  It's particularly suitable for salt-water environments; however, it's not oil repellent, and where oils and fats are likely to be an issue, it can be used in conjunction with Dry-Treat Stain-Proof.
Coverage works out at between 0.5 and four square metres per litre, depending on stone porosity, and application is made with a low-pressure spray or clean brush. It requires two coats, the second applied while the first is still wet to aid penetration. It's very important to remove all excess as, left on the surface for a time, it forms a white residue which is impossible to remove by chemical means. It carries a 15-year warranty when applied by (you've guessed it) an accredited expert.
Hanafinn Stain-Repella
Hanafinn Stain-Repella is useful for temporary treatment over winter to protect stone if autumn and winter weather prevent the use of Dry-Treat. Dry-Treat can then be applied in the spring. Water-based, it can be used in the damp and, for more porous surfaces, even diluted to a mist coat which doubles coverage. It offers effective oil and water repellency; however, this effect isn't permanent and, depending on the environment and usage, it will last about a year.
Don't forget to ask the experts
So, there you have it. This is only a quick overview of our different sealants but we hope it gives you a clearer idea of which one most suits your needs. However, we strongly recommend discussing the options with us, as we may spot something you haven't thought of. Our in-house pre-sealing service means that we have lots of experience with these products which we're happy to pass on to you.
And, having mentioned our in-house experts, don't forget that you can get all your stone pre-sealed before delivery to the site, or gain peace of mind from having our stone-sealing service carry out the treatment on-site for you.