Storm Ophelia, Storm Brian. We are used to getting high winds; now we get characters blowing across the country.  Either way, storms don't make landscaping easy. As for sealing stone, they make it pretty much impossible in situ at this time of year.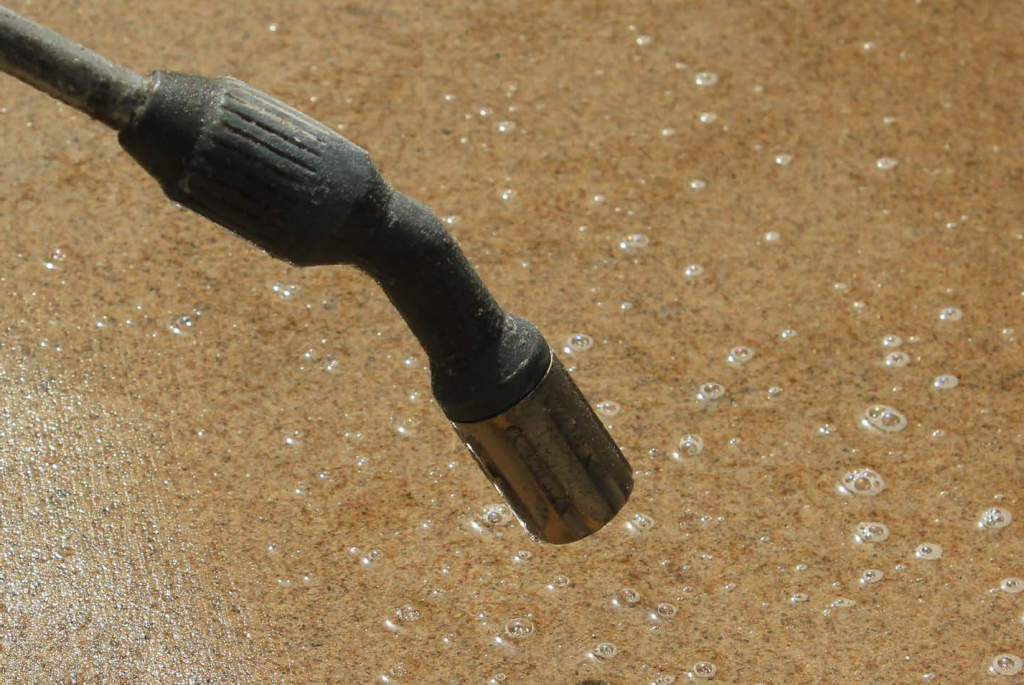 That's why, if you are laying natural stone and sealing it yourself, you need to plan ahead. Stone that's to be sealed needs to be bone dry; no 'ifs', no 'buts', no saying "That's probably dry enough". If it isn't totally dry, moisture in the stone will interfere with the sealing solution and compromise the results. The problem is that guaranteeing a dry spell at any time of year can be difficult, let alone as we head into November.
So, the first step is to find a way to keep stone under cover from the moment you receive it, to ensure it stays dry.
The second is to use a brush and light jet-wash to make sure all surface debris and dirt is removed. There's no need to clean it with a cleaning solution; that is only necessary if stone is being sealed some months down the line, after it has been laid.
Again, dryness is the key. Make sure the stone dries thoroughly after contact with water. At any time of year, we recommend leaving it for at least twenty-four hours, but now, when it's cold and the atmosphere is damp, it will probably take longer. It's worth remembering that even if it looks dry on the surface, you want to ensure any moisture deeper within the stone has the chance to evaporate.
Sealing requires two coats, applied evenly across the surface with a sprayer or roller. We highly recommend using Dry Treat Stain Proof, which in our tests, we've found to penetrate deeper than other sealants, impregnating stone as much as 6mm; but still allowing it to breathe. If you're laying dark stone such as Midnight Black Limestone or Blue Black Slate, you might like to consider Dry Treat Intensifia to enhance the rich colour.
Sealant should not be applied to the back or sides of the slabs (a small amount will cover the edges whilst applying; this is nothing to worry about) as it can compromise adhesion to the bedding and surrounding grouting. Nor should the slabs get wet while the sealant is drying. They should be left for a minimum of six-to-eight hours (possibly more during colder or damper weather), otherwise, the sealant might fail. Once this is done, the stone is ready for laying.
Although sealing is something that has only become more prominent within the last decade-or-so, it is strongly recommended now that natural stone, and sawn stone in particular, is so highly prized. It makes aftercare much easier, inhibiting stains, and helping your clients maintain the clean look of just-installed stone, as well as preventing unsightly efflorescence and picture framing.
And now that we've given you a quick run-down, you can see why we stress that sealing is carried out under cover. Not an easy ask for many projects. This is one of the reasons we offer our pre-sealing service, providing natural stone that is already treated, guaranteed, and ready to use, saving you the headache of dealing with the weather, shifting timetables and being sure you've done it right.
Alternatively, we're happy to come to your site and seal the stone for you at a suitable time. Just give us a ring or drop us an email to talk through our sealing options. Or why not visit one of our showrooms around the M25? There you'll also get to see how sealed stone has stood up to the heavy footfall of our outdoor show areas.