There's nothing much more satisfying that a complete transformation, which is what Outdoor Creations had to magic up recently in a small back garden in south-west London.
The client was a company director, wanting somewhere she could relax without needing to do a lot of work. When Kevin Peachman and team arrived from their Battersea headquarters, they found a neglected patch that you couldn't see the end of, it was so overgrown. It certainly wasn't a place you wanted to spend time in.
Before Outdoor Creations got started...
The immediate design challenge was, of course, the shape of the plot: long and narrow. The added complication of a sloping site, though, turned out to be a bonus, as the three levels subtly divide the space into a utility area, a space to sit and eat and, at the far end, somewhere to lounge and relax completely. Once the climbers have become established, the relaxation area will have a cool, green and calming leafiness.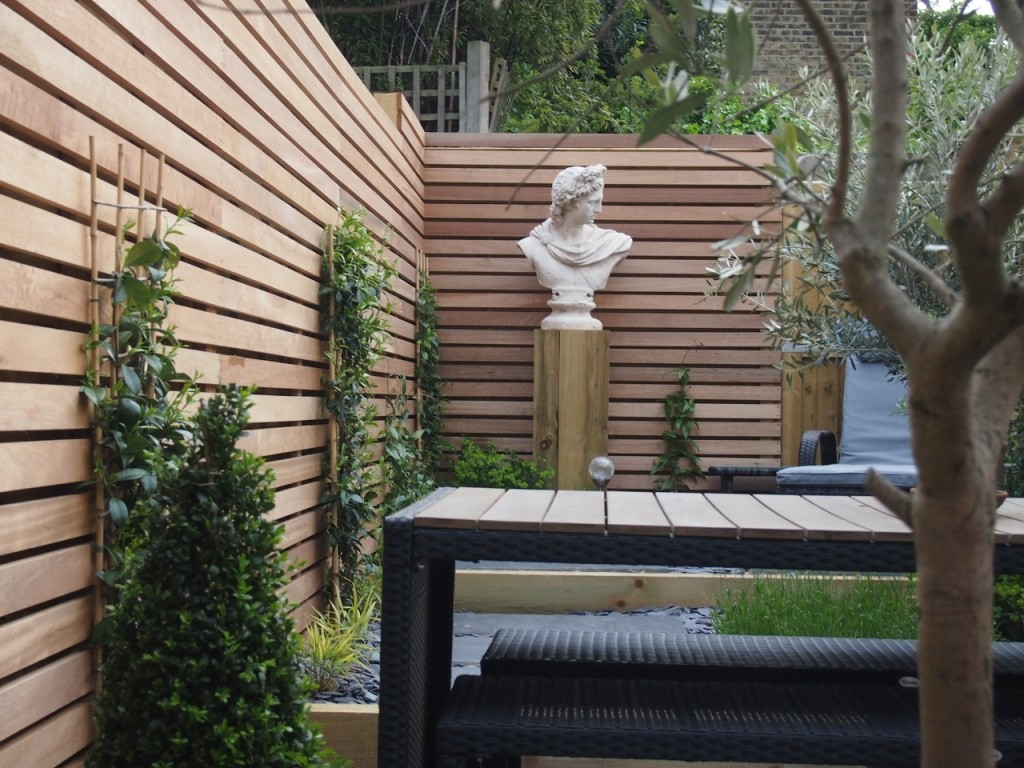 There's quite a classical feel, what with the topiary, the bust and the strong balance between the lines running down the garden and across, echoed in the chequerboard paving pattern.
The bust has a cunning dual purpose. Not only does it act as an eye-catcher at garden level, but from the windows above at the back of the house it creates a focal point, drawing the attention down and away from the busy mêlée of surrounding back gardens.
Of course, Blue Black Slate probably isn't the first stone you'd associate with a classical air, but that's why we think this is so clever. It adds a modern twist.
The slate's consistent colouring makes a great backdrop to the more structural planting, while its grey-blues set off the different greens of lavender, box and olive. The client also particularly liked the contrast with the rich colouring of the meranti panels, which has been carefully continued in the choice of furniture.
Long, narrow plots may be a challenge, but Outdoor Creations have shown it's one worth rising to.