If you're lucky enough to have a garden, you'll know how important it has been for your mental health over the last couple of years. While we're all getting used to being able to go out and fly abroad again, hopefully we've recaptured the appreciation of our outdoor spaces.
Since summer is right around the corner, it's time to start making plans to use that space again. One thing summer brings with it is longer evenings, so this month at London Stone, we thought we would talk you through some outdoor kitchen ideas. You don't want to be left behind when it comes to this growing trend here in the UK, so let's dive right in with a quick overview of what an outdoor kitchen is.
What is an outdoor kitchen?
A growing trend, and an appealing one during time spent at home recently, outdoor kitchens are exactly as they sound. While many of us are used to having a patio or having the odd barbecue in the garden, wouldn't it be nice to have the option all year round? An outdoor kitchen is a specially designed space that allows you to cook and entertain in your own back garden whenever you want.
Think of it as an extension of your living space, where you section off a portion of the garden to give it that feeling of practicality without being trapped inside. There are plenty of options to help you achieve this, some of which we'll come to shortly with our outdoor kitchen ideas.
Why are outdoor kitchens so popular right now?
Being forced to stay at home in the last few years has surely had an impact, but it seems that more and more people were already thinking about better ways to use their outdoor space when the weather allowed.
According to Google Trends, in 2016 people in the UK began searching the term 'outdoor kitchen' more than in previous years, with an interest rating of 18 out of 100 in May. That may not seem much, but it had jumped from 9 in the same period in 2015 and had never previously hit a higher rating than 10. From there, the trend has grown each passing year, before finally hitting a maximum rating of 100 out of 100 in April 2021.
Just as people's interest in the idea of a much more functional outdoor space to cook grew, so did the potential to tailor it. More and more options have come to market over the years, including materials and additional extras from specialist suppliers. In short, people were no longer reliant on what the local DIY or garden centre had to offer.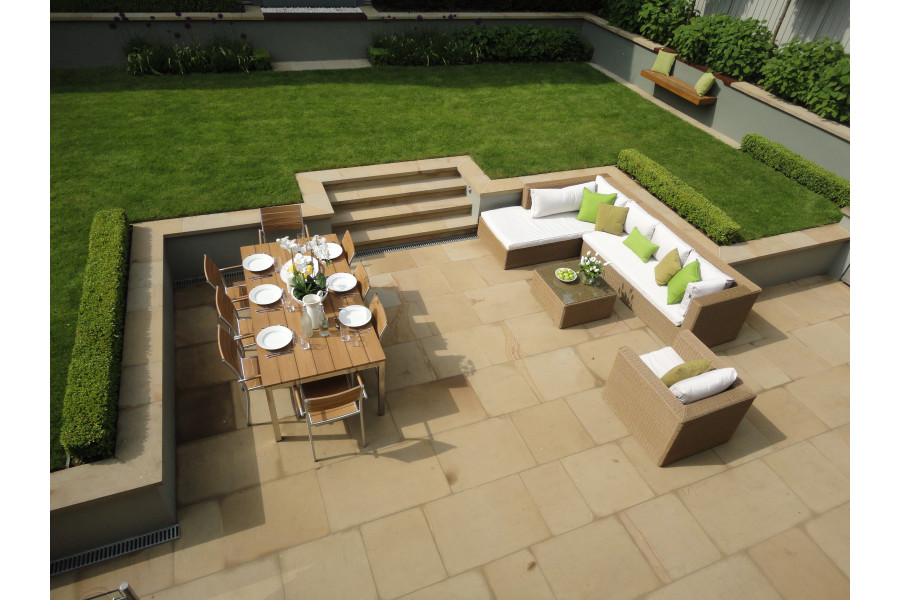 So, what are some of the options that make it so appealing? Let's take a look!
Materials and design ideas for outdoor kitchens
In order to create a space you'll keep going back to, it's worth investing in quality materials. Here are just a few of the areas you should focus on:
Paving
A great way to signpost different areas of your garden is to switch up your paving. By using our porcelain paving, you get a stylish finish and something a little different for your flooring. Clean and contemporary, it's also non-slip, making it practical for an outdoor kitchen space.
Seating
From simple rattan garden furniture options to full deluxe dining sets that give you that indoor feeling, it's worth considering seating areas that can accommodate you and your family for eating and drinking outdoors. However, you can opt for more permanent installations with benches and seating areas created using porcelain tiles or red cedar battens. This way, all you need to do is add tables and you'll always have a dedicated seating area.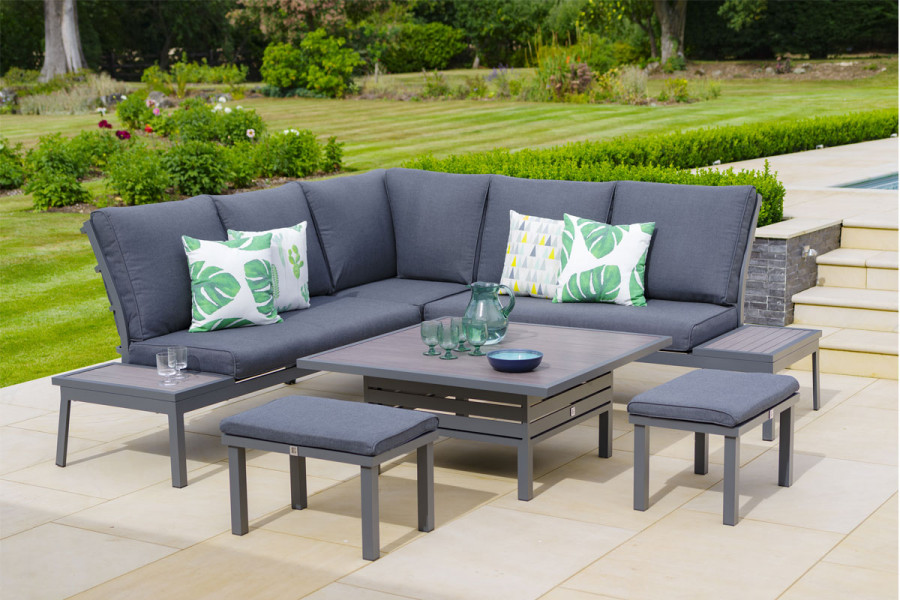 Heating
Adding outdoor heating can ensure you maximise the time spent in your new outdoor kitchen. Whether it's late in the evening or just isn't warm enough to be outdoors comfortably, some overhead heaters or freestanding heaters can keep you comfortable as you relax or entertain.
Privacy
Take a look at our previous post on privacy options for your garden if you want to enjoy more time in your outdoor kitchen without being overlooked by neighbours or passers-by.
Cooking
We've come a long way from the humble charcoal barbecue these days, with integrated grills and ovens allowing you to really make the most of your space outside. If you don't want to commit to a full kitchen, you can always add a stylish pizza oven to ensure you can create something unique for guests at a moment's notice.
Now that you've got some ideas about how to shape and create your outdoor kitchen, why not browse our full garden furniture and pergola options to add the finishing touches? You can also find all the high-quality natural stone and paving you need to make your outdoor kitchen so stylish that all the neighbours will want an invitation. Alternatively, why not visit one of our showrooms to view and feel our paving and outdoor living options for yourself?