Summer is coming up fast, and that means that anyone with a garden will be trying to spend more time in it, soaking up the good weather. But with that additional time in the garden comes the need for privacy. Whether or not you get along with your neighbours, sometimes you just want some peace for yourself and your family.
Plus, if you've got the option to work from home on a more permanent basis, the temptation to work outside while the sun is out might mean you want a little more privacy during the core hours of your day.
While it's impossible to get full privacy in your back garden if you're connected or overlooked by bordering properties (especially when you live in a mid-terrace house) and any public footpaths, there are some options to limit the view into your space.
Here are just five of our ideas for protecting your privacy in the garden:
1. Pergolas
We've touched on the fantastic benefits of pergolas in previous pieces, but when it comes to creating a slice of personal paradise with a little more privacy, they're certainly ideal. With louvred roofs featured in our Nova pergolas, helping to block out views into your garden from overhead, or the adaptable side blinds on our LG pergola, you can enjoy your outdoor space in peace by yourself or with guests.
2. Fencing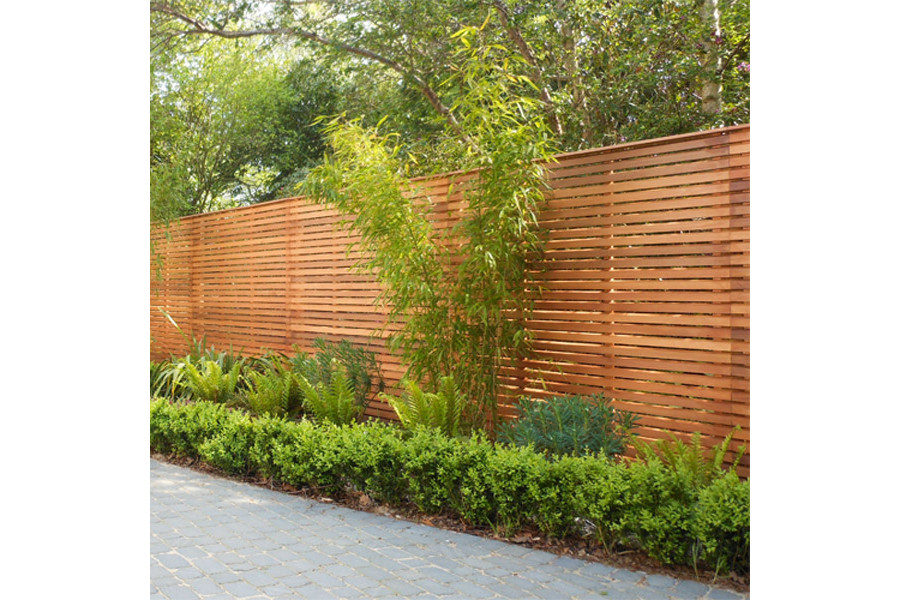 The tried and trusted method of creating a buffer between yourself and your neighbours is through fencing. Most homes with a garden will utilise fencing, but have you thought about the different styles to choose from, depending on your needs?
Slatted fencing - Giving you the same height as your normal fence but still allowing light to filter through. Slatted bevel-edged fence panels are a great example of a product that creates a less intimidating border. Check out Contemporary Fencing for a great range.

Privacy fencing - With slats placed against to each other, this creates a solid border, maximising privacy.

Lattice-topped fencing - This gives you the best of both worlds - large panels but some latticing at the top - so you can still communicate with your neighbours when you want to. Try horizontal lattice top fencing panels for this look.
3. Screens
Screening for privacy has been popular throughout the ages, so there's no reason you can't implement a screen within your garden to give you the same level of privacy. If it was good enough for royalty in ancient times, then why not now? We have a full range of garden screening battens so that you can shield a section of your garden to enjoy privately. These can be situated anywhere in your garden and can even be used to give you privacy from neighbouring gardens on a lower level compared to your own.
4. Living Walls
Whether you choose to buy a living wall system for a little extra cover, create your own with climbing plants on lattice fence panels or plant rows of bushes, trees and shrubs to give you a full, natural barrier for privacy, using nature itself strikes the perfect balance. You can even create the latter through rows of planters if you have a paved area you want to section off.
Plus, when you take this approach, you're not necessarily saying to your neighbours that you don't want to be friendly, it simply looks like you're cultivating a green and colourful garden while getting the much-needed privacy as a result!
5. Gazebos
Looking for something more versatile and temporary for privacy when you have guests or family over? Then a gazebo could be the perfect option. Choose the simple pop-up gazebo, which gives you coverage overhead, or add side-walls to give you some reprieve from any neighbours or public footpaths to the side of your property.
So there you have it. From the robust and permanent shielding your space to temporary or nature-driven borders, you can get privacy in your garden in many ways. At London Stone, we have a whole range of products available right now to help you get your garden ready for the summer months and beyond. Browse our fencing and screen options or take a look at our outdoor living section to find the perfect privacy products for your garden.