Following-on from Part 1 of this two-part blog series from the RHS Chelsea Flower Show 2018, we're going to take a look at the Trade Stands and RHS Features for which London Stone provided hard landscaping materials for.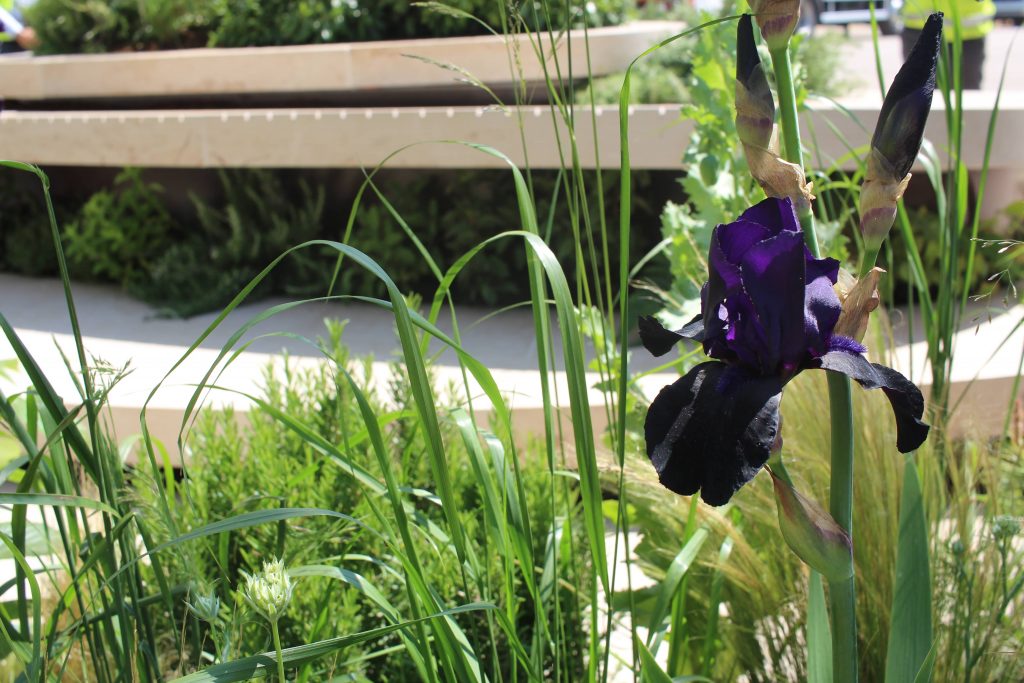 An Iris provides a splash of colour in the RHS Feel Good Garden 
Oak Leaf Gates Trade Stand (5*) - Gea Porcelain
Sitting prominently on Main Avenue at the Oak Leaf Gates Trade Stand, Porcelain had been chosen for the first time over the usual natural stone, with the sandblasted texture and beige tones of Gea creating a backdrop for the planting.
Oak Leaf Gates celebrated exhibiting at the show for twenty years!
"We were looking to do something a little bit different and it's got its own nice natural-looking character," said Jonathan Woodcock. Early suspicions that, because it was Porcelain, it might be slippery were quickly allayed. "I'm a bit converted to Porcelain," he added, "its preciseness and ease. It was absolutely brilliant, and went down well."
Bramblecrest Trade Stand (5*) - DesignBoard
Natural Green Creative Spaces designed-and-built Bramblecrest's Trade Stand. They too, had been looking for something a little different to the norm, and went as contemporary as you can with our DesignBoard in Silver and Traditional.  "We had wooden tiles before," said Tim Pennell. "This has a fresher look, sleeker. It's very nice." The DesignBoard gave the perfect colour and texture palette to Bramblecrest's wonderful outdoor furniture.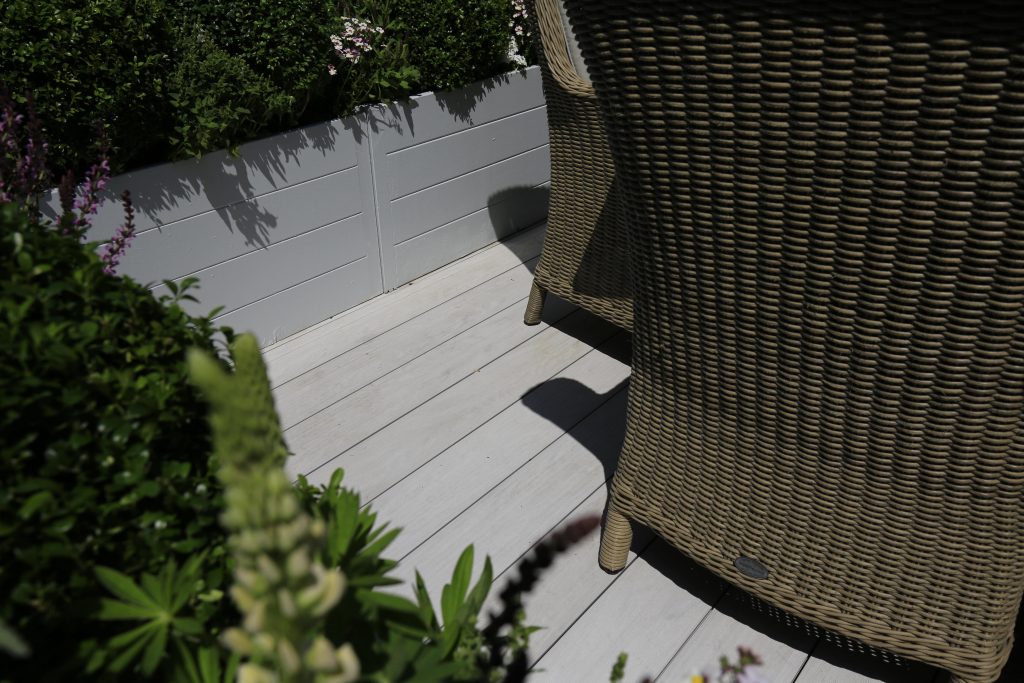 Bramblecrest use DesignBoard Silver and Traditional at RHS Chelsea 2018
Wallgarden Trade Stand (5*) - Jura Grey Limestone
A Trade Stand which really caught the eye was The Wallgarden Trade Stand, another design from Sarah Eberle.
Together she and owner Nadine Charlton chose Jura Grey Limestone. "Loads of people - designers passing by - have been asking about it," said Nadine.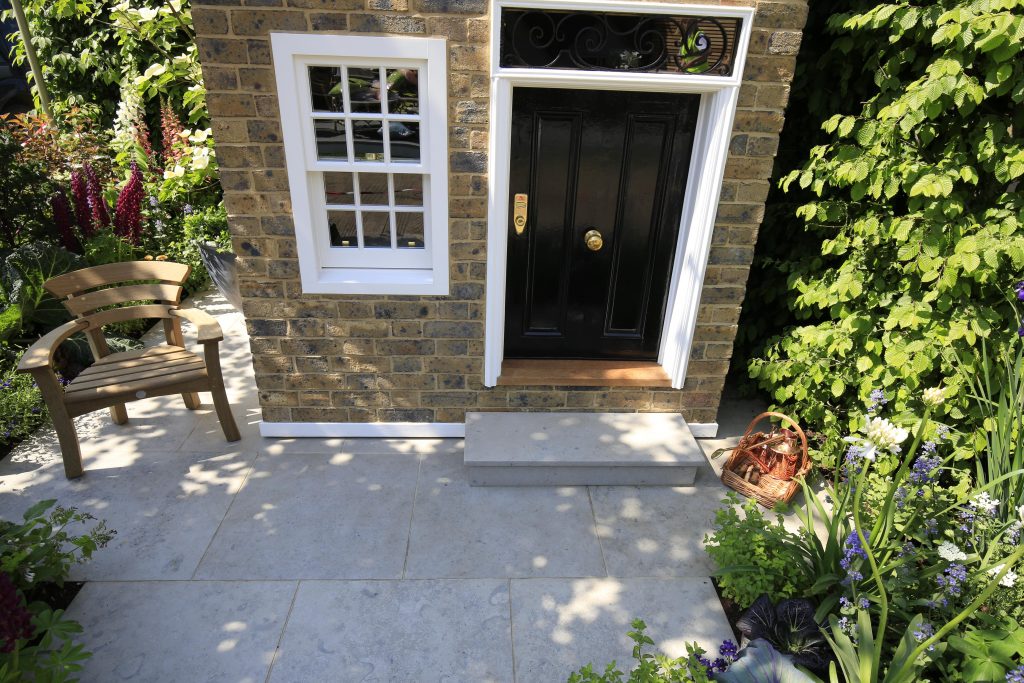 Much more than just a Play House - Sarah Eberle with Wallgarden
Cleverly the design, which complemented her bespoke children's playhouse, used a mix of paving sizes "to play with the scale". And we're delighted that Nadine has chosen us to supply the paving that is offered as an option to purchasers. "I wanted something a bit different," she said. "I'd not come across it before and it blends contemporary with traditional perfectly."
Space to Grow Visitors' Zone
Over in the Space To Grow area (designed for visitors to take five and relax in), it was the contrast between Beige Sawn Sandstone and Blue Grey Granite Planks that made designer Rae Wilkinson use them.
Space To Grow - Visitor's Zone by Rae Wilkinson & Living Landscapes
"The narrower units of the granite planks give a visual flow into the space and lead people in," she said, "and I really like the blue-grey of the granite. It has a lovely finish."  The Beige Sawn Sandstone was used to give the paths a very different feel, creating a complete contrast in direction of lay, size and colour. The area was expertly built by RHS show veteran, Tecwyn Evans of Living Landscapes.
RHS Feel Good Garden
Don't worry, we're nearly there! By now you're probably wondering what's happened to that 'feat of engineering' from Part 1 of this mini-series of blogs! Well, last but certainly not least was the RHS Feel Good Garden, and that's exactly what Cam Wilson of Rosebank Landscaping called it.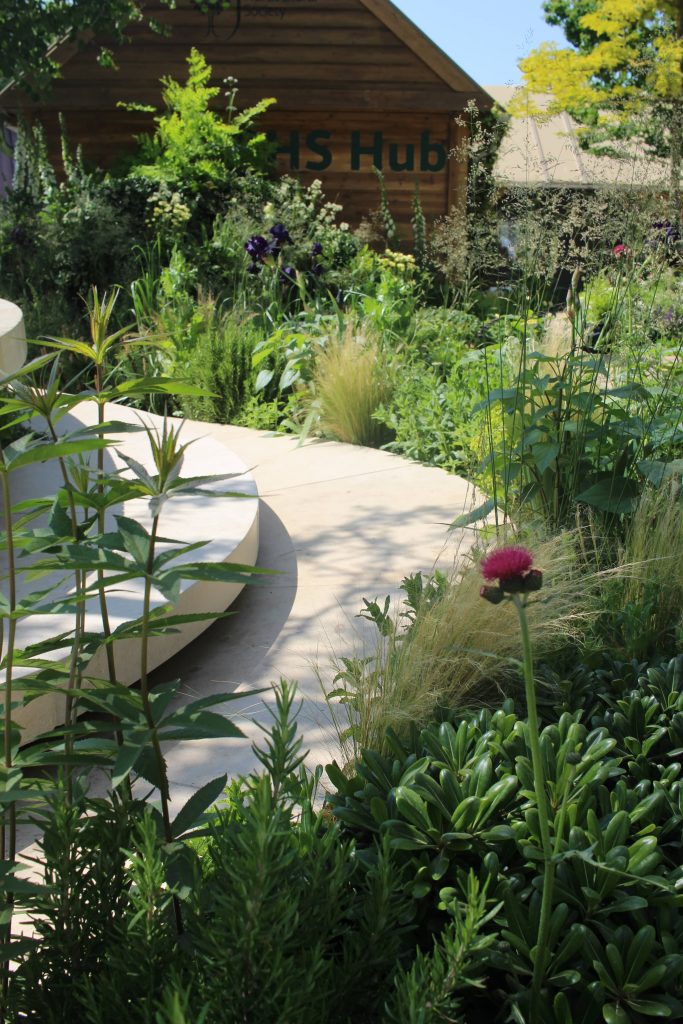 Luscious green planting by Matt Keightley
Designed by Matt Keightley, the garden is a repetition of the Health and Wellbeing Garden he's created for Wisley, due to open in 2020. "The main reason," he explained, "was to create something fun and interactive, with decent vantage points around the garden and landscape, and views that you wouldn't otherwise have."
Providing this vantage point, with changing views, was, added Matt, "a supersize cantilever that physics shouldn't allow." At Chelsea, this translated into a feature made up of layers of cantilevered circles at different angles, so that a walkway translated into a bench as you moved round. The circles sit on a steel structure that creates the tilt in the different layers. Each circle was made of large sections of stone, joined together with resin. "The resin made it possible," said Matt. "It was suggested by London Stone, and is three times stronger than the stone itself."
Irregular shape and thickness create interest in the RHS Feel Good Garden
Rosebank Landscaping were in charge of the build. "It caused a few headaches," said Director Cam Wilson. "The circle, start-point to end-point, had to be exactly as planned; there was no margin for error." With nothing level and not in standard geometric shapes, the biggest challenge offered by the 100mm thick levels was the cantilevers. "There's a huge overhang," said Cam, "with every stone joined to another."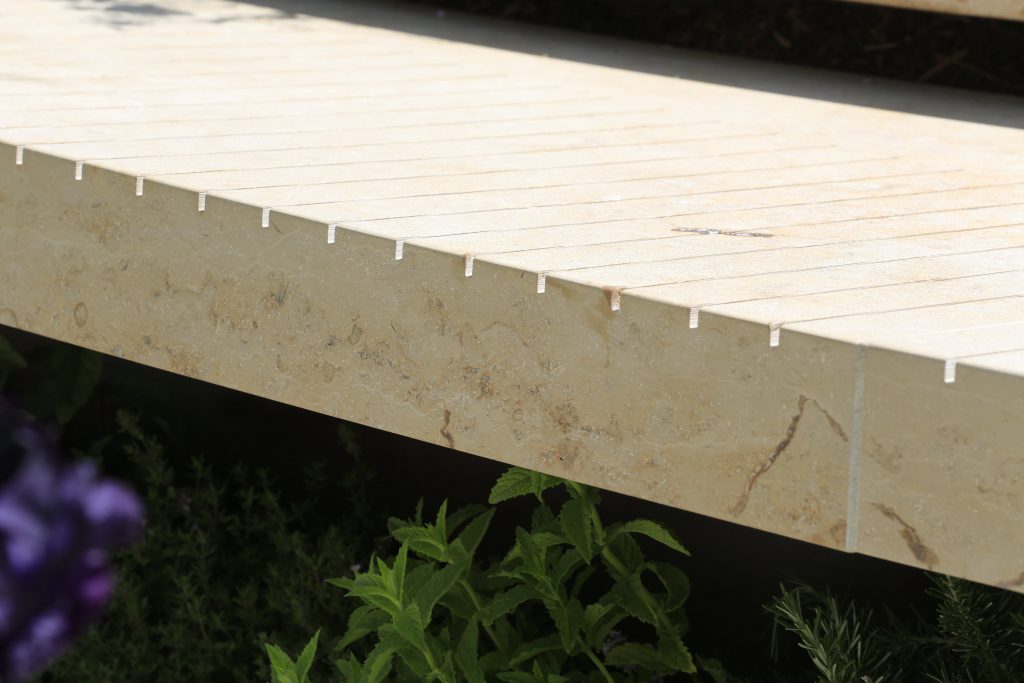 The devil is in the detail; texture added by London Stone at our Bespoke Stone Centre
So how did it go? "This was so one-off, we couldn't predict what would happen but it was unbelievably smooth," said Cam. "No hiccups, just some very minor adjustments."
It was a fascinating project for London Stone too, as it's very different from anything we've had to produce before. As you know, we love a challenge. "It was unbelievably complex," added Cam, "but the moment Gavin (Walley) saw it, he was relaxed about it. And Piotr (one of our Design Project Managers) notices the smallest discrepancy that will have the biggest consequence."
This was another starring role for our Jura Limestone, this time in Beige. "It's got a bit of warmth to it," said Cam. "Greys can be quite negative, but this has lots of interest that go with the greens, purples and whites of the planting."
"The amount of labour-hours that have gone into the design and actual manufacture is just remarkable," said Cam.
Dappled shade creates the perfect spot to take the weight off at Chelsea 2018
"Matt can design something as daring as he wants, because he's surrounded by the right people who can do what he wants. I can't remember when we went to anyone else - every single garden where we use stone, we use London Stone. This was delivered as promised. It's been a breeze; as-if it had been delivered off-the-shelf."
That's just the sort of praise we live for, and we're thrilled the project came together so well. The garden isn't going to waste, either. It's being relocated to the Camden and Islington NHS Foundation Trust for patients and staff to use.
So there you have it; the energy, excitement, stress and fun of Chelsea is over for another year. Time to start planning for 2019!
#ThisIsLondonStone
#OneIndustryUnited