Urban Landscapes introduce London Stone products to the North West, and we look at what that means for garden design and hard landscaping in the area.
Urban Landscape Design's London Stone Concession - display area
It doesn't all happen in London. Though you might not think so, given TV coverage of Flower Shows at Chelsea and Hampton Court, as well as media coverage of UK events generally. It's a balance we wanted to play our part in redressing as, with our showrooms positioned in-or-around the M25, we've been pretty London-centred ourselves. Of course, we deliver stone around the country (free delivery on sawn stone and porcelain orders over £500), but if you wanted to see any of our hard landscaping incorporated into a design, it was a bit of a trek!
No longer. If you're in the North West, you can now view our products at Urban Landscapes, Great Barrow, in Chester. After the recent launch of their new show area, you'll now find many of our products showcased in a design format, (rather than just in a display area), to give inspiration on how they can be used. You can order direct from Urban Landscapes, too.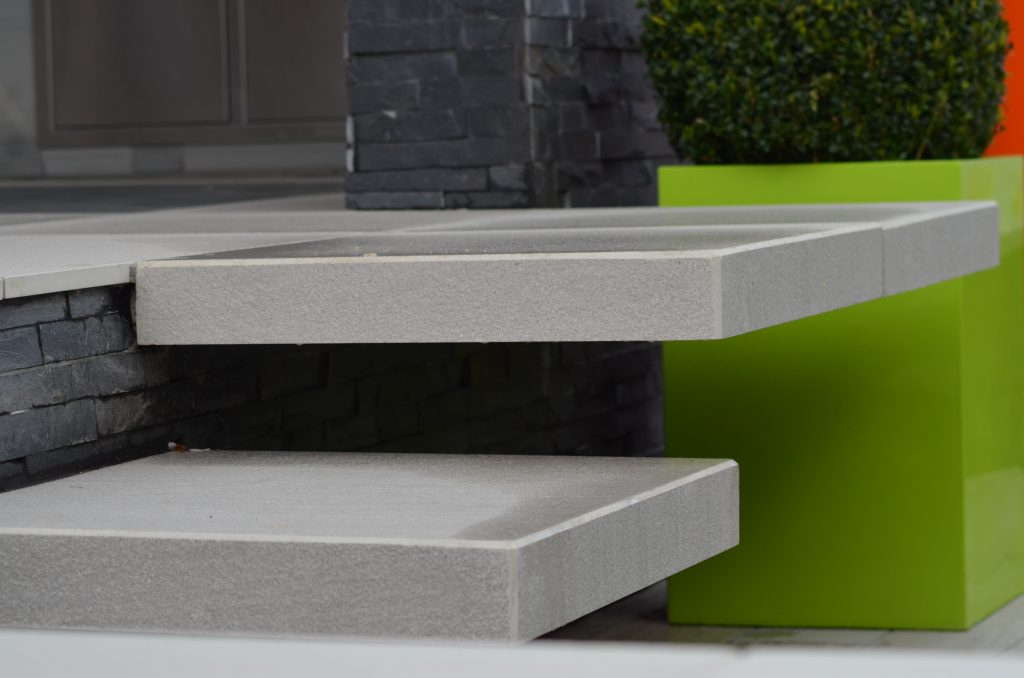 Floating Urban Grey Porcelain Steps, finished with a downstand edge
Of course, finding a partner you're happy to settle down with isn't always easy - not just in business! But in Holly and Mark Youde, founders and Co-Directors of Urban Landscape Design Ltd - established thirteen years ago - we've found collaborators who share the London Stone philosophy of providing outstanding service and quality products. "We had seen Steve (Walley) and Craig (Potter) at various industry events, and had spoken a few times," says Creative Director Holly. "We hit it off, the possibility of working together was discussed, and here we are now!"
Mark's been in the industry all his life, has built many gardens and outdoor areas for clients, knows what is achievable, and is happy to advise customers. Holly, an experienced garden designer in her own right, has a passion for hard landscaping, and a love of discovering new trends within the industry.
"I enjoy offering a unique, fresh and, above all, professional approach to our customers," says Holly. "Our set-up means a designer can bring their client and have a meeting on site to discuss their plans and we can have as much or as little involvement as the designer requires. The designer or contractor can also send their client directly to us, knowing that they'll be looked after by knowledgeable people from within the trade."
(l-r) Holly Youde, Steve Walley, Mark Youde
Included in Urban Landscapes' show area is DesignClad, DesignBoard, our Jura Limestones, and a selection of our Porcelain and sandstone copings. "We've used DesignBoard and DesignClad," explained Holly. "They're unique products and haven't yet reached their full potential.  Our design team are coming up with innovative ways to use them all the time. We think DesignClad particularly is a game-changer - just look at how many designers were using it at Chelsea this year, with more to come at shows later this year!"
We're not only delighted to be working with Holly and Mark, but also to have a physical presence in this part of the country. We met so many designers and landscapers when we were a headline sponsor of the Pro Landscaper Live event in Manchester last year, but well before that we knew that the North West was home to some of our industry's very best designers and landscapers and we've been bowled over by the enthusiasm for our materials in the region.
Contemporary Grey Sawn Sandstone Coping, sitting atop Steel Corten DesignClad
We're pleased to say that the guys at Urban Landscapes feel the same. "London Stone's selection of products is far superior and unique to any other," says Holly. "There is nothing we don't like, and when customers see it they are blown-away."
Well, we're not going to argue! Why not build a visit to Urban Landscapes' new show area into your schedule this summer? It's only forty-five minutes from RHS Tatton Park!