For London Stone, the RHS Chelsea Flower Show 2018 was the busiest year yet, with thirteen projects in all: eight gardens, spread across all three categories, plus three trade stands and two RHS show features, including the RHS Feel Good Garden.
Part of the RHS Feel Good Garden; more on that tomorrow!
The David Harber and Savills Garden
First up, in the Show Garden category, was The David Harber and Savills Garden, designed by Nic Howard and built by Langdale Landscapes. The garden told a narrative to make the visitor reflect on our evolving relationship with the environment.
Free-form, naturalistic planting with granite chipping paths moved into increasingly more developed materials and plants till you arrived at 'Aeon', a dramatic sculpture representing earth's energy, set against a contemporary planting scheme and two of the most sophisticated hard landscaping materials on the market; Porcelain and DesignClad.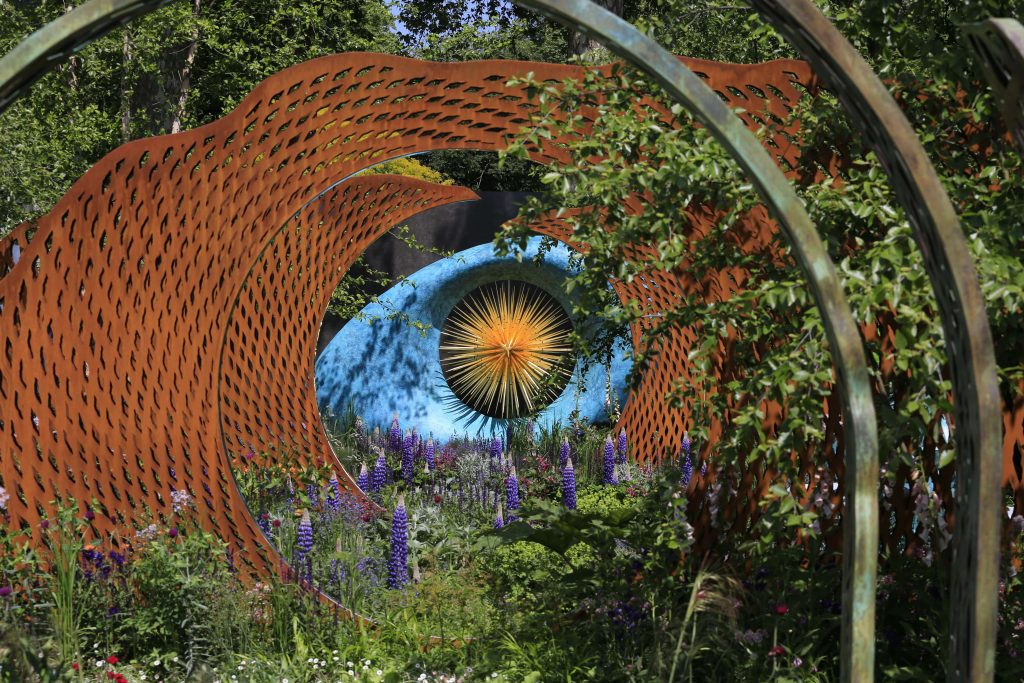 A celebration of the spectacular; the David Harber And Savills Garden
The smoky tones of Vulcano Roca - loved by Nik Edser of Langdale Landscapes for its character and depth - were paired with Kirkby Porcelain, which evokes the famous blue-grey Cumbrian slate. "It's got really lovely veins in it," added Nic.
Nic Howard said, "This was the first time I'd used Kirkby, and it's lovely. Goes with the garden and nice in combination with the DesignClad." The RHS judges awarded this spectacular garden a Bronze medal.
'Aeon' By David Harber set against DesignClad Vulcano Roca
Silent Pool Gin Garden
Meanwhile, designer David Neale's Silver Gilt-and-People's-Choice-winning Silent Pool Gin Garden, in the Space to Grow category, used Steel Corten DesignClad to give a completely different feel. David clad the boundary walls with 1 x 1.5m panels and added shadow gaps. "That's just a bit of detail," he explained, "to match the expansion gap between the timbers in the decking. The contrast between the Dry Stone walling and DesignClad works really well," said David.
This was the first time he'd used the material. "I saw it for the first time here at Chelsea last year when it was etched [McWilliam Studio's Gold-winning Breaking Ground garden]. It works well with shadow and movement and the play of light from the trees."
David also used the Corten Steel DesignClad in the water feature.
A citrus peel sculpture sits atop a  Steel Corten DesignClad covered water feature
Part of the remit for the Space to Grow gardens was to provide ideas that visitors could use in their own gardens at home. "DesignClad fits this category very well," said David. "It's a really useful material to cover walls."
Urban Flow with Thames Water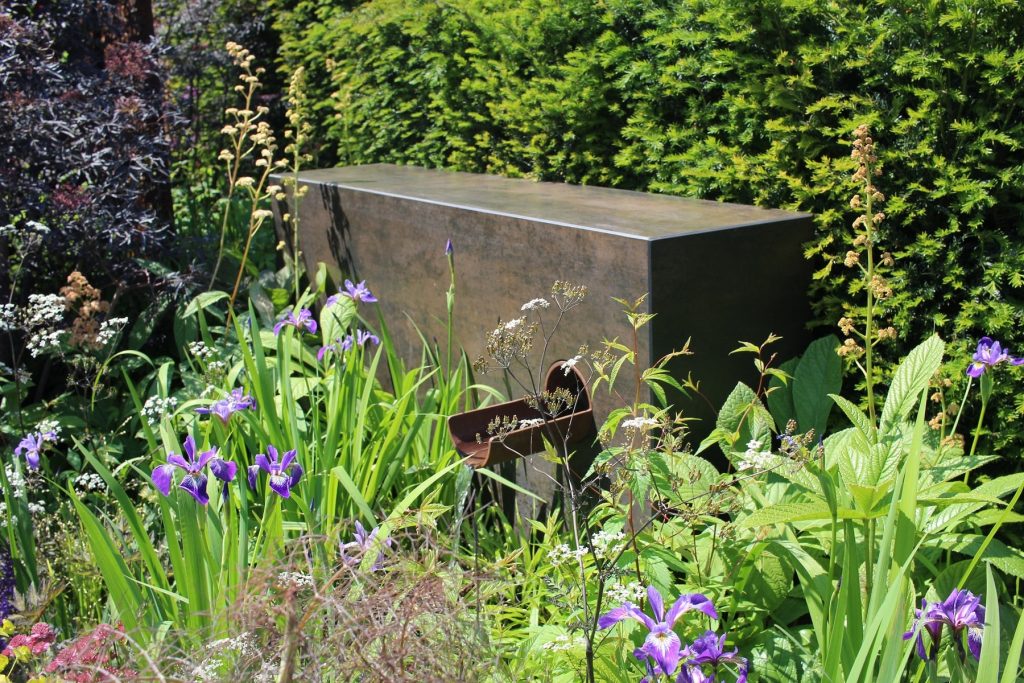 Re-cycling rain water to create a stunning DesignClad water feature
Just down the path from The Silent Pool Gin Garden was Tony Woods' Urban Flow with Thames Water masterpiece. He'd plumped for the darker tones of the Steel Dark DesignClad, used in conjunction with stunning cor-ten steel metalwork.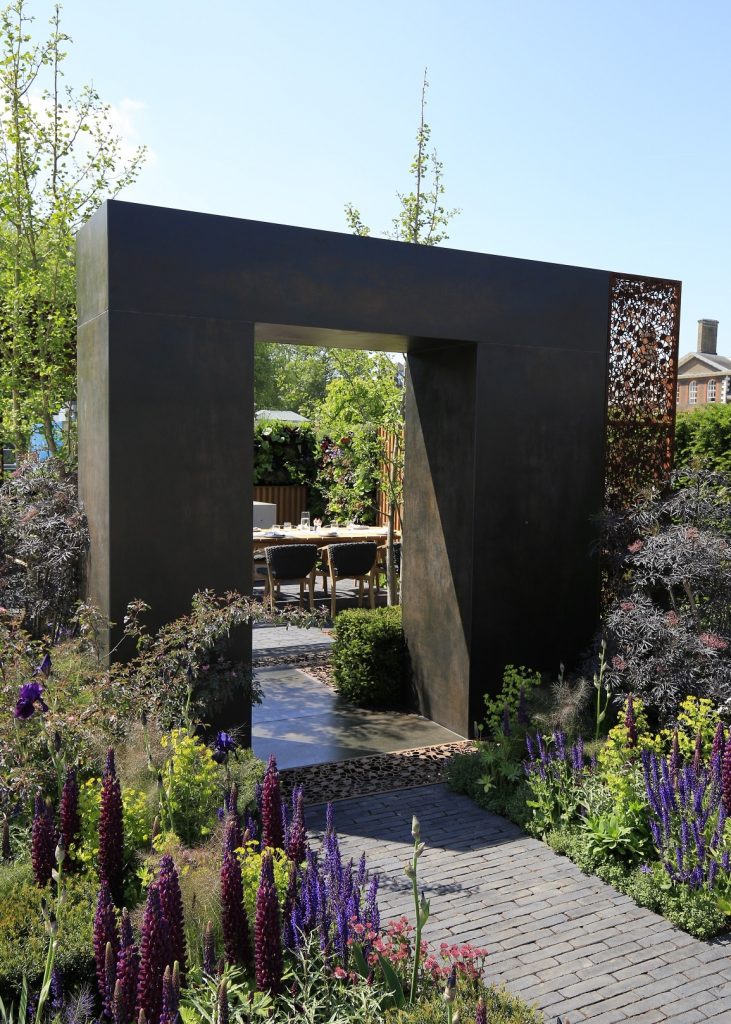 Luscious green and purple planting contrasting perfectly with darker DesignClad and metalwork
To save build time on site, he asked us to cut the panels and place them on the backing at our Bespoke Stone Centre before transporting them (carefully!) to Chelsea. "It takes skill," he said. "London Stone added a beautiful mitre on the edges, which we would have struggled to achieve on-site." We try to remain modest, but hope this is one of the details that helped win Tony a Gold medal and Best In Category.
The British Council – India: A Billion Dreams
The presence of DesignClad in The British Council – India: A Billion Dreams, designed by Sarah Eberle for the Artisan category, built by Belderbos Landscapes and awarded Silver Gilt, was a tad more subtle. To see it, you had to peer into the pool! Here Vulcano Roca provided a shadowy, uncomplicated lining.
Howzat?! Sarah Eberle at Chelsea 2018
Although it wasn't exactly a starring role, Sarah was delighted with it. "I love interesting materials," she said. "This was an opportunity to try something different and it was perfect for what we wanted in the pool."
We cut the pieces to size in our Bespoke Stone Centre. "We also had to cut a bit on-site," she said, "and there was no problem. I'll definitely use it again if I have the chance."
The Supershoes, Laced with Hope Garden
Curve-cut and engraved Heath Sawn Sandstone on Laced With Hope, by Laura Anstiss
Designer Laura Anstiss has put our Bespoke Stone Centre through its paces with engraved Heath Sawn Sandstone. This paved her Silver-awarded The Supershoes, Laced with Hope Garden, also in the Artisan category.
"I chose it because of the subtle colour mix," she said. Large slabs, cut in random curved shapes were engraved with words that hold importance for a person with cancer, such as "love", "fear" and "family".
Sculpture looking skyward, when our eyes are firmly on the ground!
Ken White, of Frosts Landscape Construction, was in charge of building Supershoes. One design feature was the unusually large joints between the stones. "We wanted it slightly uneven in appearance," explained Ken. "So when you look down, you are more aware and read every word."
While Frosts spent cut the smaller stones on site, the larger pieces were cut by us. "We sent a working drawing of the large pieces to London Stone," he said. "It was all arranged by Craig Potter. He jumped at the chance to help right from the beginning."
The Seedlip Garden
Small but mighty; Marinace Granite sitting in harmony with Jura Green Limestone
Craig, in case you didn't know, is our Garden Design Director, and Chelsea has certainly kept him busy. The Seedlip Garden, built by Landform Consultants, gained inspiration from the pea, with all plants from the Fabaceae family. For an extra special touch in the hard landscaping, designer Catherine MacDonald was looking for green-toned paving. Craig sourced a Marinace granite from Brazil.
This extraordinary stone is packed with character, with plenty of variation and colour. For the large stones it was too strong, especially in combination with the grilles, but cut into smaller round slabs, it provided pops of colour and pattern, and echoed the dramatic top for the table in the seating area, also in Marinace granite. "It's all in the smaller details," said Catherine.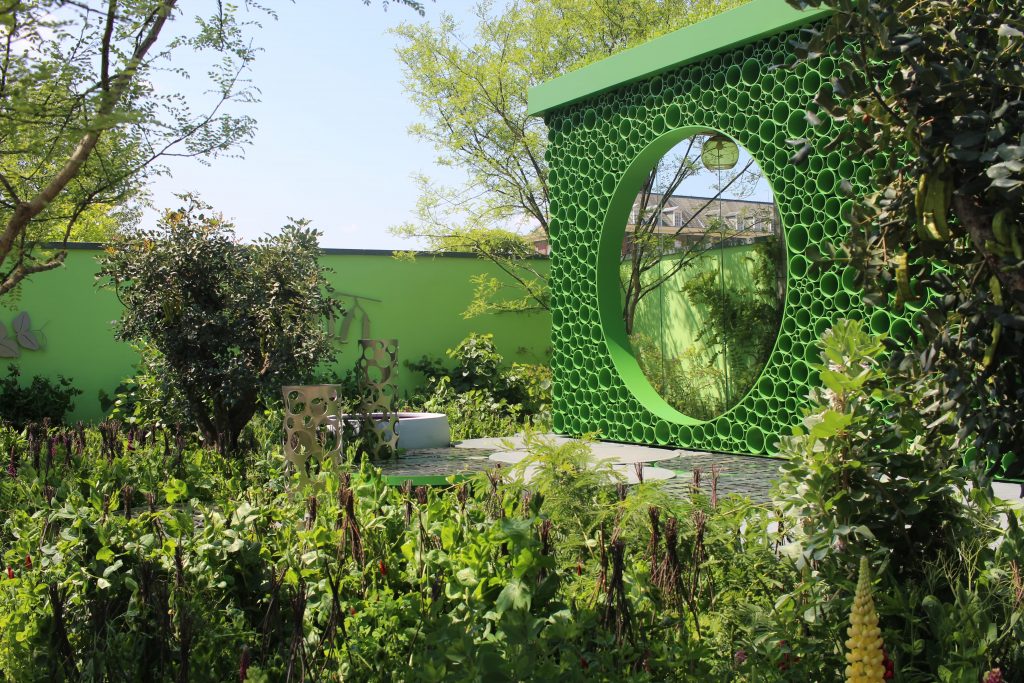 Catherine MacDonald's 2018 Gold-winning Seedlip Garden
The larger round slabs, in a variety of sizes, were in Jura Green Limestone. "I liked the colour," said Catherine. "It has fossils and ammonites in it, and when it's honed, I like the tone. It can look grey in some lights, and also works when it's sunny."
Sometimes hard landscaping just has to step into the breach too. "The planting is Fabacae only and very restricted," explained Catherine. "I realised there might be an issue with having enough quality plants to finish. The contingency plan was that I could add more landscaped paths to represent pea tendrils."
Which is exactly what was needed. With a week to go, we cut more Jura Green Limestone and sent it over. Catherine's attention to detail paid-off, with her winning another Chelsea Gold.
The LG Eco-City Garden
A contemporary masterpiece; The LG Eco-City Garden at Chelsea 2018
Back on Main Avenue, The LG Eco-City Garden, awarded Silver Gilt, had an environmental message. Designed as the terrace for an individual apartment in a high-rise block, it integrated aquaponics and solar generation into a design aimed to reduce city pollution while encouraging people to integrate indoor and outdoor space. Designer Hay-Joung Hwang used one of the newer stones in our range, Jura Grey Limestone.
Simon Kitchen of Randle Siddeley Ltd had consulted with us. "I've worked with London Stone quite a lot over the years. I spoke to Craig and Gavin Walley about the colour scheme, and we found something that was clean and not bland. In some of the stones you can see whole ammonites."
Jura Grey Limestone leading across the cooling water
As soon as Hay saw it, she fell in love. "I went to London Stone's lovely outdoor showroom, saw it first, and couldn't resist using it. Look at the detail, the fossils, the history of the stone."
An enormous attention to detail created the tranquil feel of the garden. Bespoke size planks were staggered through the camomile lawn and crossed the pool. For the stepping stones, we gave them a 75mm tread. "The thicker, the better," said Simon. "We needed the right amount of stone in the water so the stone reflected."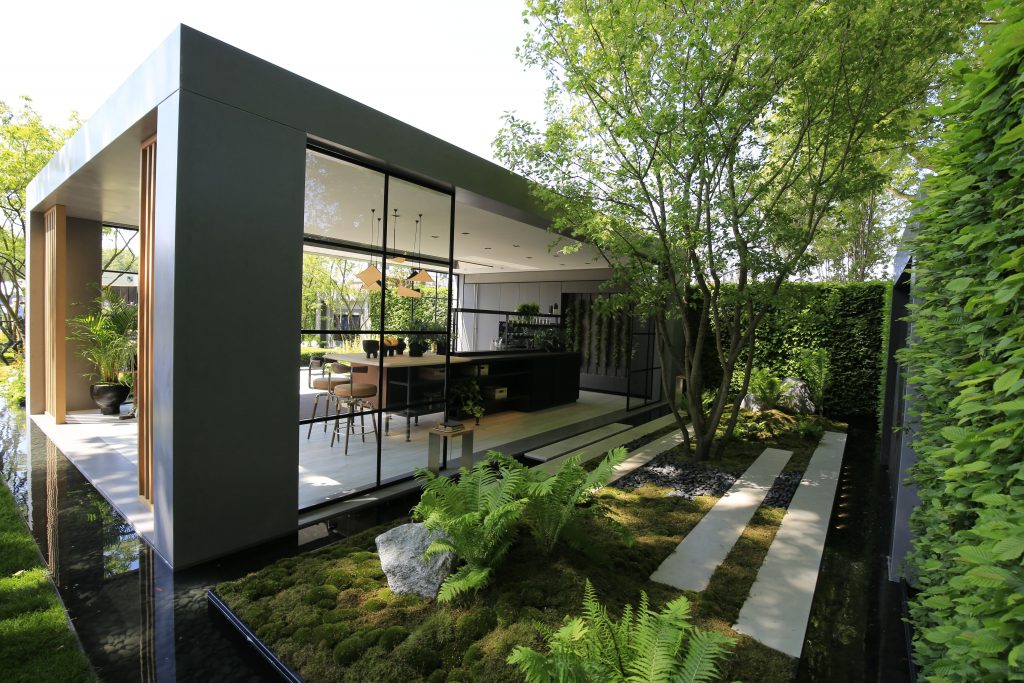 Shady calmness, with soft landscaping materials sitting in harmony with hard
Of course, what you can't see is the channels cut into the stones that edge the pool, which needed careful measurement to fit over the edge of the tanks beneath. Water levels were important. "The higher, the better," said Simon, "so everything looks like its floating." When it came to fit the stone over the tank? "It fitted like a glove," he added.
Another huge bonus of the Jura Grey Limestone is its workability. "There's been absolutely no waste," said Simon. "It's been a really easy stone to work with, and ultimately beautiful."
As you hopefully read over the last two weeks, we also supplied Robert Barker's Silver-Gilt winning Skin Deep garden. Click here to read more about that.
Part two of our mammoth effort at Chelsea is coming tomorrow, so stay tuned!