Here we are, third week into our February launch of new stones and we just know you've been panting to discover what this week's reveal will be. (Yes, you have.)
We have two very different stones this time. Both bring warmth and texture to a design in their own particular way and have turned out to have a surprising connection.
Egyptian Limestone, consistently creamy-beige, hard-wearing, with a non-slip, slightly textured surface, has a calm character that suits contemporary and classical schemes down to the ground (pun intended, of course).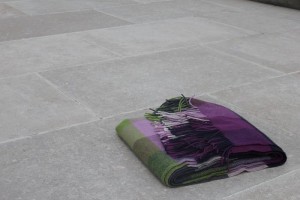 You may have noticed it on our website before, but we've updated its look by sandblasting and brushing the surface to even out texture and colouring across every slab. It's still a stone with lots of character, though. Embedded in it are small shells and fossils—a legacy of the stone's formation when Egypt wasn't Egypt but a large expanse of rock under a lot of seawater.  Get close to it and you'll find a gently mottled colouring with pinky veins that gives subtle personality to the paving slabs.
Many of you will know that limestones vary hugely in their resistance to wear, and we've chosen this because it's hard, durable limestone at its best. Which, of course, makes it low maintenance for a limestone, too.
Our other new addition for this week is Pink Granite. It has a gentle flush, rather than being all-out puce, so gives a space a touch of warmth and light that will remain easy on the eye for years to come.  And it has, of course, all the advantages of our other granites—possessing a tight grain, needing virtually no maintenance, being suitable for high-traffic areas and an economical choice of patio slabs.
So what can possibly be the connection between two such different stones? Well, Ancient Egypt was known for its quarries (once all that seawater had drained away). Limestone was widely used in the pyramids, with a particularly fine-quality white stone laid on the outside, where it was polished to reflect the sun (it must have been quite a sight from a distant sand-dune).
And what stone was considered worthy enough to ship down the Nile to add decoration to the inside of these pyramids?  Pink Granite!
Now, there's a design idea.