Create your perfect bespoke outdoor living space in the garden.
We all want our gardens to be a little sanctuary when the weather begins to get nice again. You want to be sure you are getting the most out of your garden, so you can spend the maximum amount of time in it. Make your garden stand out from the rest, and enjoy long days relaxing, with a few simple touches.
Shade and shelter
Firstly, to be able to enjoy more time in your garden, be sure to have some shelter. Some covering will allow you to spend time in the garden, whatever the weather. Metal pergolas, gazebos and shade sails all offer shelter, and each offers a distinctive benefit. Metal pergolas bring a structure and a more lasting feature to the garden. Gazebos offer you the flexibility to pop the shelter up and down as required. Shade sails are ideal for smaller gardens looking to create a small area of shade.
To give your shelter a bespoke feel, you can use garden lighting to add a unique touch. Wrap string lights around your metal pergola or hang lights from the centre, if the structure will support this. This will create a beautiful atmosphere.
Position your garden furniture under the shelter. This will give the space a feeling of being an outside room, whilst also being a practical option to quickly run for cover during the unpredictable British summer showers.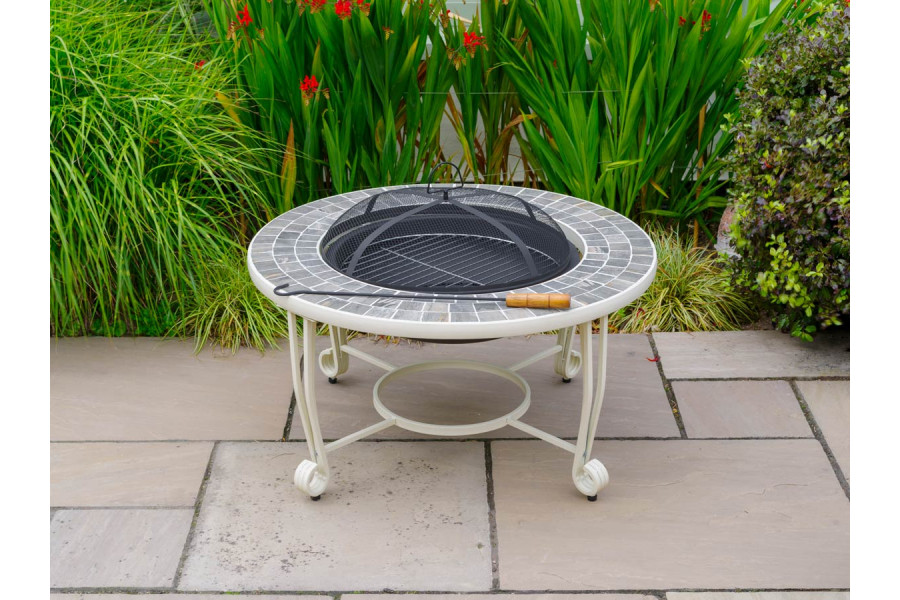 Create a cosy spot
A fire pit is the perfect way to create a cosy little corner. It will also give your garden an instant superior feel. Be sure to position your garden furniture where the heat from the fire pit will warm you and your guests up. Place the fire pit in a nook in the garden to create a corner for relaxing or use it to make a focal point in the garden by placing it front and centre. They are the perfect choice for those looking to add an interesting element to the garden and create the ideal garden for relaxing and unwinding late into the evening.
Cook outside
A BBQ may not seem like a new idea but with our hybrid BBQs and accessories your BBQ game will be elevated. With a hybrid barbecue you will be sure to be cooking an impressive meal every time. With our BBQ accessories, eating outdoors is not just for chargrilled meat. Use our gourmet pizza stone to host pizza night in the garden. Or our chicken roaster for a Sunday roast in the garden. Finally, our gourmet wok will have you making tasty Chinese-inspired dishes in the garden. What better way is there to spend more time in the garden than enjoying cooking a variety of meals outside?
Now you know how to create your own bespoke outdoor living space, you can begin enjoying more time in the garden.