Get to know our extensive range of garden screens a little better.
You can completely transform the aesthetic of your garden with the simple introduction of garden screening.
How to use a garden screen
There are so many uses for garden screening. They can simply be used to mark boundaries, noting the end of your property line. Alternatively, they can be a great way to subtly hide unsightly views. Whether you have an unwanted view from your property or an unappealing area of your home that you'd like to disguise from outdoors, you can use garden screens to cover these up whilst creating an interesting feature.
If you are looking for a little more seclusion that does not compromise on style, you can use them as privacy screens. Create distinctive areas in the garden using these panels. You can section off areas to produce separate zones, just like inside your home. Position the screens around your garden furniture and create a cosy outdoor living room. Using the screens to create separate areas in this way is particularly useful if you have an especially exposed garden. The screens act as a buffer against a breeze or create shelter from prying eyes.
The extensive range of screens allows you to get truly creative in the garden. Create feature walls and unique focal points that make use of your vertical space. If you are short on space, you can even use garden screening to showcase beautiful planting, but on an upright plane. Hang planters from the screens to create, for example, mini vegetable gardens, without taking up vital ground space.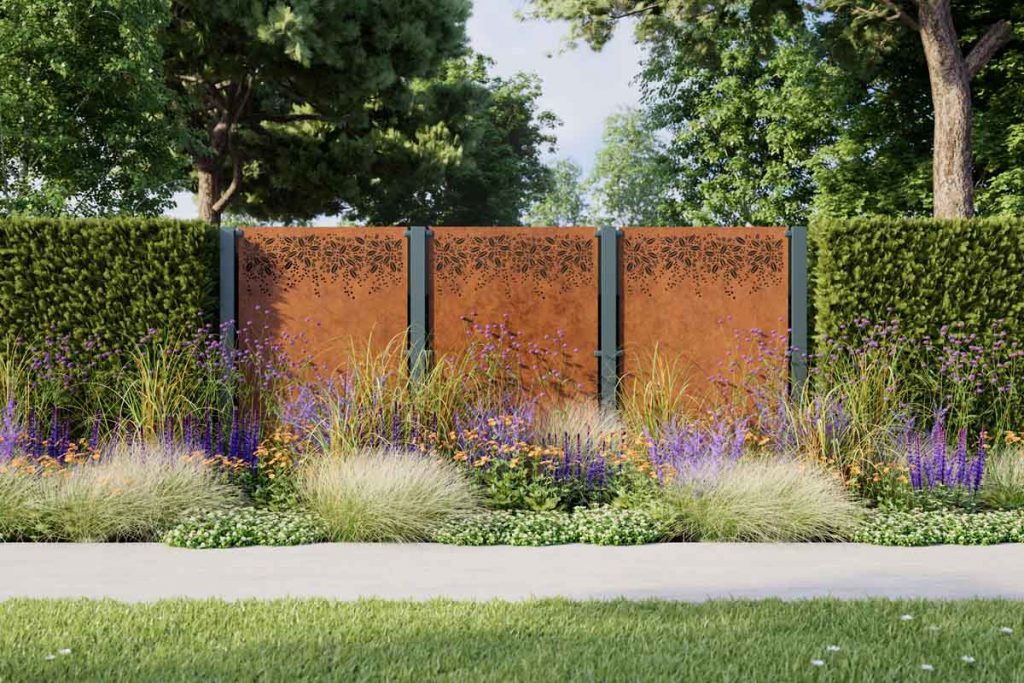 Metal garden screens
Our metal garden screens are the modern approach for those looking to create a unique outdoor space. They are ideal as focal points, with their striking definition and distinctive material. The panels can either be used individually or as part of a modular system, offering versatility in the design of your perfect space. These panels are a particularly good choice as a stunning backdrop to vibrant planting or as feature walls.
Create impressive features that stand the test of time. The garden screening is made from either weathering steel, with a pre-weathered finish, or powder-coated aluminium. Laser-cut and de-burred, the panels have a consistent, precise decorative finish. Simple to install, posts are set into the ground using concrete and screens affixed using steel clamps.
Composite battens
Our composite battens perfectly complement our range of Brushed DesignBoard Decking. This allows you to create seamless designs that can move uninterrupted from the horizontal to the vertical. Use the battens on their own to create stylish, vertical-slatted garden screens that add interest to projects. The lightweight slats can be fitted together to build height on existing structures to create the definition you require.
The brushed finish adds a textured feel and creates subtle shadows that bring movement to the design. Not only does this product come with an affordable price tag, but it is hard-wearing, low-maintenance, rot-proof and warp-resistant. These qualities make it the perfect alternative to natural wood, while not compromising on the authentic feel of timber.
Cedar battens
Cedar battens are the perfect choice for those looking to add a natural element to their design. The battens can be used for garden screening, fencing and cladding. Some of their most common uses include framing, fences, trellis or as a trim to hide fixings. Create slatted screens and horizontal slatted fencing with these battens to produce clean lines and appealing results.
The cedar will bring the natural beauty of real wood to your design. Natural variations and the unique mix of tone gives the battens a distinctive finish. The organic feel of the wood adds warmth and interest to a design. Cedar weathers naturally into a silver-grey colour, or you can opt for a more contemporary look using an oil stain to retain the golden-brown colour.
Larch battens
Strong and sturdy, larch battens are ideal for external cladding. Full of natural character, these battens will bring a beautiful organic feel. Made from one of the hardest commercial softwoods available, the trees are slow-grown to give them a high density that allows these battens to last outdoors for years to come. A great choice for fencing, the battens are far more resistant to knocks, scrapes and scratches when compared to other woods.
Kiln-dried, these battens can be painted, allowing you to add your own personal touch to this garden screening option. If left untreated, the wood will weather to a natural, handsome silver-grey.
Timber battens
These timber battens are the ideal size to create stunning garden screens or fences. For those on a budget, looking for a natural product that does not compromise on style, these are the perfect choice. Stain the battens to improve their durability. You can then paint them with the right colour to easily pass for either red cedar or larch.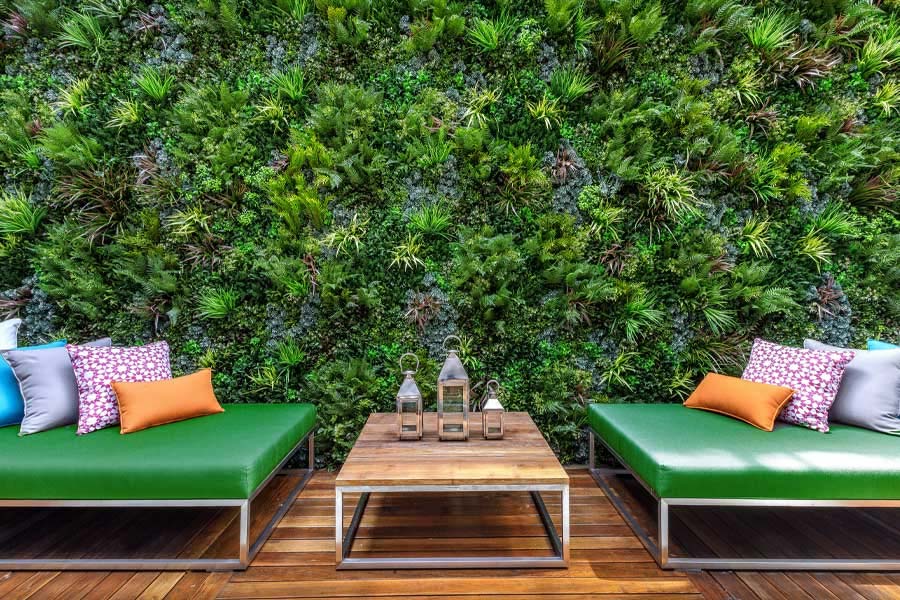 Artificial green walls
Artificial green walls can be the practical alternative to live walls, for places where live plants may not be suitable. This garden screening enriches an otherwise dark and dull space, adding colour and texture for exciting year-round displays. Mimicking the natural growing patterns of real plants and designed by an award-winning horticulturalist, these panels are a great alternative to real plants. You can add you own personal touch to the panels with the addition of the colour boxes.
These panels require no on-going maintenance, just the odd dusting, making them a great choice for both inside and outside. UV- and fire-tested, with a sturdy, lightweight design, the panels are sure to stand the test of time.
View our full range and discover more about the extensive product options available.