One of the challenges in garden design is how to link one part of a garden to another in a way that is both practical and aesthetic. Gone are the narrow strips of concrete dissecting a rectangular lawn as seen in many a 1950s suburban garden. Designers and landscapers have the opportunity to use a myriad of different hard landscaping products which provide paths around a garden linking all the key elements together without compromising the desired shapes of lawns, flower beds and other decorative features.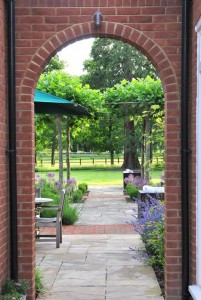 Unless the site is very small or extremely sheltered and free draining, most gardens need to include a solid path which dries out quickly after rain and in winter, so that there is safe access to the vegetable garden, the shed or compost heap. A path leads the visitor on a journey around a larger garden where there may be several paved areas or positions for focal points such as sculptures, arches, gazebos, sundials and specimen trees and shrubs.
Our sawn sandstone paving is frequently used in a contemporary or formal design for a seating area at the back of the house. (Our range of sawn sandstone can be seen here) In this instance, continuing with the same paving used for the patio slabs for the paths will give a unified look. The layout of the individual paving slabs for the design of the path is critical - using the paving slabs lengthways in the direction of the path will lead the eye in the direction of travel adding movement. Whereas single paving stones laid crossways has a more arresting look, slowing the view. Designers will use these visual 'tricks' to add interest and detail in their designs.
In classical design, paths should ideally be wide enough to allow two people to walk side by side in comfort. In smaller gardens paths of that width - maybe 1.5 m - would be far too dominant and look out of scale with the rest of the garden. Equally a mean path looks just that - too narrow for even one. Edging a path with matching setts creates a decorative transition between the path and the lawn or flower bed.
An informal design will usually include curves which means that a path will have to follow the shape. Achieving a smooth curve with large scale patio slabs without the need for cuts is impractical. In these circumstances, a small scale slab or sett is the best choice.
The type of stone will naturally have an impact on the final finish. Our range of Indian sandstone paving in five colour options works well for an informal design. The Raj green Indian sandstone works well in so many circumstances with its green grey colour which is similar in tone to Yorkstone – perfect for a country garden.
Where there is a change in level next to a path, we have a brand new range of edging stones specifically for this, see here: http://www.londonstone.co.uk/stone-paving/stone-edging/. Our step treads may also be used where the path runs across a slope.
All in all there are many options when it comes to paths and our sales team are always on hand to talk through any questions designers or landscaper may have when it comes to a difficult site and provide ideas and alternative solutions.