10 Tips To Create Superior Outdoor Living Space
Whatever style garden you have, large or small, you want it to be a place that you can relax in, and escape to. As well as the obvious perks of getting more fresh air and sunlight, there are lots of other benefits of an ideal outdoor living spaces. Creating the perfect outdoor living space doesn't need to be a hugely expensive project. These handy tips will help you create a superior outdoor living space without breaking the bank.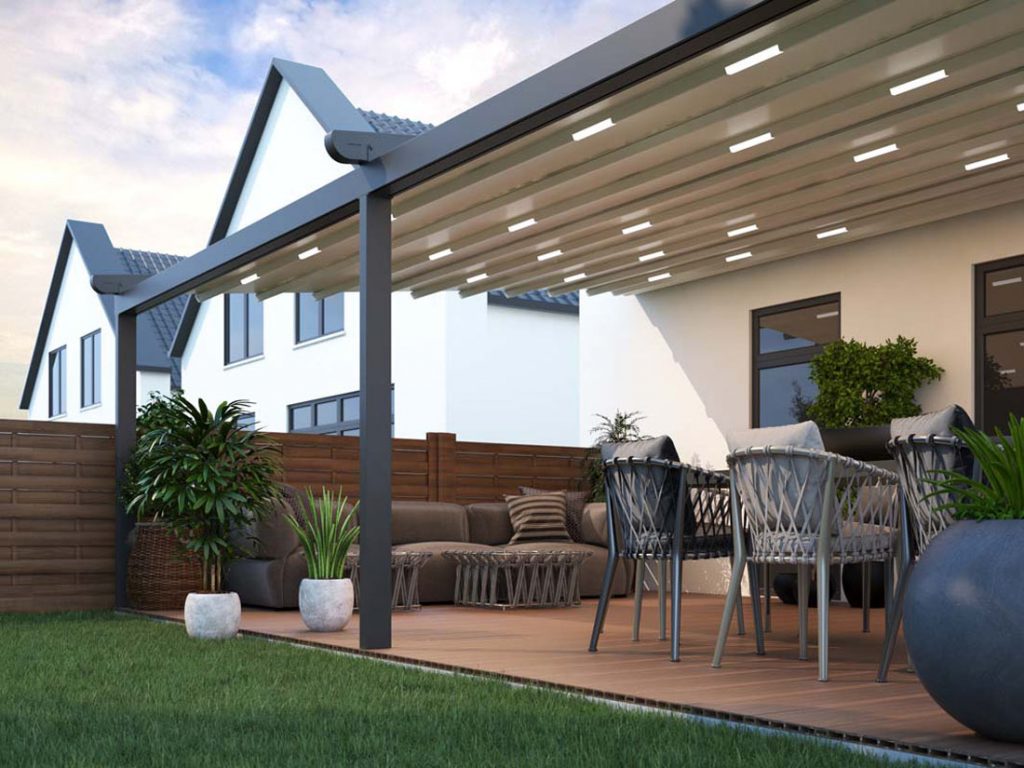 Metal pergolas are the ideal way to create your superior outdoor living space. Use our Verdeca Folding Roof With Lights to produce impressive designs.
1. Firstly, consider the size and layout of your space and how you can use it more effectively
If you have a smaller space, take a moment to think about what part of your garden gets the most sunlight and build your design around that. Consider existing structures in the garden and use these to your benefit. For example, choosing furniture that will fit snuggly to help maximise the space you have available.
Having a larger garden will provide you with more options and scope. You can fill a larger garden with furniture and ornaments or even water features.
Before aimlessly filling your space, first consider how open you want your garden to be and what design would best serve your purpose.
Consider what access you currently have to your garden and how you can best use this. For instance, if you already have a patio or bi-fold doors, these are perfect to link your indoor and outdoor spaces. If you don't have such a luxury, you can use consistent styling throughout to mimic a seamless flow.
2. Create your own outdoor living 'room'
Creating an outdoor living space will provide an additional space in your home to relax and unwind. Expand the space that you already have available to you. A casual living space in the garden is also the perfect place to entertain guests, to provide seating, and mingling space to enjoy evening drinks or a BBQ. Create a functional and enjoyable area for you and your family to use in the garden, whatever the weather.
Just like inside the home, your outside living 'room' should be cosy and inviting. Be sure to have plenty of seating available to encourage relaxing and dining outside. Don't forget to add the finishing touches and your personal touch of décor. Warm lighting and a bold splash of colour are great ways of doing this.
Cosy modular sofas and garden heaters are the perfect spot to relax. Garden built by Landesigns Ltd and designed by Rosemary Coldstream. 
3. Create a cohesive scheme throughout the inside and outside of your home
Utilising your garden to create an extension of your living area is a fantastic way to create a seamless look between the outdoors and in. When well thought out this will blur the lines between your garden and homes to produce the feel of a single room.
To create the perfect cohesive scheme, match your indoor and outdoor décor style. For example, if your indoor living space is minimal and modern, this should continue through to your outdoor space, using clean lines and simple furnishings. Similarly, if your home is more traditional in style, you should opt for more rustic furniture and accessories outdoors to match the interior.
4. Plenty of seating that suits your style and needs
Seating is arguable the most important factor to consider when designing your garden. Think about your space, how much room will the furniture take up? What will you mainly be using the space for: dining, entertaining or something else? How much room do you need to manoeuvre? Once you have these questions answered you can start looking.
There is so much choice of furniture available, from egg chairs to large lounge sets. if you will be using your garden mostly for dining and entertaining then consider getting a large table, like our Monaco 8 Seat Dining Set & Parasol or the Milano Deluxe Modular Dining Set Adjustable Table. If your garden will be your own personal sanctuary, then consider something more intimate like the Monaco Stone Egg Chair or Bergen Bistro Set.
The material your garden furniture is made from will have a bearing on the style of your garden. Wooden furniture will bring a more organic feel, whilst metal a more contemporary touch. Cushions are the perfect addition to make any furniture cosy and appealing, as well as give your garden a welcoming feel and will draw your eye to the detail.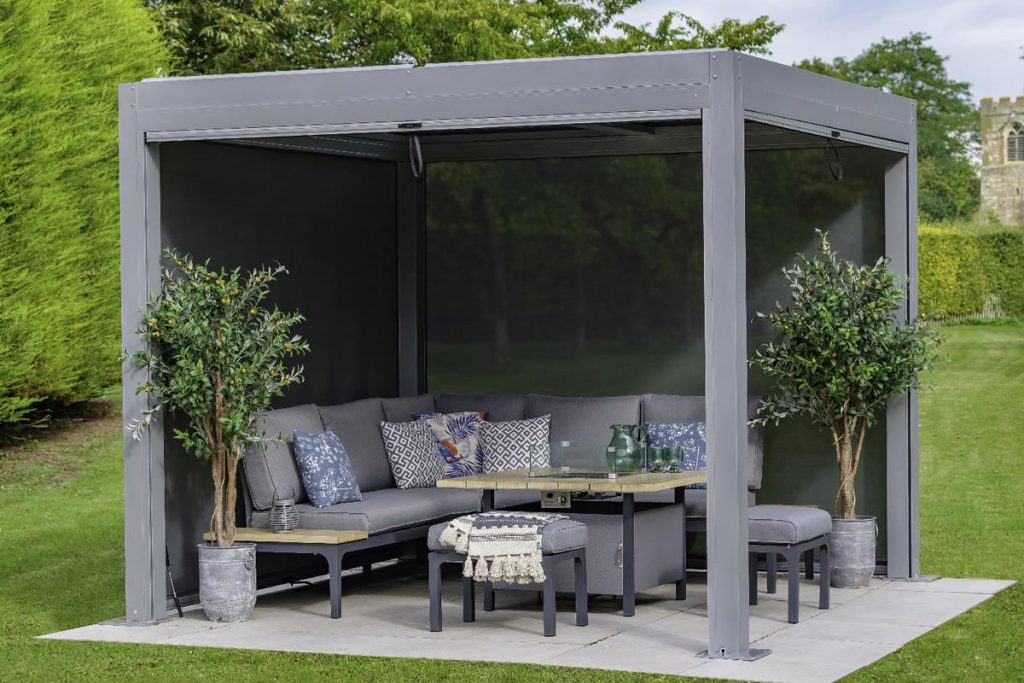 Stylish and practical, our Light Grey Metal Pergola allows you to enjoy the garden whatever the weather
5. Create shelter with gazebos, pergolas, and shade sails
When it comes to creating your superior outdoor living space, a pergola or gazebo will take your design to the next level. Not only do gazebos add beauty and value to your property, they also allow you to make the most of your garden year-round.
When deciding whether to go for a gazebos, pergolas, or shade sails consider whether the structure is scaled to the other elements of your garden and that it blends with the landscape. Chose the size and style with care to suit your garden and you will easily create an appealing look and great style. Our Light Grey Metal Pergola is the perfect choice for those with a larger garden and that love to entertain! Whilst our 3.5m Shade Sail Grey is ideal for strategically positioning in a smaller space to add shade and shelter.
Outdoor shelters are perfect for providing a great functional outdoor getaway space for you and your family to enjoy. They make the perfect place to retreat to or to entertain in. Pair with the perfect garden furniture, add some lighting and other entertainment extras.
6. Make sure that you have a BBQ
If you entertain a lot, then a BBQ in the garden is an absolute must. A BBQ means more time spent outside with your guests and less time popping back and forth to the kitchen. Whether you have a large or small garden a BBQ can help you spend time outdoors, cooking and serving food even as you spend time entertaining family and friends.
Our Hybrid BBQs are the ultimate BBQ choice. Using charcoal or gas, or even for the perfect cook, whatever you are making. With plenty of built-in extras and even a selection of accessories, this BBQ is sure to be the envy of your friends.
What is better than enjoying a BBQ with friends and family on a summer evening. Our 4 Burner Hybrid BBQ gives you all the room you need to cook up a storm.
7. Add some lighting throughout your garden
You don't need to spend a fortune to turn your garden into a more living-friendly area. By adding some garden lighting you can transform your space. Whether you want to create a twinkling oasis, highlight key features, or just make your garden more usable after dark, the right lighting is key.
If you are looking for a more practical choice with a contemporary feel, try our Black Aluminium Adjustable Wall Light. For a more rustic feel there is our Solar LED Copper Lantern Stake Light. To guide your way, whilst also adding definition to your pathway, there are our Solar LED Globe Pathfinder Lights 10 Lumen. Lighting can also be the perfect accessory that can be enjoyed during the day and night, like with our Solar LED Insect Hotel.
Consider what your garden needs are and what will suit your space. There is no limit to lighting and it is the perfect way to elevate your design and get more enjoyment from your garden after the sun has set.
8. Garden heating to keep you warm
Adding an outdoor fire pit to a suitable area of your garden will bring a functional yet aesthetically stunning aspect to the space. A fire pit can be the perfect focal point for garden furniture. When the sun goes down there is no need to retreat inside. Light the fire pit and get cosy. It is a sure way to impress guests or enjoy roasting marshmallows with the family. Firepits can be used year-round. In the summer they make an interesting feature, during the winter they are an essential way of continuing to be able to enjoy the garden.
9. Create a tidy space
Having a tidy garden will have you wanting to spend more time out there. Clear any debris from flower beds, lawns, patios, and decked areas. Use a rake or brush where appropriate to quickly wash areas down and mow the lawn. A tidy space will create a calming atmosphere and is perfect to relax in.
Don't stop with just a tidy up. Garden storage solutions can also hide away unsightly aspects like bins, or keep logs neatly tucked away. The stylish wooden designs will also make an appealing aspect of the garden.
10. Cover Up!
Keep your garden furniture and BBQs looking their best by covering them up during bad weather. You should also consider storing them away during the winter months if you do not intend on using them. This will protect them from the elements.
Our BBQ and furniture covers are designed for ultimate protection. Securely fitting, with fixing tabs and strong fastenings. Offering full protection from showers and UV rays as well as moisture build up.
Now you know how to create the perfect garden set up for a superior outdoor living space it is time to start thinking how you can incorporate this into your own garden. Start spending more time outside now! Shop all products mentioned here.