We introduced you to our new Porcelain Paving range earlier this year, so we can't resist showing you what one of our London Stone Trade Club members has done with it.
Sandy White Porcelain from London Stone. Image: Arbour Design and Build
Richard Bickler, of Arbour Design and Build, Hertfordshire, has just completed a patio, side return and entrance for a client who, not only wanted something with high-end looks that was low maintenance, but was very keen to have a light colour to match the floor inside the house, carrying through the contemporary look to the outside. "Porcelain ticked all the boxes," says Richard.
Sandy White Porcelain makes a good contrast with basalt chips. Image: Arbour Design and Build
With very low porosity, Porcelain retains its colour wet or dry (as you can see in Richard's picture above), which is great for ensuring a colour-match inside and out, whatever the weather throws at it. The range of colours includes white, beige, charcoal and grey.
Sandy White Porcelain creates a crisp, modern look. Richard chose Ardex colour matched grout for the joints. Image: Arbour Design and Build
There was barely any base under the old slabs, so Arbour removed everything down to about 17cms. Then twenty-two tonnes of hardcore went down, compacted in layers, onto a geomembrane (to stop the hardcore making contact with the clay beneath). This gave a really solid, even base on which to lay the slabs. "Porcelain's ideal to lay on concrete with adhesive, or by the normal paving method," says Richard.
Hardcore going down. Image: Arbour Design
Being a manufactured stone, each slab is exactly the same size. Without the usual dimensional tolerance, this means that pointing gaps between the slabs are very even and ideal for creating a sharp, modern look. These even joints also added crispness to the admirable feature of the rather tricky slope that Richard had to contend with in front of the main entrance, where the paving turns three ways in order to ensure the levels all meet.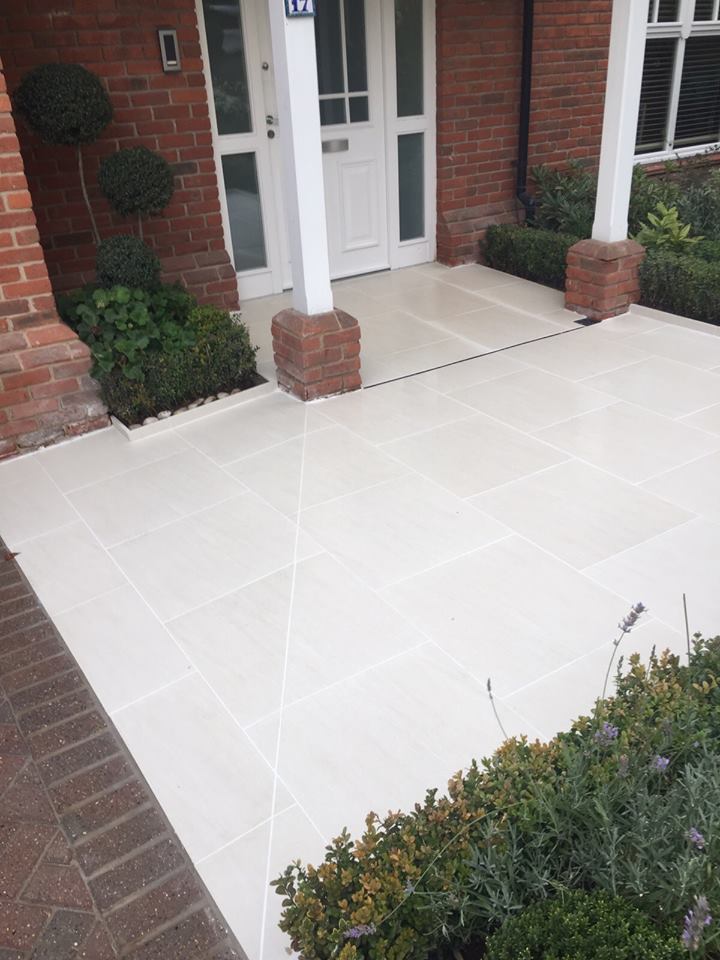 The crisp-edged Porcelain makes a feature of the change in levels. Image: Arbour Design and Build
Richard wet-cut the slabs on site. "You need to have a porcelain cutting blade," explains Richard, "or you'll snap the face of the tile."
At London Stone we recommend wet cutting, and use a porcelain blade on a Sigma wet saw. Not only does it minimise the chipping that Richard warns of, but helps reduce the amount of dust produced. You can add a primer to existing paving, lay the concrete bed and give each tile a coating of adhesive to create a bond with the bed. Rapid-set exterior-grade adhesive is recommended.