Jamie Butterworth Blog - 2018 Moscow Flower Show - Jamie tells us about his experience of the show, with excellent results.
The view across the Moskva River, showing the statue of Peter The Great to the left
When I was asked if I would like to join a team led by Nina Acton of RHS Malvern Spring Festival over to the Moscow Flower Show to plant a garden for James Alexander-Sinclair, it didn't take me long to pack my steel toe cap boots (and football boots in case I got 'the' call from Gareth).
The timing was suspicious, both to my work colleagues and girlfriend, whom I'm pretty sure are convinced I just went for a jolly to watch the football. Hopefully this blog helps to show a little bit of my experiences out in the Russian capital.
In the August issue of Pro Landscaper, you will be able to find out more about the gardens and exhibits featured at the show. In this blog however, I hope to give you an insight into the behind the scenes of the show, and what spending nine days at the Moscow Flower Show was like.
The team have a well-deserved refreshment break – Moscow style!
It all began with an 11 p.m. flight from Heathrow on a Friday evening, landing into Moscow at 4:30 a.m. local time. After a quick bag drop off at the zoo (Yes, the zoo. Our accommodation was an apartment next to the wolf enclosure, most surreal), we were straight out to work.
The first task was to find plants we could use in the garden. Being driven around the beautiful city it gave us the chance to see some of Moscow's incredible architecture, which reflect its recent deep history. The nurseries were all on the outskirts of the city; and are not as we would know conventional nurseries to be. With weather extremes from arctic cold to blistering heat, plants really do have to be able to cope in these testing conditions. This was very evident in the range of plants available. Many hardy coniferous, Pines, Birch and fruit trees, with far fewer herbaceous perennials.
A Russian Nursery; a little bit different, a little bit the same
Just with any flower show build-up, you become one big family. Everyone plays an important part in making it happen and bringing a garden to life. Whether it's an RHS or international show, this doesn't change, in fact, it perhaps even intensifies when working abroad. Our garden consisted of the superb team at Elephonic, the geniuses who manage to visualise sound through the medium of water. Our contractor Jonas Egger of Greenhance, and myself (mostly just playing with plants, as usual).
The build-up went well, and after three days, we had a garden to show. The garden, designed by Chelsea judge, and RHS Committee member James Alexander-Sinclair, was all about listening, but without any sound. Six corten steel troughs took centre stage, with shallow water on the top which danced and vibrated to the varying frequencies coming from the subwoofers beneath. The planting was made up of a combination of meadow grasses and perennials, Verbascum, Phlomis, Achillea providing the colour and adding to the texture formed by the grasses.
James Alexander-Sinclair's final Listening Garden in all it's sensory glory
The show itself was fascinating. Set in the iconic Gorky park, it was interesting to see the range of gardens, and the style in which they had been designed. Lots of block, bright colours used, with an emphasis on outdoor living.
Having managed to squeeze some London Stone sample boxes into my luggage, it was also interesting to talk to Russian designers and landscapers about the supply chain, and what materials they use on their projects. The range and quality of stone in the London Stone range seemed to be of great interest to the designers, especially DesignClad, which was a real talking point.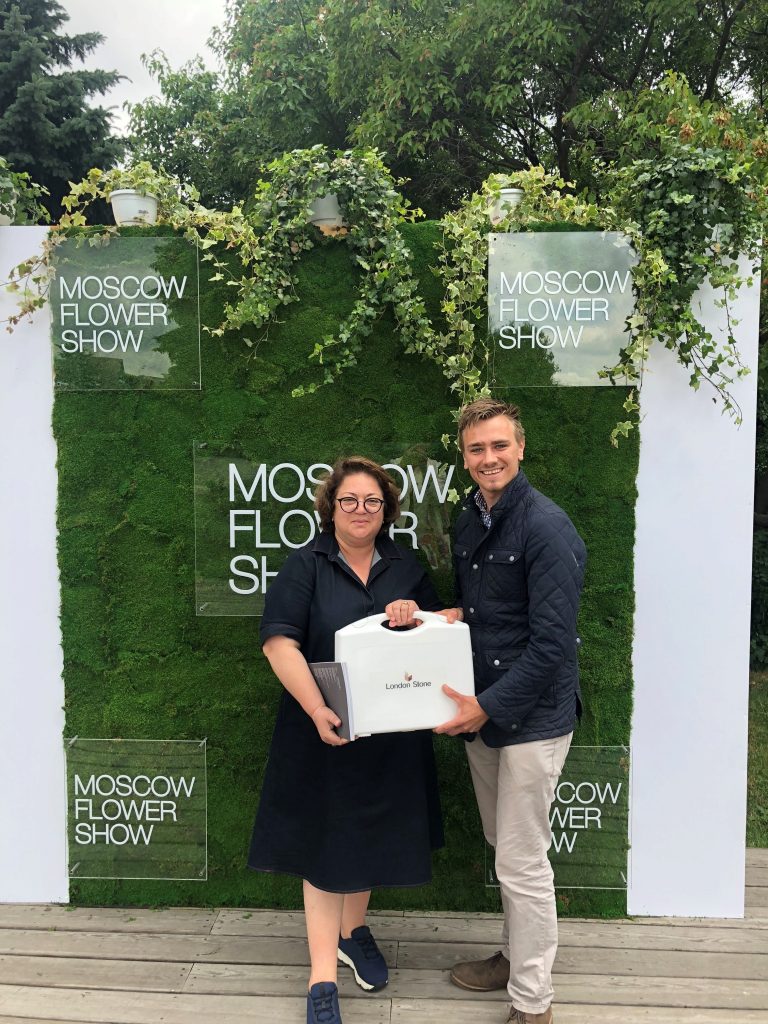 Show President Karina Lazareva, a Gold Medal winner at RHS Chelsea in 2006, familiarising herself with London Stone's range
International flower shows are such an amazing platform to share, learn, pass on passion. We all have one thing in common, and that is our love for gardens and plants. I know I repeatedly say this, but we really do work in a truly amazing industry. To have the opportunity to meet garden designers, landscapers and horticulturists from across the world was an incredible opportunity that I loved every second of. Horticulture really can take you across the world. Thank you Moscow; you were amazing!