One of the most enjoyable parts of our business is the alchemy that happens in our contact with designers and landscapers. They challenge us with the latest ideas and trends and we chew our pencil stubs and then go out and source the colour and type of stone that's being demanded.
It's deeply satisfying to find what someone wants, and this month we're launching six new pavings, plus an exciting range of Porcelain products, in response to requests we've received. No, you can't hear about them all at once (what do you think we are, made of words?) but, to start us off with a bang, here are two new additions to our range of sandstone paving.
We're really pleased to have found Heath Sawn Sandstone. Lots of people would love to put down Yorkstone for its traditional, timeless look but find that, price-wise, they have to choose something different. Well, Heath Sandstone offers an excellent alternative. The buff/grey colouring is similar to Sawn Grey Yorkstone, which means you don't have to compromise on colour and that, like Yorkstone, it works well when a more traditional look is desired. It comes in at about half the price.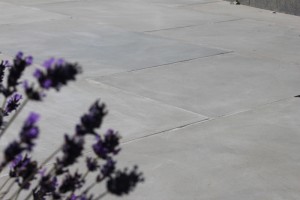 With a totally different feel, we also now have Abbey Sawn Sandstone.  All warm browns, greys and beiges, it looks lovely in a simple contemporary setting, as you can see in the picture. It works well where a more stark black and white contrast would be just too severe and also adds to our  range of colours to tone with a more traditional setting.
Available in a range of sizes, we think Abbey looks particularly good in the large format paving slabs, which show off the gentle colour variations and smart sawn surface at their best.
 Click here to see more images of London Stone's exciting range of products.