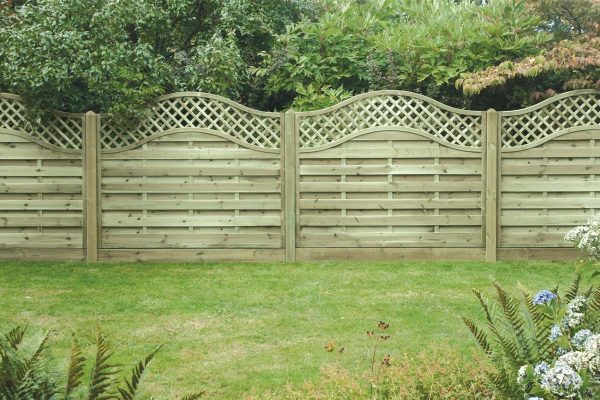 Delve deeper into our comprehensive fencing ranges.
Fencing can play a vital role in your garden's overall aesthetic. The type of wood can even influence the style of the home. Fence panels can be used for so much more then just boundary definition. They can be a true reflection of personality and enhance the appearance of the home. Let us take a closer look at our two distinct ranges.
Red Cedar Fencing Range
Our range of red cedar fencing is cut from sustainably sourced, certified forests and expertly cut by hand in the UK. This allows the natural beauty and rich red tones of the wood to shine through. No piece is identical; slight variations in the natural graining of the wood gives the fence panels a unique feel. Over time, red cedar will weather naturally to a beautiful, streaky silver-grey colour; alternatively, the wood can easily be treated to retain its rich colouring. With six distinct fencing choices in the range, along with matching gates, there is the perfect style to complement every garden.
Qualities that make red cedar the perfect wood for fencing:
Naturally lightweight
Durable
Stable
Naturally resistant to rotting, splitting, and warping
Long-lasting quality
Installing this fencing range is quick and easy, with just three steps to installation. Once installed, the fence posts are not visible and the screws can also be coated to blend perfectly with the wood, altogether creating a completely seamless result. You can either install the panels directly into ground or attach the panels to existing structures. All ancillaries, along with the fence panels and gates, are available in one place on our e-commerce website.
Red Cedarwood Fencing Range
Made from timber sourced from sustainable, responsible forest, this budget-friendly range also has a beautiful organic feel to it. This timber has a much more classic appeal, in its lighter wood tones with hues of green. With plenty of unique design options, as well as more traditional styles, this range really does have something for everyone, every garden design and budget. With three distinct gate options to complement the range, you can make a beautiful complete scheme.
Qualities that make this timber perfect for fencing:
Naturally hard-wearing
Low maintenance
Treated, for added protection against rot
Long-lasting quality
Again, the fences can be easily installed, with all accessories to make the installation simple available from us. On our e-commerce site you will also find stylish locks and hinges to add the finishing touches.
Take a look at both the ranges and find the right design for your project.