So why has sandstone paving become so popular in recent years
for landscaping projects in domestic situations? In the 1960s and 70s there was a significant increase in home ownership in the UK accompanied by higher disposable incomes and great interest in home improvements. More leisure time and the growth of the garden centre have led to more time and money being spent on gardens. Larger patios and terraces have become the fashion as homeowners brought back ideas from holidays in the Mediterranean where large paved areas are the norm.
In the 21st century stone paving, and in particular sandstone paving, has become more affordable as UK based companies built strong business relationships with sandstone paving suppliers around the world. Significant amounts of sandstone are imported from India and China and, despite the distance, it remains a cost-effective choice.
The dissatisfaction with the longevity of some concrete products, which do not always wear well, means that many landscapers and contractors advise customers to select natural paving.
The Origins of Sandstone
Sandstone is one of the most common types of sedimentary rock, which is formed from the continual fragmentation of other rocks which are then 'cemented' together to form a new rock. As the name indicates, sandstone is made from particles of sand which are formed by the weathering and erosion of source rocks. The sand particles, made up of minerals such as quartz, feldspars and lithic, give different sandstones their unique colour and characteristics. This may occur either on land or at sea – the presence of different amount of oxygen in the laying down of the grains also affects the colour. The structure of the sandstone determines its porosity and permeability.
Sandstone is found all over the world and has been used as a building material for centuries. The ancient city of Petra and Stonehenge, to name two of the most famous. Many of the large government and public buildings in the UK are built from sandstone and the London streets are originally largely paved with Yorkstone paving, a type of sandstone paving.
London Stone's selection of sandstone
London Stone recognises that there is a demand for stone across a wide price range, paving with either a riven or hones surface and a variety of colourways. It is for this reason that we have a broad selection in stock or to order.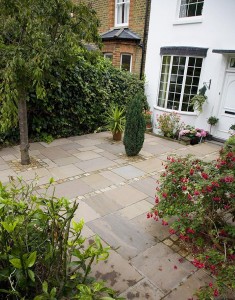 Whether your project calls for a British sandstone or is more suited to those from abroad, the team at London Stone will help you select the best paving for your landscaping.