Discover more about our vertical solutions and find the right one for your project.
Make the most of your outdoor space by going vertical in your garden. With so much choice of materials there is a vertical solution for every budget and style.
Fencing
Fence panels are a classic choice for going vertical in the garden. Fencing combines style with privacy, to create your perfect garden oasis. With two beautiful woods to choose from, Red Cedarwood and Redwood, each with distinct character, there is the perfect choice for every garden.
Wood is naturally hard-wearing and durable and can also be treated to enhance its natural qualities. Fencing is a great way to bring the natural beauty of wood into your garden and add an organic feel. The addition of fence panels will also hide unsightly views, mark boundaries and create a sense of privacy.
Our comprehensive range of fencing has something for everyone. From privacy panels that will create your perfect secluded spot, to lattice-top panels that bring additional interest to the garden—and everything in between! You can also purchase all the ancillaries you need from us to perfectly install your fence panels.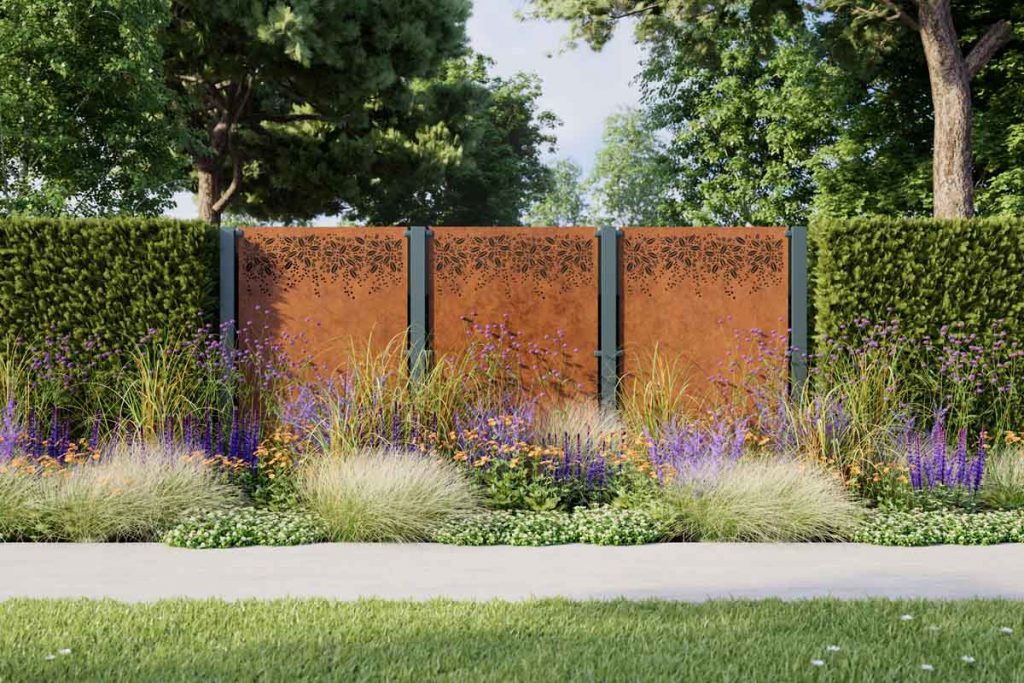 Garden Screens
Garden screening is a more contemporary choice of vertical solutions for the garden. Composite battens combine the appearance of natural wood with the durability of composite material. To bring interest and texture to the garden, use battens to add some height and privacy to your outdoor space. Hard-wearing and rot-proof, composite battens have all the qualities you want for a high-traffic outdoor area.
Our metal garden screens are the epitome of style and luxury. They are the perfect way to make a bold statement in the garden. Not only are the panels decorative but they are extremely versatile. Use the panels to mark boundaries, divide areas in the garden or just as a central focus point or backdrop to statement planting. The panels can be used either individually or as part of a modular system.
Artificial green walls are a great way to create a "live" wall in areas where planting may not be appropriate. They are great for bringing spaces alive and adding colour and texture to otherwise dull spaces. The panels offer year-round planting, without the need for maintenance. Customise the panels to suit your personal taste by adding colour boxes and create a really unique feature in the garden. UV-tested, fire-tested and lightweight, the panels are a great vertical solution for uplifting outdoor spaces.
Facing Bricks
Facing bricks are a popular choice to create beautiful external walls and more. Ideal for improving the aesthetic of external walls or around the garden, the stunning rustic colours add a touch of classic charm. Use the bricks for the outside of the home, or outbuildings, as well as for garden walls. With tones that range from reds and browns to mild yellows and weathered greys, there is a choice of brick for every project.
Strong and sturdy, they are a great choice for every garden. It is easy to see why. Not only are they an attractive product, but they are weather-resistant, durable, and hard-wearing, and require minimal maintenance to keep them looking their best.
Discover more of our extensive range of vertical solutions and find inspiration for your next project.