In the spotlight this week is London Stone's Marketing Manager, Rebecca Walley who is based at the Bespoke Stone Centre in Poyle which is near the West London Showroom at Stanwell. She has been with the company since she left university five years ago, working firstly as a Sales Adviser and then as a Branch Manager before moving to the Marketing Department. Having been with the company since the very early days, she has seen it grow from about eight staff to nearly 50. Her previous roles in the company mean she has real insight into how the business operates and also a solid, first-hand knowledge of all the products. This is particularly beneficial when writing customer information guides and updating the website and all the marketing literature.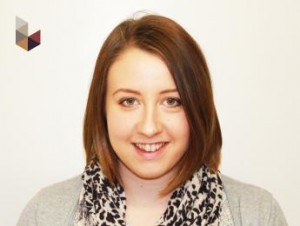 She works most closely with Steven Walley, the Managing Director and Kevin Clarke, the in-house Graphic Designer. Her responsibilities in the company are very varied and every day is different. One of the areas she enjoys a great deal is maintain an active online presence on social media. London Stone shares lots of up to date news on Twitter, Facebook, Pinterest and Google+. Twitter in particular is one of her favourite platforms, as it is a great way to keep in touch with clients and stay abreast of what is happening in the industry.
Rebecca liaises with Kevin on any design work needed for print and digital adverts, display boards for the trade shows and additions to the website. For example, they worked on the showroom plans which show the layout of the different paving stones, steps and coping stones.
She is also responsible for monitoring and approving applications for the online contractor and designer scheme which was introduced earlier in the year. One of the most enjoyable parts her job are the trade shows and events, where Rebecca has co-ordinated the displays, sample boxes and brochures.
Rebecca has obviously worked on a great many projects during her time in the showrooms. So much so that she finds it hard to select just one outstanding one. A particularly notable project in the past year was for a garden at the RHS Hampton Court Flower Show. London Stone were delighted to supply the Moleanos Blue Limestone for the silver gilt medal winning 'Al Fresco' garden, which was the creation of Peter Reader (Peter Reader Landscapes) and Tecwyn Evans (The Real Garden Company).
When asked for her favourite paving stone, Rebecca found it difficult to single out a particular stone but, when pressed, she admitted a soft spot for the Jura Beige Limestone. She said: 'It's got everything you could want in a natural stone product – it's durable and low maintenance and bursting with character and just a really beautiful stone.'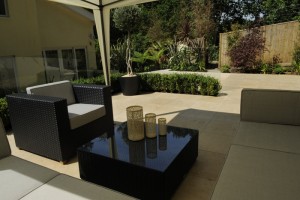 In a company which is growing rapidly, she sees so many opportunities ahead to continue to offer the best possible service to customers, always listening to the next thing they might be looking for. London Stone puts a lot of care and attention into recruiting and training the right staff which Rebecca considers to be one of the most important ways of ensuring customers receive not only the best possible products but also great advice.