2021 was a testing, yet exciting year for many of us. As we begin the new year, we have put together a list of five things that we learned from 2021.
1 – Supply is important
This is something all of us have learned from 2021. It is no secret that the industry has been affected by supply issues last year. With the ongoing impact of Covid-19 around the world, many suppliers have found themselves unable to keep up with the demand for products. Many businesses have also found themselves being impacted by the coronavirus. There is also a global shortage of shipping containers. It is almost impossible to find a business that hasn't found themselves being affected by these kinds of issues.
However, it is not all doom and gloom. We have learnt much from the issues over the last twelve months. Firstly, we have grown at our Langley Distribution Centre. More space here means more stocked items. Being able to hold more stock at our depot means that we can deliver products to you quicker. We have also made the decision to open a second distribution centre in Manchester this year. This second location will help us to make deliveries in the North and Midlands in a streamlined fashion, using our own vehicles.
We have also made several other internal improvements to the way that we handle stock. As a company we are constantly looking for new ways in which we can improve the handling and delivering of our products to ensure a quick and efficient process, with minimal errors.
Following our acquisition of Chelmer Valley in 2020, we have also made improvements to our supply services in this area. Initiatives like offering split packs, next day delivery on our own vehicles, with text message updates, and free delivery on full packs and orders over £1,000. These services all mean that we can get our clay pavers to customers faster then ever before.
Our improved online system also means that customers can order the products that they need in advance. This allows customers to order the products they need for future projects, to avoid delays later down the line. We are also committed to continuing to improve our e-commerce capabilities to better our online service in 2022.
2 – People are learning the value of their own homes
Collectively the industry has seen a boom over the past year. Reports from all over the sector say the same thing. Customers are seeing the value in investing in their homes and gardens. This has led to one of the busiest periods for many of us.
With less people going abroad there has been a notable increase in spending on the home. Many people have decided to spend their money renovating their garden to have a staycation, taking the opportunity to build the garden of their dreams and enjoying more time outside in their own homes.
As well as this, many of us our now working at home full time, and probably permanently. We have seen several designs this year creating home offices in the garden. These offices are perfect for making the most of the indoor/outdoor tile trend. Pairing the same products inside the office for the rest of the garden creates a seamless transition between the two spaces.
It is hard to predict what 2022 will bring in this regard. But we have certainly learnt from 2021 that our customers are seeing the value in their own homes, and it is something we should take note of.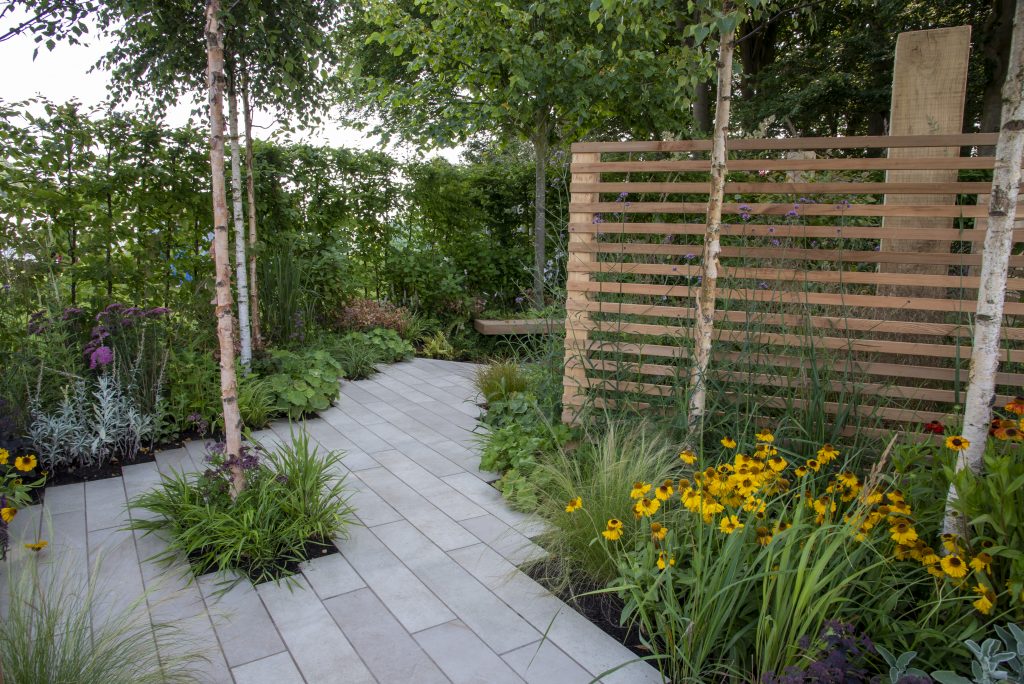 3 – Porcelain is the product of the moment
We have appreciated the benefits of porcelain for a while now. Hard-wearing and durable, it is ideal in high traffic areas. It also has a low porosity rating, which makes it good for the not-so-glorious British weather. Porcelain is also an extremely attractive product. With so many colours and finishes there is a porcelain for every project. Porcelain is quickly becoming a budget-friendly product making it suitable for most projects.
Numerous show gardens centred around porcelain last year. At Chelsea Flower Show, The Parsley Box, Designed by Alan Williams and built by Landform Consultants, used our Sidewalk Porcelain Paving. The Landform Balcony Garden and Walkway made use of our Light Grey Porcelain.
Porcelain also featured in the trade stands at Chelsea. Chesneys Trade Stand used Yard Porcelain. London Stone Partner Garden House Design utilised one of our wood effect porcelains, Nuage, as well as our Florence Grey Porcelain. The Gabriel Ash Trade Stand made a beautiful stand using our Florence Grey Porcelain paving.
At RHS Tatton Park Flower Show, The Cancer Research UK Legacy Garden, designed and built by Neil Sutcliffe of Creative Roots, used our Florence White Porcelain. Whilst Cream plank porcelain was used in James Smith and Topoforma Landscape's It's Okay Not To Be Okay garden.
You can read more about all the show gardens we were involved with in 2021 and previous years here.
Keeping up with trends, we introduced several new porcelain products and ranges last year. Like our impressive large format 800x800mm range. We predict that this trend towards porcelain will continue into 2022, and demand will only increase. Watch this space for even more new porcelain products.
4 – Giving back is important
This is not a revolutionary concept for London Stone. We have always seen the importance of giving back to the wider community. However, last year it felt particularly significant. With such a testing year for all, finding ways to give back has been an important part of our year and here are some of the ways that we have done that.
In 2020 we provided materials for charity gardens for the NHS. Last year we provided materials for the Sandiway & Cuddington War Memorial Garden. Our Silver-Grey Granite helped create the base for this beautiful memorial that was unveiled on the anniversary of VJ Day, the day which marked the end of World War II.
We have also continued to support No Child Left Behind and Perennial this year. We've published several blogs over the course of last year detailing the incredible work both charities have done. We encourage you to take a look here.
In 2021 we also made an effort to give back to the environment. We supplied our Dune Sandstone Paving for the impressive Big Bee Challenge, hosted by BBC Radio 2. This garden was built to encourage viewers to think more about the ecosystems in their gardens and how they can help them when designing their own gardens. An important factor we should all take more notice of when designing our outdoor space, it is easy to forget the major impact hard landscaping can have on the wildlife in our gardens. Read more here.
Giving back will continue to be a key part of our business model in 2022.
5 – Investing in people is key
People are at the heart of everything that we do. With staff growth across all departments in the business, it is important to support our staff and invest in them.
Last year members of our team attended The Landscape Academy. Here they learnt the theoretical and practical elements of laying natural stone and porcelain paving, installing decking, clay pavers, brick walling, vertical solutions and much more. This invaluable knowledge from the experienced team at The Landscape Academy will help our staff understand the needs of our customers. They can then use this knowledge to help customers find the right product for them.
We also saw another winner from London Stone of The Pro Landscaper 30 Under 30 Award. Diana Catrinoi-Cornea was recognised as one of the up-and-coming young talents of the industry. Her hard work and commitment have been essential for the growth of London Stone in 2021.
We have also made investment in new partnerships. 2021 saw London Stone support both Form Plants and Contemporary Fencing, and built close relationships with them. We feel it is important to support others throughout the industry and develop the ethos #OneIndustryUnited.
We see the value in investing in both our staff members and others in the industry and are excited to see what 2022 has to bring in this area.
What does 2022 look like for London Stone?
2022 already looks to be an exciting year for us. With new showrooms and distribution centres to open in Birmingham, Eastleigh, and Manchester, we have much to look forward to. Being able to have a presence in more locations nationwide will allow us to have more direct contact with our customers. Not only will this bring new spaces for customers to have the opportunity to see our products in situ, but it will also mean we can provide a better delivery service in these areas.
As always we continue to look for new and improved products to bring to our customers. Listening and responding to the needs of our customers has always been a cornerstone of our business. Over the next year we will be introducing a range of new products in response. We can't wait to show you!
We continue to invest in improving the online experience of our customers. Behind the scenes, our website is being developed and enhanced and will bring a faster and more comprehensive e-commerce service to you in the new year.
Here's to a fruitful and healthy 2022!