It took ten years, but on 15th August 2020 the Sandiway and Cuddington War Memorial Garden was finally unveiled. Appropriately it was the anniversary of VJ Day, the day which marked the end of World War II.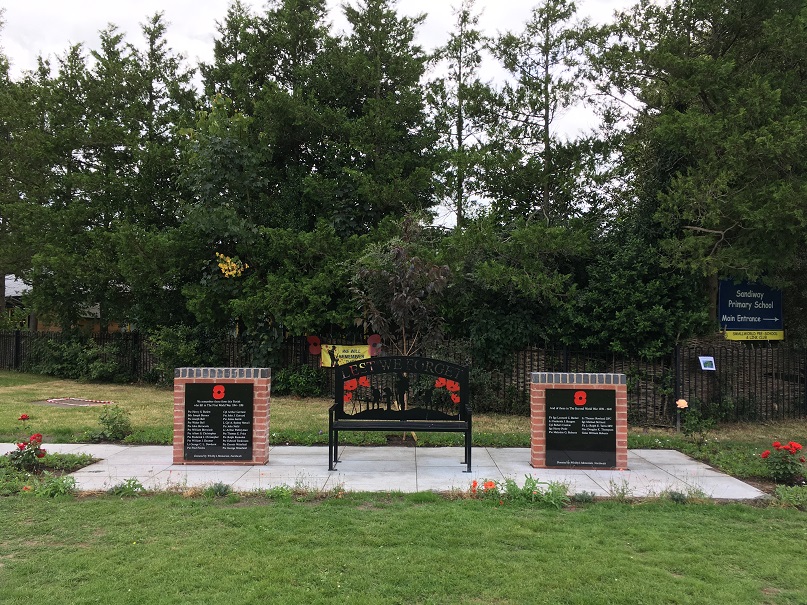 Garden designer Graeme Robinson, of Amazing Garden Design, volunteered to create the design. The result is simple, and no small feat, given the complete lack of budget. "There were some donations," he says, "but a lot of people have no idea how much stuff costs."
The area had to contain the bench, which had already been commissioned, and two monuments for the names of the deceased from the two wars. "I had to ask myself, How can I make it accessible, exciting and lift the area, without spending any money?"
Slim resources
As it gradually became clear how few resources were available, Graeme rapidly revised his plans. Out went DesignClad facings with plaques affixed, and in came simple brick monuments with contrasting colour brick. He had also planned to build it himself, until it became clear that, because it's a public space, he would need the Streetwise license costing £6000. With no funds for labour costs, he found a highway company who regularly offer staff the chance to do charitable work as a break from laying hundreds of miles of paving.
Being a public space, it also required the paving to be a minimum 50mm thick. "And the area is a cut-through, so it had to be something that's going to last," adds Graeme.
This is where we came in, providing 50mm silver-grey granite for the paving. "From a design point of view, that was fantastic," says Graeme. "Light-coloured and very noticeable, which is exactly what we wanted." The paving is laid simply in a running bond. "I originally had a completely different pattern in mind," he explains. "But I had to adapt to the skills of the guys laying it." Graeme found himself having to change direction throughout the project. "It was an absolute moving target," he adds.
Wildflowers and roses for continuous colour
We're delighted to have contributed indirectly in another way. By waiving our delivery charge as well, it meant that Graeme could afford to purchase wild flower turf which flowers continuously from spring to autumn.
He also bought four rose bushes, all of which are pertinent to the garden in some way. Rosa Pax, one of the sought-after Pemberton-grown roses, was launched in 1918 to commemorate the end of the Great War. He also selected the very famous Peace Rose, awarded Rose of the Year in 1946, which was named to commemorate the end of the Second World War.
Geometry important in design
One of the cornerstones of Graeme's designs is geometry. "There's very interesting research showing how we relate to shapes," he says. "We feel safe in a rectangle. When we see it, we know what it is and can make sense of it."
Here all sits within a rectangle, which echoes the shapes of the monuments and bench.
The war memorial garden, which began life as a proposal nearly ten years ago, has been a collaboration of talent, donations and materials, given freely. "It is very fair to say that without the support and generosity of London Stone, this tribute to our war heroes would not have been built," says Graeme. But we're only one of a number of companies and individuals who have contributed, and we're honoured to have played a part.
Graeme came to garden design from IT and has been an early adopter of 3-D technology. He creates rather fine walk-through videos to show clients. Find his preview for the War Memorial on his Amazing Garden Design YouTube channel, along with a number of private gardens.
For more designs featuring Silver-Grey Granite, check out:
Small Details, Big Impact at Hampton Court Flower Show