Laying An Outdoor Porcelain Tile Tutorial
Laying outdoor porcelain tiles is no easy task for a beginner. We have therefore put together this simplified 'how to' guide for the best method. Laying porcelain paving is slightly different to laying natural stone paving so here are a few tips.
In this blog we cover the installation method using an aggregate subbase. Alternatively, a concrete subbase can be used along with an external tile adhesive instead of mortar. If you are unsure on the method to use please contact a landscape specialist or a structural engineer if required.
This beautiful project shot shows how impressive porcelain will look when laid correctly. Using our Cream Porcelain Paving. 
Tools you need
- Porcelain Tiles
- DPt Type 1 (MOT Type 1)
- Mortar (sharp sand and cement)
- SBR/Priming Slurry
- Jointing compound (external tile grout)
- Measuring tape
- A shovel
- Rubber mallet
- String line
- Spirit level
- Pointing trowel
Ensure you are wearing appropriate safety protection throughout your task.
Step 1
Prepare the site that you will be paving the outdoor porcelain tile by digging out the site as usual. Be sure to check the levels and implement drainage as you would if you were laying a natural stone patio.
Step 2
Lay a subbase to create a firm and level foundation on which to lay the porcelain paving. The recommended depth for this is DPt Type 1 compacted to 100mm for patio or 200mm for driveway. This will create a solid base to lay your paving on.
To ensure a good, finished result that has longevity, a solid sub-base must be created, any movement beneath the patio will cause cracking eventually on the patio surface.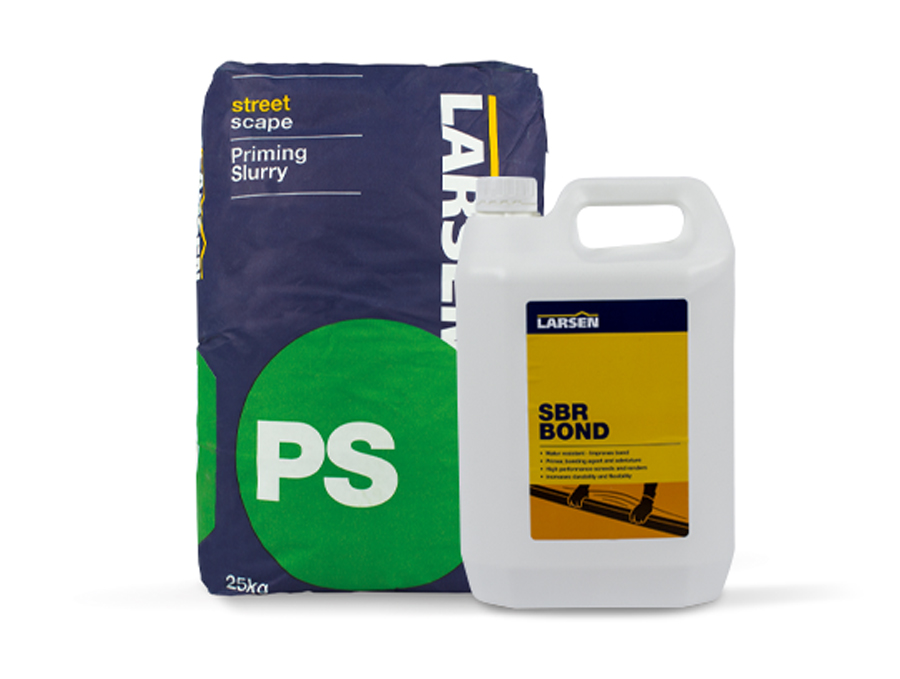 Name a better duo, we will wait! 
Step 3
Prepare a full bed of semi-wet mix 5:1 sharp sand:cement mortar. Try to be as accurate as you can, even more so then if you are laying a natural stone patio. You will not have as much leeway in the next stages for tamping down slabs to achieve their perfect level.
Step 4
Due to the non-porous nature of porcelain paving, it is necessary to create a bonding bridge, so that the slabs will adhere to the base.
If you omit this step, your paving will fail quite quickly after laying.
Prime the back surface of each of you paving slabs before laying.
Step 5
Next, lay the primed porcelain pavers on the full be
d of mortar ensuring your levels are correct and a fall of 1:80 is incorporated.
It is very important to ensure that the height of the finished paving does not breach the damp proof course on any adjacent buildings.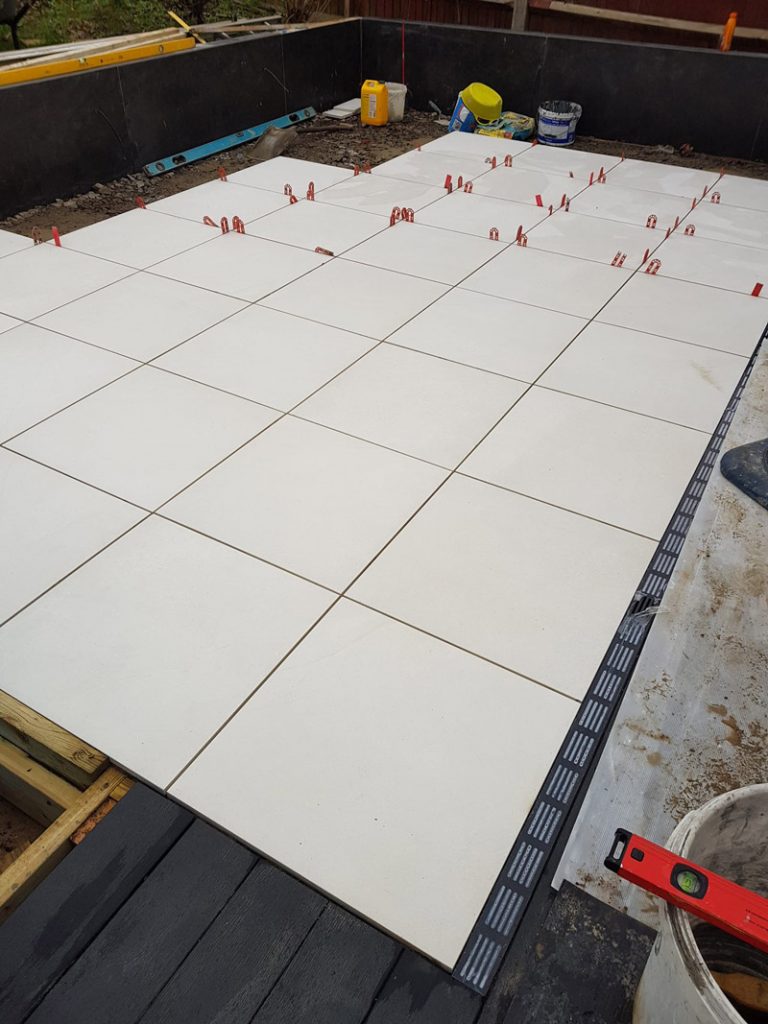 A great shot of a work in progress installing Comblanchien Porcelain by Designscape 
Step 6
Tap the pavers into position. Careful and efficient tapping is required. Porcelain is strong but will not withstand excessive hammering.
The strength of the completed surface relies on the bond between the mortar and the slab; therefore this stage is important.
Step 7
Use spacers to create a joint between the pavers to make things easier. As the pavers are laid, joints of a minimum of 5mm should be left, using spacers to ensure an even jointing space throughout.
Step 8
Finishing up. Continue to lay the porcelain tiles, tapping and spacing until the area is covered. Once you have finished laying the slabs, remove any primer from the surface, giving the slabs a quick clean.
Step 9
Grout the porcelain with a good quality external tile grout.
For further detail please refer to our installation guides available online.
Our extensive range of porcelain products means that you can buy everything you need in one place. Shop our paving tiles here and our porcelain paving ancillaries too.