You can't beat the voice of experience, but it can be difficult to come by when you're researching a new product like Porcelain. So, we thought it would be useful to chat to a company which is quickly building up quite a portfolio in this versatile material.
Trendy Black Porcelain was chosen for a really shaded area (pictured top) in combination with white chippings and artificial grass.  Picture courtesy of Aye Gardening, Surrey.
Aye and Susan Naing of Aye Gardening, in Surrey, began using Porcelain last year. "We started when we kept having to advise people to seal Indian sandstone, especially in shaded areas. People have two issues when replacing paving: algae—they don't want something that gets so bad as the paving they have at the moment; and pointing that has disappeared.
"We contacted London Stone, who told us they'd started to supply Porcelain and that it's more hard-wearing, slip-resistant and you can still get a sandblasted effect."
Misunderstood facts about Porcelain
Telling someone that Porcelain would be ideal for their situation and produce the look they want has produced some strong reactions, however. "Clients have a misconception about it—they think it's slippy, like tiles indoors. They like the colours but some have yet to be convinced that it's slip-resistant."
"And one couple," says Susan "had been told a lot of frightening stuff about having to build up the base, or the tiles would crack easily, but we explained that they're 20mm thick, not 10mm, and suited to the outdoors."
So, if clients dismiss Porcelain out of hand, it's worth exploring what their rejection is based on. A visit to one of our showrooms will soon show just how slip-resistant Porcelain is. All our Porcelain is laid in our outdoor show areas and we'll wet it down for them, just to prove it.
The wood effect Porcelain is "very Marmite", says Susan. "People love it or hate it."
Once Aye Gardening had assuaged the couple's fears, how were they with the result? "Overjoyed," says Susan. "They chose the Cinder Porcelain. because they wanted decking but no maintenance, and they loved that it looks like old oak boards. She's put it all over social media and people have given her lots of compliments."
Porcelain versatile enough for all settings
What Susan's found interesting is that, although Porcelain is a very modern material, it's turned out to be surprisingly adaptable. "Urban Grey and Silver Grey were both used with modern houses, but Cinder went into a traditional garden, and Trendy Black is very uniform but looked good with a Victorian house."
"The client who chose Silver Grey Porcelain had a patio 80m2.. You wouldn't want something all the same with an area that size—you want variation. He went to the showroom and really liked the marbled effect of Silver Grey, with the mixture of tones."
Urban Grey Porcelain blended well with a more traditional garden. Picture courtesy of Aye Gardening, Surrey.
Pointing and Cutting
Here at London Stone, we find two questions come up repeatedly when discussing Porcelain. One is pointing. "We now use Ardex external grout," says Susan. "We did try GftK and, although it does the job, we prefer Ardex with Porcelain because it's smooth as anything and fits the look better."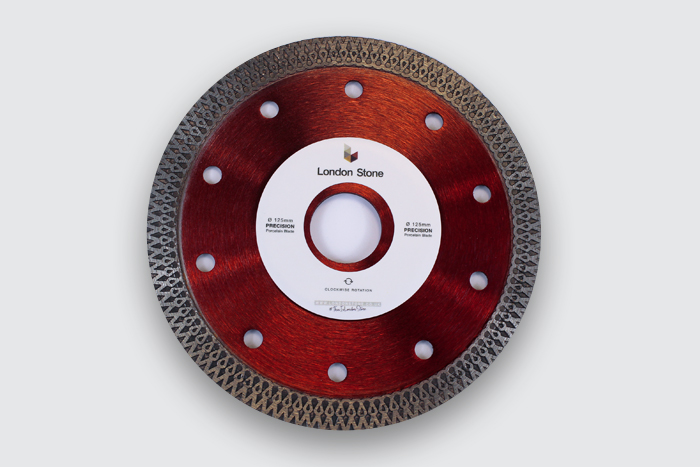 The other question is about cutting. Aye always uses a Porcelain blade to cut and has just ordered one for the next project. "You have to be very careful cutting as it can chip or break, so it takes longer," explains Susan. "But there are techniques, such as using low revs. I really like Porcelain; you get a lovely sleek, contemporary look."
Having to cut Porcelain with a little more caution hasn't stopped Aye Gardening coming back for more. If you're worried about cutting, then do ask us about it. Our stone masons are so good with Porcelain that they can even engrave it, so we've got plenty of knowledge to pass on while you build up your own experience.
"People find Porcelain very reassuring," says Susan. "It's not porous, there's no need to maintain it, and it's come down a lot in price. Everyone that's had it loves it."
We're expecting it to be even more popular when we add seven new colours in the next few weeks. In the meantime, don't forget our 2017 bonus to you. We're offering free delivery on all our Porcelain products for orders over £500*.
*Some conditions apply. Please ask your sales advisor.