Some of the most challenging and yet satisfying projects a
re those which require our specialist skills. Our experience in bespoke stone masonry ensures that even the most complex designs are realised to our clients' exacting standards. It's great teamwork and good communications with the architect and the client which produces superb results.
One case in point is a residential project we undertook recently which required a set of steps from the driveway up to the main entrance of the house, with a similar set leading down to the basement.
The first stage was to carry out a site survey and then transfer the measurements onto our CAD system so that the drawing could be approved by the client's architect.
Grey Yorkstone was chosen to complement the building and the stone for the steps was ordered in especially from the quarry. We needed to ensure that the stone we chose was able to take high traffic and it was for this reason that Grey Yorkstone, which is particularly hard, was used. Two different thicknesses, (180mm and 160mm) were required for the two separate flights. The 40mm and 50mm stone for the door step and landing were chosen from our stock.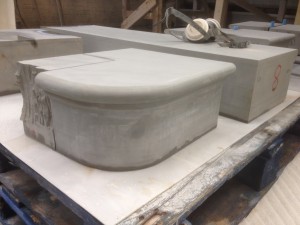 The edges of each step have a cove bullnose profile which was cut using the profiling function on the Computerised Numerical Control machine. Each individual piece was then checked and hand finished by our stone masons – no mean feat when each step weighs some 250 kilos!
The use of Grey Yorkstone is highly recommended for both contemporary and traditional schemes as the colour and texture blend well with a wide range of architectural styles. The architect and client are extremely pleased with the end result as are the team in the Bespoke Stone Centre.