Discover more about our new range of Millboard Cladding.
Millboard products are as popular as ever and it is easy to see why. Attractive, hard-wearing, and low maintenance – and now we have gone vertical. New to London Stone is Millboard Cladding. In this blog we will take look at the different products and their qualities.
Cool and contemporary, Millboard Cladding is perfect for giving your home a more modern style. Featuring our Smoked Oak Shadow Line.
Millboard Cladding Board & Batten
This range of Millboard cladding is made through the process of moulding four individual pieces of timber. Each piece has a different width and graining pattern. This blend of textures and tones creates a unique balance in the cladding.
Available in four distinct colours, the Millboard Cladding Board & Batten range has something for everyone. Antique Oak has a beautiful natural feel. Rich tones of brown create the stunning appearance of this board. Burnt Cedar has an impressive charcoal feel to it that will make the perfect pairing with planting to really make the vibrancy of the plants stand out. Golden Oak is ideal for those that want a more natural feel with a modern twist. Classic oak tones make the light and easy appearance of this cladding. Smoked Oak has more silvery tones to it for a beautifully modern finish.
Each of the boards has a tongue and groove profile. Fixings are fitted through the tongue, the results being that each of the fixings is hidden for a completely seamless finish. This range also includes a square corner board to add the perfect finishing touch for a clean result.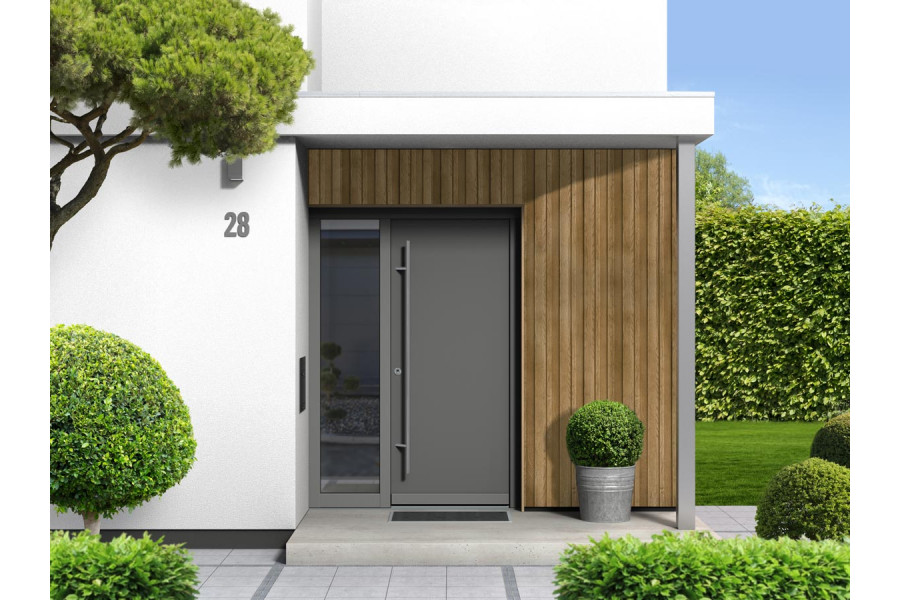 This beautiful blend of Golden Oak Board & Batten with a range of other materials creates a stunning result in this entrance. 
Millboard Cladding Shadow Line
The Millboard Cladding Shadow Line range has an authentic feel with its flat-grained finish. Designed to beautifully replicate smooth timber for an enhanced visual impact, this range is the perfect way to make a statement in your garden. The boards have an increased width, when compared with standard timber boards. This width means that there is a larger graining detail, but the boards are at less risk of twisting or warping over time. This range can be laid either horizontally or vertically for complete design versatility.
This range is also available in the attractive finishes of Antique Oak, Smoked Oak, Burnt Cedar and Golden Oak. With this range each board is profiled with a relief angle that allows the board to curve when used vertically. This angle also eliminates the passage of air and water through the board. The chamfered cut of the profile enables rain to wash over the boards, dramatically reducing the need for manual cleaning, as well as reducing potential for rotting and warping from moisture exposure.
Ancillaries
For both ranges, ancillaries are available. Screws, perforated closure, and starter trims can be easily ordered from the same place, getting you started with your design quicker.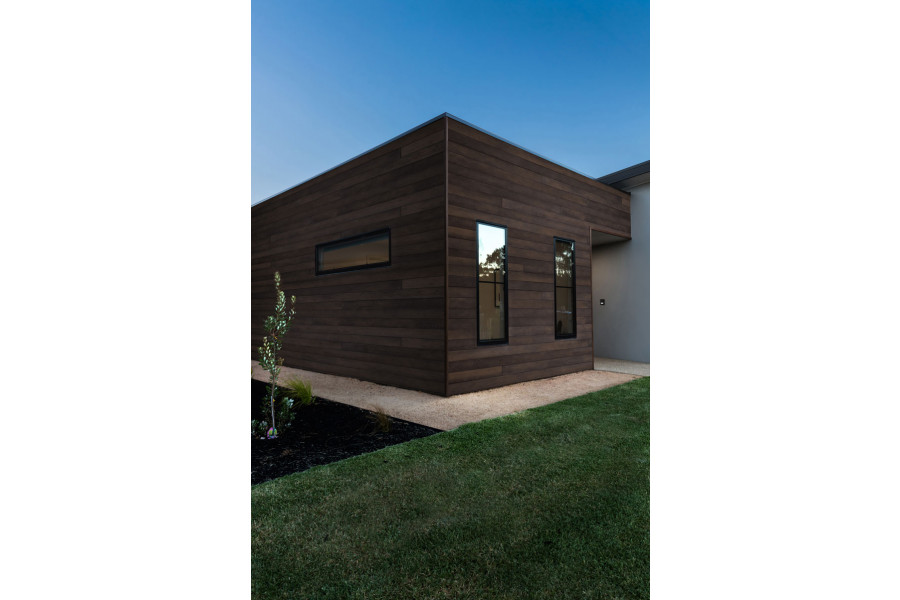 Millboard Cladding can be used for all types of exterior buildings. Our Antique Oak Shadow Line has been used to create this impressive design. 
What makes Millboard perfect for Cladding?
Both ranges come in a wide range of colours that offer a choice for every garden design, from modern to traditional. They're perfect for cladding the outside of your home, an outbuilding, or even to create bespoke structures in the garden.
As with other Millboard products these cladding ranges offer you the natural beauty of wood but without the ongoing maintenance requirements. The boards have a striking resemblance to natural timber and will bring that organic feel to your garden without the downsides of real wood. This exceptionally realistic appearance of natural wood is achieved by moulding the boards from timber, then hand-colouring them.
Developed to stand the test of time and offer you technology you can depend on, the boards are UV-resistant, rot-proof, low-maintenance and durable. Their beautiful appearance will not fade, and the boards will not twist and warp over time like real wood.
Both Millboard Cladding Board & Batten and Millboard Cladding Shadow Line boards have an increased thickness. The thickness of the boards provides superior impact resistance.
Overall, these boards provide you with exceptional appearance for impressive designs, as well as superior qualities for lasting results.
Shop our Millboard Cladding Board & Batten range here and our Millboard Cladding Shadow Line here.