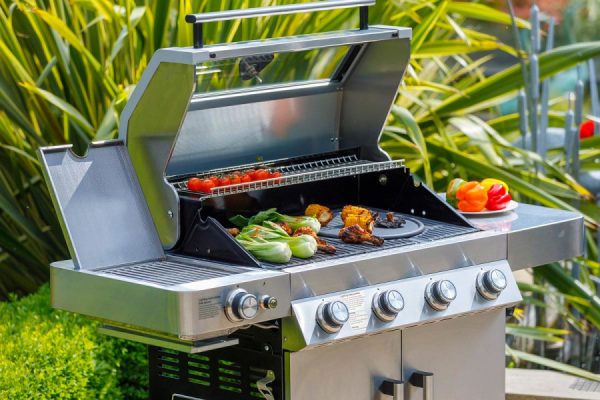 With BBQ season upon us it is time to master your skills. We have put together this guide with all of our top tips for cooking the best BBQ.
Getting the right barbecue
Our hybrid BBQs combine a charcoal grill with gas for the ultimate BBQ food. The charcoal side of the BBQ is perfect for getting that smoky flavour, whilst the gas allows you to have instant heat and greater ability to control the heat whilst cooking.
Have patience!
The perfect BBQ takes time, especially when you are using the charcoal grill. Be sure to wait for the flames to die down and the coals to be grey and glowing. This is the ideal heat to start cooking.
Get the right tools
Getting the right tools will avoid accidentally dropping a burger. Our gourmet set of utensils provides you with everything you need for cooking on a BBQ.
Marinade your food
Elevate your BBQ game with the perfect marinade. Marinade over night if you can, to ensure that the flavour is not overpowered by the smoke. Save some of the marinade to brush the meat with every 10 minutes whilst cooking for the ultimate flavour.
Go home-made
Home-made burgers are a great addition to any BBQ. Using minced beef, and your hands, you are sure to wow guests! Try this recipe from BBC Good Food.
Throw a fish on the barbie
The BBQ isn't just for meat; fish and smoke also work perfectly together. Try some salmon on the BBQ, or slice open a fish and stuff with lemon and herbs.
Don't forget the veg
When we are cooking a barbecue it is easy to forget the vegetables and stick to the meat. Vegetables on the BBQ taste great. Slice them open and grill your veg. Alternatively, with our gourmet wok you can cook the perfect stir-fry side dish.
Side orders
Finally, don't leave the sides as an afterthought. Sides are the perfect complement to your successful BBQ. Go for a classic potato salad or coleslaw. Corn on the cob finished on the BBQ is another great choice. Wrapping potatoes in tinfoil is an easy way to cook your sides on the barbecue. Side salads are another must. For something a little more unusual, try some couscous or flatbreads; they are just right for soaking up all those lovely BBQ juices.
Now you know how to host the perfect BBQ, all we need is the sun.