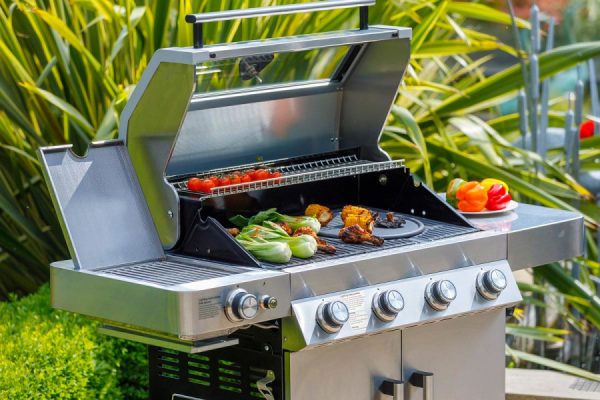 Best Practices For Cooking On A Charcoal Grill
Summer is quickly approaching! With it comes the prospect of (safely!) gathering friends and family to enjoy some much need time together. What better way to do this then with a BBQ in the garden? Hosting the perfect BBQ may seem like an easy task but let us give you some tips to help you take this year's barbeques to the next level.

You can practically taste the succulent chicken and crunchie vegetables from this Gourmet 4 Burner Hybrid BBQ.
How to cook the perfect meat on a charcoal grill
Once you have added your coals it will take them about 5-10 minutes to get to a high heat. This heat is perfect for cooking steaks, burgers, and dense vegetables like corn on the cob and onions. Grilling meat on this high heat is the perfect hack for getting that sear on the outside whilst keeping it juicy on the inside. After about 25-30 minutes, the grill will have reached medium temperature. This is the perfect heat to cook meats like pork or chicken, fish, sausages, and denser vegetables.
Some other tips for the perfect cooked meat include:
- Marinating your food in zip-lock bags overnght. This way they will fit easily in the fridge and the meat will be fully submerged in the marinade.
- To increase the temperate of the BBQ, open vents to let in more oxygen. In reverse, to decrease the temperature, close the vents — but not completely, or the fire will go out!
- When grilling on a high heat, create a two-fire zone. Stack more coals on one side of the grill for higher-temperature cooking, and less on the other side for lower-temperature cooking. When grilling, sear foods in the hot zone, then move them over to the cooler zone to cook through without burning.
- After grilling, let the meat rest for five minutes on a cutting board. Boards with a groove running around the perimeter are ideal as they will collect all the juices the steak releases.
Room for everything on this 4 Burner Hybrid BBQ! Cook meat, veggies and even pizzas with ease!
Cooking with a Hybrid BBQ
Cooking with a hybrid BBQ is an instant way to elevate your BBQ experience. The hybrid cooking system allows for cooking with gas or coal, or even a combination of both, making cooking on one of these completely hassle free. The state of the at griddle plate provides the perfect BBQ taste, whilst draining fat away into the removeable fat cup for easy cleaning.
With these BBQ's there is a built-in lighting-up system so there is no need for lighter fluid of paraffin cubes. Just light the gas burners and wait 15 minutes. The dual cooking system means that you can perfectly cook everything on the BBQ, whether meat of veg. There is also a fantastic choice of accessories for those who want to make more out of their alfresco dining experience. Why not try Chinese style vegetable on the BBQ with the Wok or even a home-made pizza on a stone?
After the fun evening comes the not so fun clean up. With the hybrid system cleaning in simple. Trays in the BBQ are shaped to hold the ash together, allowing you to simply tip the ash away before using the BBQ again. With the grill system there is none of the meat juice that can make cleaning a regular charcoal barbecue a chore.
Transport yourself to Italy and cook home made pizzas outside on our Gourmet Pizza Stone for your next family dinner.
Other tips
If you really want to host the perfect BBQ, then take a moment to think about the setting. Comfy garden furniture is a must. Why not also consider outside heating? With a garden firepit, evenings can last much longer. When it gets chilly, huddle round the heat, and let the drinks and conversation in the garden flow. Also consider some garden lights for after dark. Lighting is the perfect way to create a relaxing atmosphere, whilst also ensuring the safety of guests after dark. Finally, do not forget to cover up. Keep BBQs and garden furniture looking its best by covering it up when not in use, particularly in adverse weather.
For all products discussed in this blog visit our website to set your perfect outdoor dining scheme. All products can be found here.