Find out more about using interior cladding tiles around your home
You will most likely be aware of styling within your home using interior tiles, but have you ever considered using interior cladding tiles? There are many benefits to using cladding inside your home and it's also a great way to make a statement.
Where you can use them
Interior cladding tiles are a great way to add the finishing touches to your designs. They are perfect for transforming all kinds of spaces around your home. From bathrooms, kitchens, or unique features in the bedroom, as well as for commercial spaces like bars and restaurants, they can be used all over the place. They can even be used outside to create intriguing indoor-to-outdoor cohesive designs.
Our wide range of tile cladding offers the perfect option for every design. From realistic wood effects and mineral effects in a variety of colour options, the panels offer a luxurious finish to your home's interior. Enhance the look and feel of your home quickly and easily with these stylish cladding options.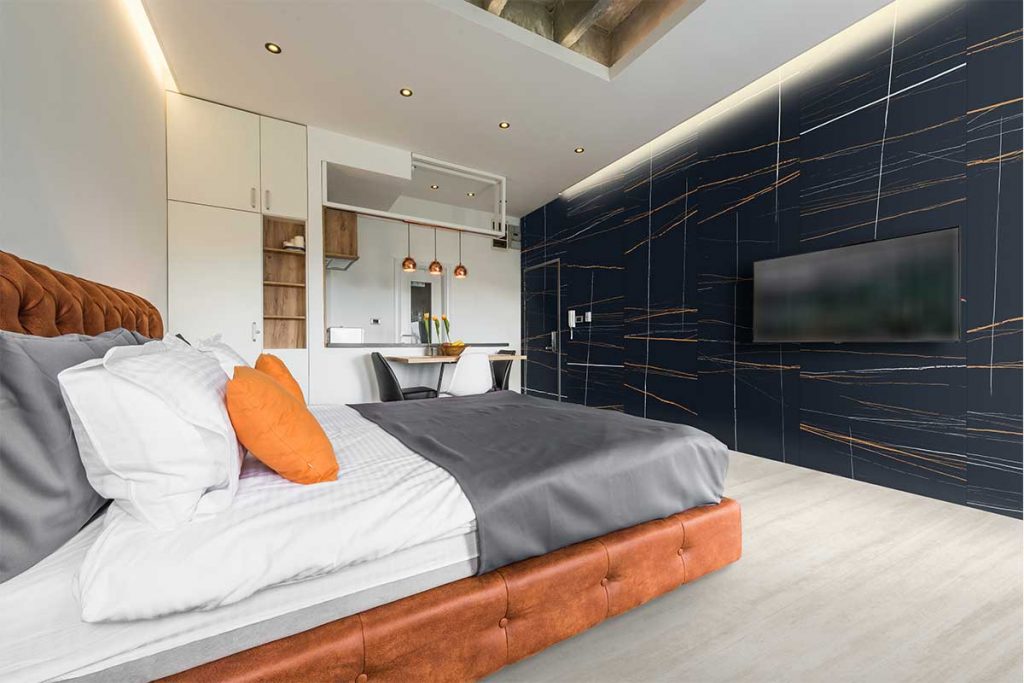 The benefits of interior cladding tiles
These panels offer authentic, natural and stylish designs that are durable and easy to maintain. Our interior cladding tiles have a non-porous surface which prevents dirt, oils or liquids from penetrating. This makes them extremely resistant to stains and dirt, the perfect choice for around the home. The cladding is also easy to clean; soap and water is enough to do the trick for standard daily cleaning, making them very hygienic.
The panels are easy to install due to the fact that they are lightweight. This offers a cost-effective product in comparison with other, more traditional products that can be more expensive and difficult to install.
How to style them
Interior cladding tiles offer a refreshing new way to style the inside of your home. Use the tiles to make impressive feature walls. Each of the designs will inject instant luxury and is perfect for modern and contemporary designs. You can also use these tiles to create unique features, like a bespoke storage table. The neutral tones of these tiles are perfect for a more scaled-back design. Keep the rest of the colour palette neutral - creams, greys and blacks are perfect. Add a few modern touches like glass and mirrors, and use plenty of straight lines in the design to complete the look.
Explore the range of interior wall cladding that we have on offer and start planning your home renovation.