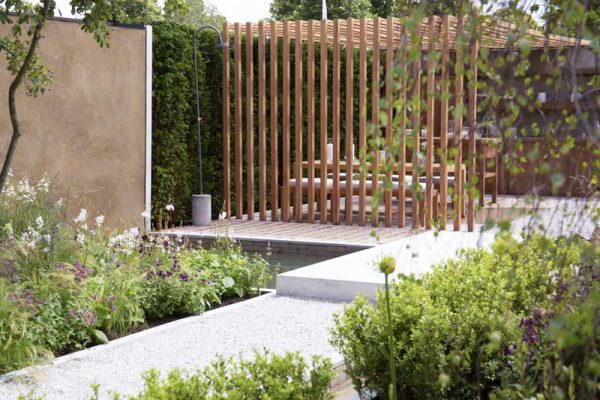 This month it's all about finding places for plants with our brand-new Plantbox vertical planting and Corten steel planter options. Then scroll on down for a retropeek at this year's Hampton Court Palace Garden Festival.
Bring Walls to Life with Plantbox Vertical Planting
Ever wished you could cover that ugly wall? Or grow cut-and-come-again lettuce? Or found you can't buy that extra plant because there's just no room for another pot?
PlantBox is riding to the rescue. Available in three-, five- or ten-trough packs, this opens up a whole new opportunity to dress your outdoor space with vertical planting, enjoy home-grown herbs and saladings, and cover that ugly breeze-block garage with soothing greenery.
Think big! Easy to assemble, just by clipping parts together, troughs can be stacked as high as eight metres, for an impressive green wall that could shield the walls of your house from the heat of the day.
It's also an ideal beginner's kit, something you can extend as you become more confident. Watering is virtually fool-proof. The PlantBox system has a reservoir for each trough and your plants draw the water they require thanks to the wicking-felt that tucks into the soil. You'll never overwater again! Keeping an eye on water levels is made easy, by a brightly coloured float in the reservoir.
And it's eco-friendly. Sturdy 100% recycled plastic has been chosen for its manufacture—this is plastic that can't be made into any colour but black and can end up being wasted because of that. But it's certainly not wasted on this system.
Starting at £60 + Vat for a pack of three, PlantBox vertical planter will prove its worth within no time, and we're confident it won't be long before you're looking round for more wall space to cover, indoors and out.
New Range in Corten Steel Planters
At London Stone we want you to have everything you need to create a designer-level garden. And you can't get more designer-ish than Corten Steel, seen in award-winning gardens at every RHS show.
There's a reason. The colour complements green leaves with a warm tone, while the weathered finish fits superbly well with other materials—wood, gravel, gabions, porcelain and natural stone paving. It's difficult to find something it doesn't work with!
So, it was a no-brainer to make the first entries into our new Planter range (keep an eye open for additions in coming months) four stylish Corten steel planters in a wide selection of sizes, from 300 x 300 x 300 mm to 1600 x 800 x 400 mm, with prices starting at £50 + vat.
A cunning little detail is the hidden 15mm feet which, not only aid drainage, but "float" the planters a little above the ground to lighten their character. Do consider how you place them because, once filled with soil, they'll be impossible to move. So, have some fun trying out positions. As the steel continues to weather, which it is designed to, becoming richer and deeper before developing a thin layer of oxidation which protects from further corrosion, rust may occasionally leak onto the surface below. Placing planters on gravel or soil will avoid this happening.
Take a look at our range—there are twenty different shapes and sizes to choose from. Whatever you choose, whether it's airy, leafy planting, trailing ivies, or specimen shrubs, there's a Corten Steel planter to suit.
Hallo to Hampton Court!
It was great to be back! Two years after the last Hampton Court Palace Garden Festival, this year's was a smaller affair. Unsurprising, given the circumstances, but it had its advantages. With less of a rush required to get around, visitors had more time to appreciate the gardens.
London Stone contributed to gardens in three different categories, with products that couldn't be more different from each other. Read more about our plank paving, ebbing and flowing into surrounding planting, and Golden Sand DesignClad in designer Amelia Bouquet's Mental Health UK Garden. It won Amelia a Silver, and Urban Meadows received Best Construction Award for this, their first involvement in the show.
Clay pavers displayed their best in Charlie's Courtyard, by Jane Scott Moncrieff and built by Frogheath Landscapes, in the non-judged category of Get Started Gardens. Simply laid, the warmth of natural clay helped make this a charming courtyard for a beginner gardener.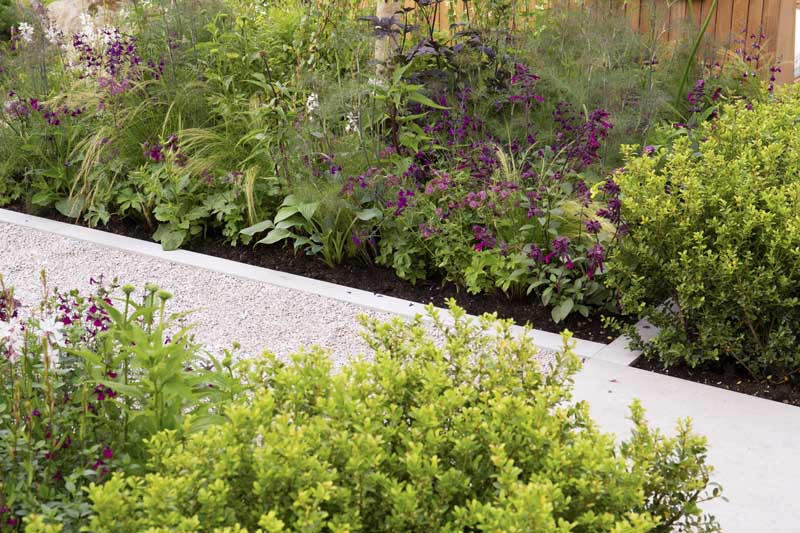 And check out the Viking Friluftsliv Garden for a major bespoke effort in Jura Grey blocks, hefty slabs that anchor the garden and blend effortlessly into the planet-aware ethos of outdoor living. There are a few hidden surprises in the pool too…
Read Pavers, Planks and Precision at Hampton Court 2021 to find out more.