A choice of twenty-five different Natural Stone and Porcelain pavings isn't to be sniffed at, really, is it? But at London Stone we offer you far more paving than that, so what are we talking about?
Beige Sawn Sandstone Steps by FORK Garden Design
Well, it's not about reducing your choices. Over the past months, we've massively extended them. Twenty-five of our pavings are also available in off-the-shelf, ready-to-go step treads and coping stones. Twenty-five. We don't think anyone else in the market can offer so much.
Included in our range are our most popular, economical and versatile pavings, which gives you loads of options to show to your clients (and if you're a London Stone Trade Club member, you can even produce them straight out of the sample box).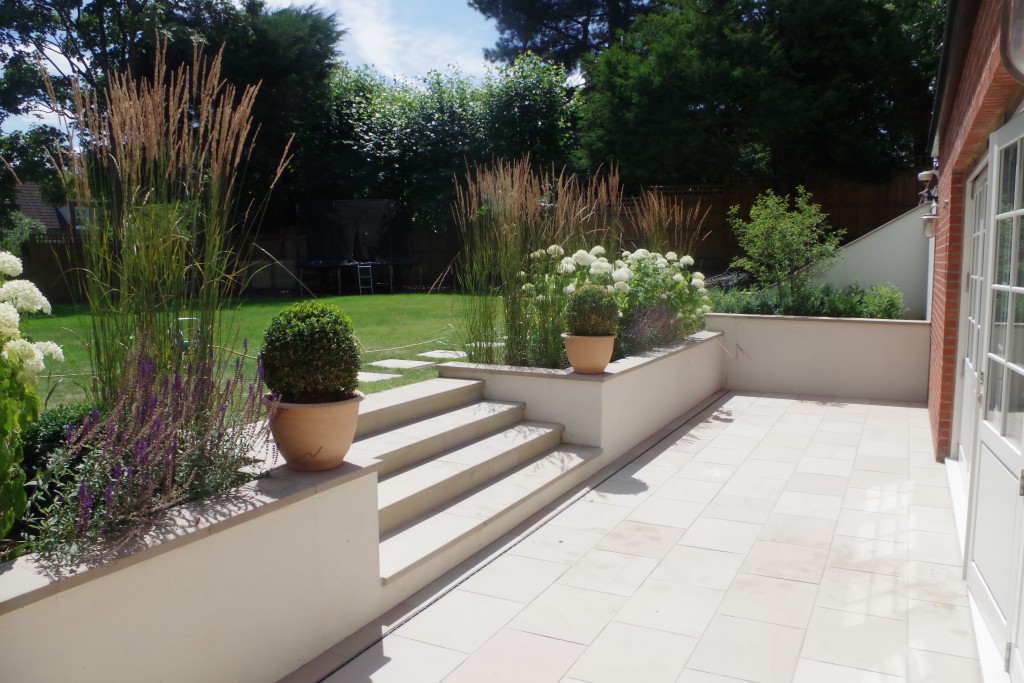 Buff Sawn Sandstone Steps and Copings by Kiwi Landscapes
Our nine off-the-shelf sawn steps offer something for just about every garden style, from Contemporary Grey Sawn Sandstone and creamy Beige, to warm, honed Harvest Sandstone and Granite and Black Basalt. Heath Sandstone is the one to offer to a client who loves the idea of Yorkstone but wants something half the price.
Steps and coping stones are also available in all our Indian sandstone pavings, as well as our complete Porcelain range. The latter, which includes realistic wood-effect options, extends paving choices into areas where previously only decking has ventured.
Our off-the-shelf step treads and coping stones are here when you need them, simplifying your time schedule as you don't have to factor in bespoke lead times. Run short and you can pick up your shortfall an hour from ordering at both our South-East London and West London showrooms.
All our copings come with drip grooves, to ensure they do their job of wall protection. We've thought carefully, too, about the best edge profile to give these steps and coping, so bullnosed, rock-faced, chamfered or pencil-round, the edging style is in harmony with the style of stone and your most likely design application.
We think we've got something for just about everyone, but if you think there's something we should add to our Off-the-Shelf coping and step tread range, then let us know what it is.
At London Stone, we aim to give you exactly what you need.