Customer service is at the forefront of what we do. We put much time and effort into ensuring that our staff and systems are equipped with everything needed to provide you with the best possible service. Here's what we offer.
Showrooms
Our showroom staff aim to offer nothing less than five-star service, each time you walk through the door. With multiple showroom locations across the country, as well as partner showrooms, we aim to be as accessible as possible to all our customers. We are also looking to add new locations this year.
So, what can you expect from our showrooms? We want every customer to find exactly what they need when they visit, so we have many of our most popular products laid in situ, as well as plenty more product displays. This allows you to get a real feel for the products. Not only this, but our staff are extremely knowledgeable and are on hand to help you plan your perfect project. From concept, to order, delivery and aftercare, our sales team are always there to ensure things run smoothly.
Here is what one of our recent customers had to say - "Visited the showroom to look at the vast array of stone available, staff were very helpful and knowledgeable. Chose what we wanted and then dealt with the online sales staff, again very helpful giving several different quotes for different variations of design. Stones were delivered from Slough. Great communication and delivered as agreed."
Don't forget to enjoy some bean-to-cup coffee whilst you peruse the products and be sure to take home samples of your favourite products to see how they look in your space.
Delivery
Our top-tier service continues through to delivery. Because our own fleet of drivers makes most of our deliveries, it means we can ensure a greater level of service for our customers.
With experienced drivers, no drop-off is too challenging. Expertly navigating spaces, our drivers aim to make the delivery process as convenient as possible for you. With our tracked delivery software, customers can also plan their day and not find themselves waiting around for their delivery. We will provide you with regular delivery updates, emailing you the day before delivery and messaging you on the day with your one-hour delivery slot. Finally, we will send an update when we are just 15 minutes away! With many of our products available for free nationwide next-day delivery, you can be confident that we'll deliver quickly and safely to site.
This is what one of our customers had to say – "Delivery was well communicated and on time. Driver was helpful and polite; the delivered items were as expected and reasonably priced."
E-Commerce
With our E-commerce site you can get what you want at a time convenient to you. Day or night, you can place orders online and browse our full range of products. We invest much into ensuring that the online experience for our customers is the best it can be. The functionality of our website is constantly reviewed to see where improvements can be made.
Not only can you find our full, comprehensive range of products online, and everything you need in one place, but there is so much more. Order product samples online, use our handy calculators to work out quantities needed and check live stock levels. There are more features to come.
This Trust Pilot review sums up our E-commerce site well – "Great website showing a large choice of products easy to place an order and superb delivery service."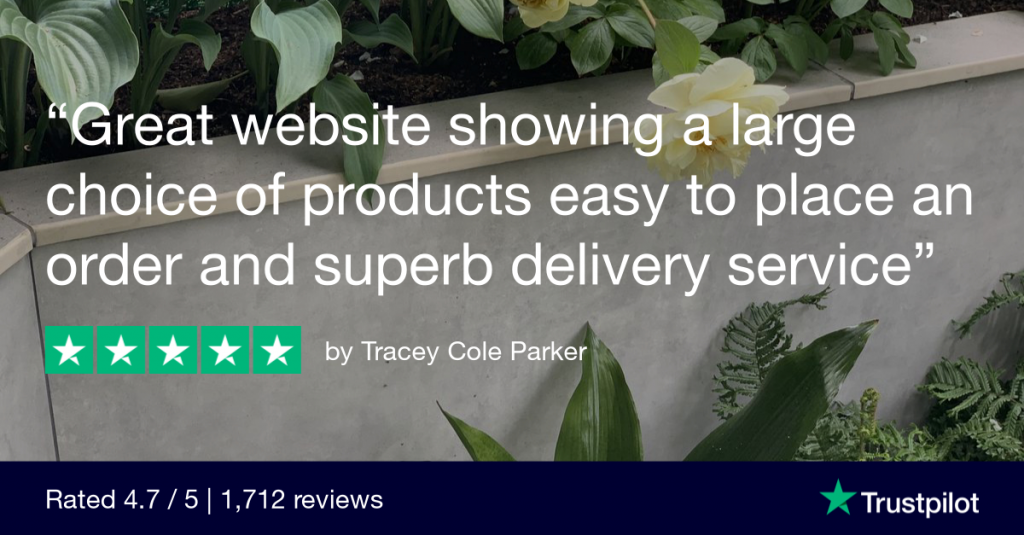 WhatsApp service
We want to ensure you can get hold of us quickly and easily. We know that it is not always convenient to call us or wait on hold if lines are busy. Therefore, we have brought in our WhatsApp service. Connect directly with the department you need - sales, transport, or production - ask your question or pass on your simple instruction in your own time, and we will respond directly.
Trust Pilot
We are confident in the service we provide and want our customers to know they can trust us. For this reason we encourage customers to leave their honest reviews of us on Trust Pilot. We have over 1,700 reviews at the time of writing, 87% of which are excellent, and we have an overall rating of 4.7. The quotes used in this blog have all been taken from our Trust Pilot reviews. Please read more to get a better feel for who we are as a company, and know that you may purchase from us with confidence.