Tackling The Coronavirus (COVID-19) Outbreak – London Stone - Managing Director Steve Walley talks us through the steps that London Stone are taking in the fight against the Coronavirus (COVID-19) outbreak. All of the information contained within this blog is correct at the time of publishing, and is subject to change.
Keeping our staff and customers safe, and our business open as usual
London Stone's Kent Showroom - a large exterior display to view materials
On behalf of London Stone, here is our response and action plan in regards to tackling the Coronavirus (COVID-19) outbreak.
Firstly, I would like to reassure our staff and clients that their safety is our number one priority. At the same time, we know that the majority of our customers, like us, are business owners. That's why we are absolutely committed to keeping our business running. If you're working, then so are we!
I have personally created tailored Coronavirus action plans for every department of the business and have also taken the immediate step of isolating each department. Should we experience an outbreak in one department, there is zero chance of it spreading to other departments within the business.
We are reviewing our strategy on a daily basis, and are acting at all times on, or ahead of the advice from the UK government and Public Health England.
I would urge anyone reading this to review their own COVID-19 plan, and to ensure that they are doing everything in their power to minimize the outbreak.
I would like to reiterate that the health and safety of our customers and staff members remains our priority at all times.
For complete transparency and in the hope of helping other businesses to implement positive changes to their places of work or homes, we have taken the step of publishing our full COVID-19 guidance. Please feel free to read each document for further, more detailed policy information. You are welcome use any part of our strategy to create or amend your action plan. These guides can be downloaded here, at the bottom of the page.
If you would like any further information with regards to the London Stone action plan and response strategy, please do not hesitate to contact me direct, by emailing – steven@londonstone.co.uk.
We thank you for your ongoing support and understanding during this challenging time.
Tackling The Coronavirus (COVID-19) Outbreak – London Stone's Middlesex Showroom, displaying a Cleaning Station at the entrance to the building
What Measures Are London Stone Taking To Minimize The Impact To Customers?
London Stone aim to continue the running of our business as close to 'normal' as is safe. We have taken the following steps to ensure the safety of our customers:
• At the entrance to all sites, we have installed hand sanitizers and wash stations.
• Our staff will clean work stations and areas that come into contact with customers after each interaction. Any customer displaying symptoms of COVID-19 will be refused entry into any London Stone premises.
• Staff will keep a 'safe distance' of 2m/6ft from customers at all times, with no physical contact permitted.
• Our Showrooms and Trade Counter remain open at this time. Our Showrooms in Essex, Kent and Middlesex have large outdoor display areas, where human contact can be completely avoided.
How are London Stone Protecting Staff During The Outbreak?
London Stone treat the safety of our staff with paramount importance at all times. We have taken the following steps to ensure staff safety and wellbeing:
• We have isolated each department and banned travel between London Stone sites for all staff members. Only essential interaction between sites is continuing, with directorial authorisation.
• Staff will keep a 'safe distance' of 2m/6ft from colleagues and customers at all times, with no physical contact permitted.
• 20% of our staff have been instructed to work from home.
• Any staff members travelling on public transport have been given guidelines to follow.
• Key operations staff have been provided with company vehicles to avoid using public transport and keep London Stone open for business.
• Staff have been provided with cleaning equipment and hand sanitizers for their personal work stations and surrounding environments.
• Increased and intensive health and safety measures (including cleaning schedules) have been implemented for rest areas, changing rooms, toilets and other facilities on site.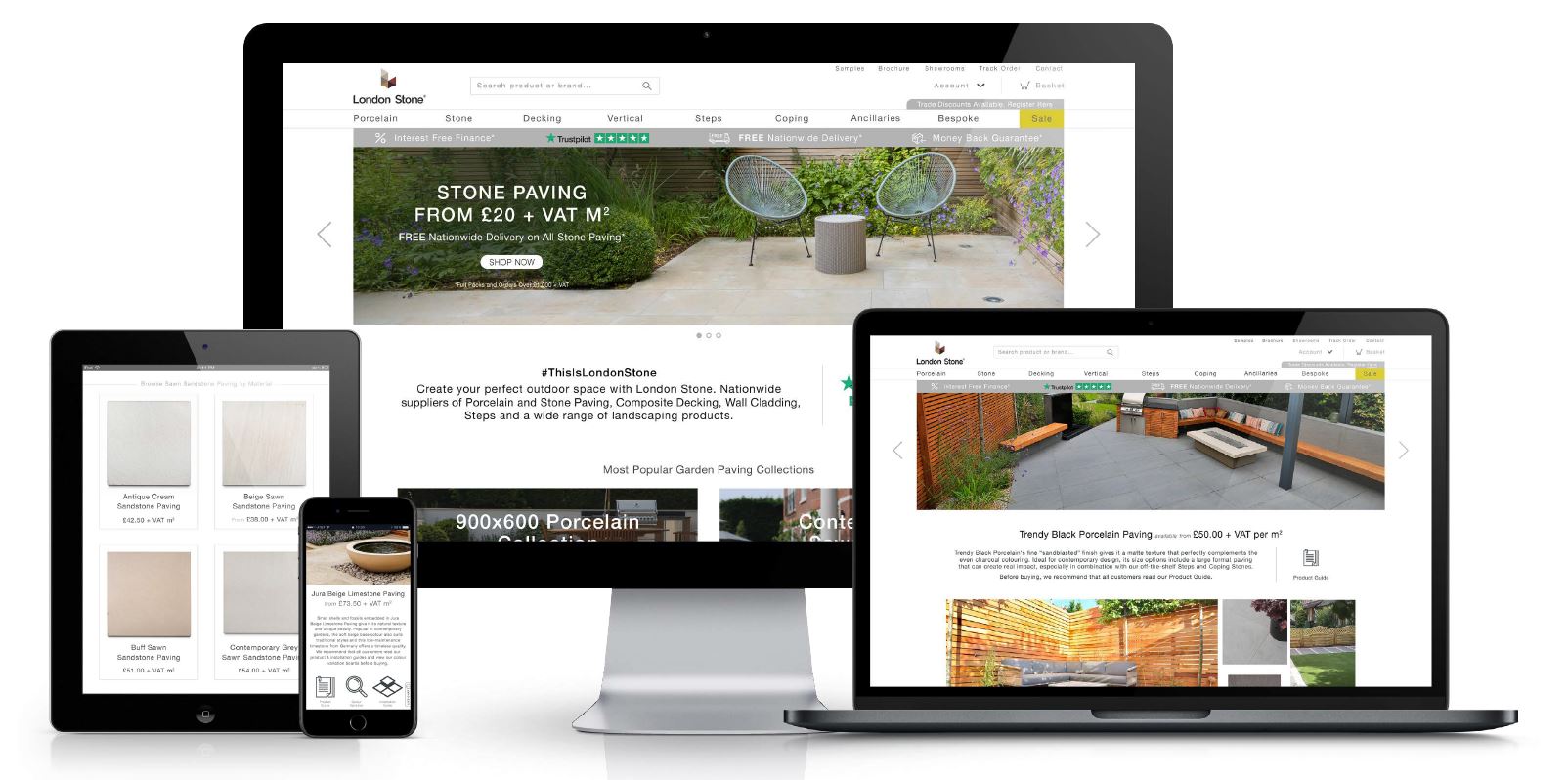 London Stone's e-commerce website is live and materials can be ordered at your convenience.
How Is London Stone Operating During The Outbreak?
London Stone remains open for business as usual, and here's how:
• You can order London Stone goods and services online, 24/7.
• Our phone lines remain open six days a week, from 07.00 – 17.00.
• You can order samples and literature from our website, as well as viewing inspirational image galleries and natural variation photos.
• 'Next Day' delivery slots remains an available option, where applicable.
• London Stone delivery drivers have been equipped with enhanced safety and cleaning equipment, and have been briefed as to how to minimize physical interaction to ensure we can delivery customer orders safely.
• We have good stock levels available 'on the ground', and are in continuous communication with our suppliers to ensure that we maintain good stock levels where possible.
Keeping our staff and customers safe, and our business open as usual.
#ThisIsLondonStone