Read our top tips for styling patterned bathroom floor tiles
Patterned floor tiles are a great way to bring instant interest to a room. A powerful and practical choice, a patterned floor will elevate any bathroom design. The busy design is a great way to camouflage floors that receive heavy everyday foot traffic. When it comes to patterned tiles, knowing how to style them can be intimidating. Read on to find our style tips.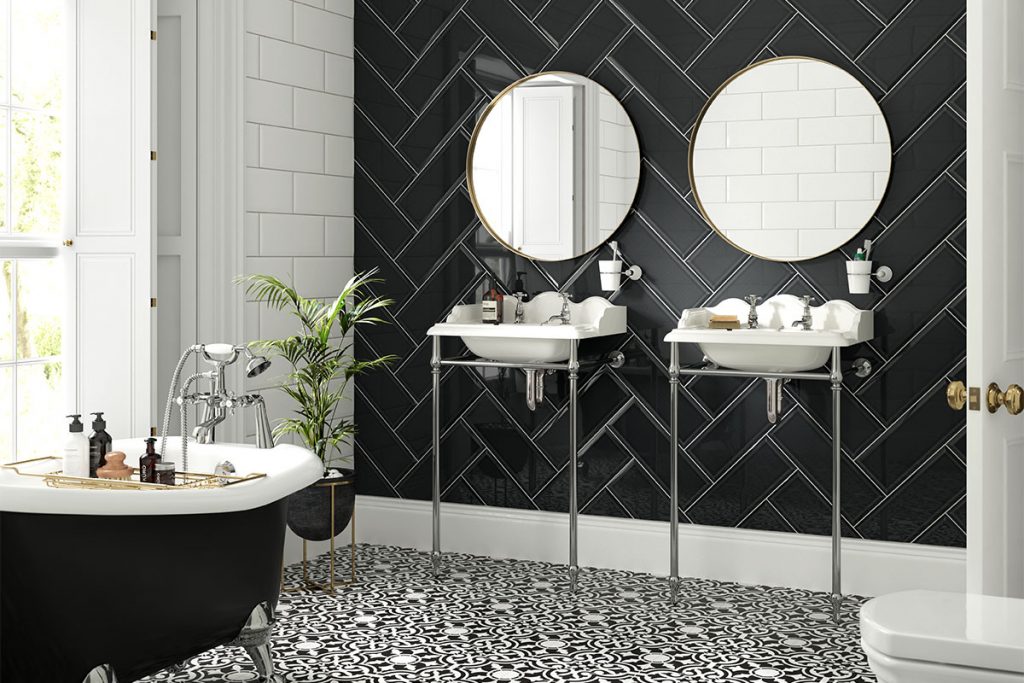 Plain walls
if you have chosen to go with patterned bathroom floor tiles then you already have a focal point going into your design. To prevent your space from looking too busy, opt for a more scaled-back approach to your walls. Choose a plain-coloured porcelain tile for your walls and bathroom cabinets. Plain doesn't mean boring, though. Match the colour of the walls with a colour from your pattern to create an impressive and cohesive overall scheme.
For a monochrome scheme, choose a black and white pattern tile. For the walls use a black tile on one of the walls for a feature; this will give the design a luxurious feel. Keep the other walls a plain white so as not to overpower the scheme. On the black feature wall, place your mirrors and bathroom basin. When it comes to coloured tiles, take a colour from the pattern and use this on all the walls.
Double up
Using patterned tiles on both the floors and wall is high risk but high reward! Using the same tiles on the floors and walls is a bold move but can produce a truly impressive result. Be cautious not to choose a pattern that is too busy as this will completely overpower your space. A less complex pattern will create a cohesive design that can create a space that looks larger than it is. When it comes to the bathroom cabinets and suite, you should keep these plain. The focus of your design is on the pattern, not the accessories in the bathroom.
There are a few ways that you can incorporate patterned tiles into both your walls and floors without it appearing too much. The first way in which you can do this is to have just one feature wall in your matching tile. Tile the entirety of the floor, pick one wall - behind your bath is a good choice - and tile this. Having the bathtub sitting in front of the tiles on the wall will break up the pattern a little and prevent it from taking over. The next option for you is to tile only halfway up the walls. On the remaining half of the wall choose a plain colour that complements the pattern of the tile. This will produce a stunning design that will give your bathroom an instant feel of elegance.
You can shop our patterned tiles here, and start your bathroom transformation today.