London Stone's Off-The-Shelf Yorkstone Means No Long Lead Times - learn more about this exceptional service offer
Ever had the experience where you knew exactly what stone would be best for the job, only for the client to choose something else because they didn't want the delay of a long lead time?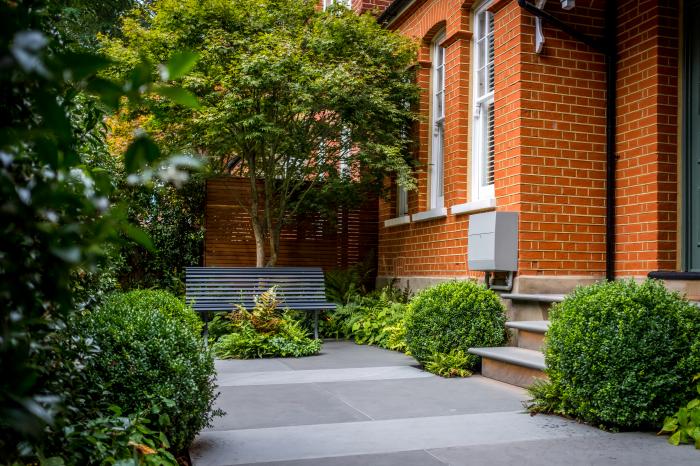 Rosebank Landscaping used Grey Yorkstone Steps and Paving on this townhouse scheme
As every landscaper and contractor knows, the problem with Yorkstone - one of the loveliest and most desirable natural stones - is the long lead time of up to two months usually encountered when ordering it.
This is why, last September, we started stocking Yorkstone off the shelf, in a choice of 900 x 600mm, 600 x 600mm and 600 x 400mm sized slabs. Not only are they available at very short notice and at a competitive rate, but it also means you won't face the hassle of trying to negotiate shorter lead times with a supplier and, even better, awards you more time to get on with the build.
However, paving isn't enough on its own. Also part of the off-the-shelf Yorkstone range are bullnosed step treads, in both the 900 x 500 mm size and the 2000 x 500 mm length that lends itself to a luxurious, seamless finish to entrances and terraces.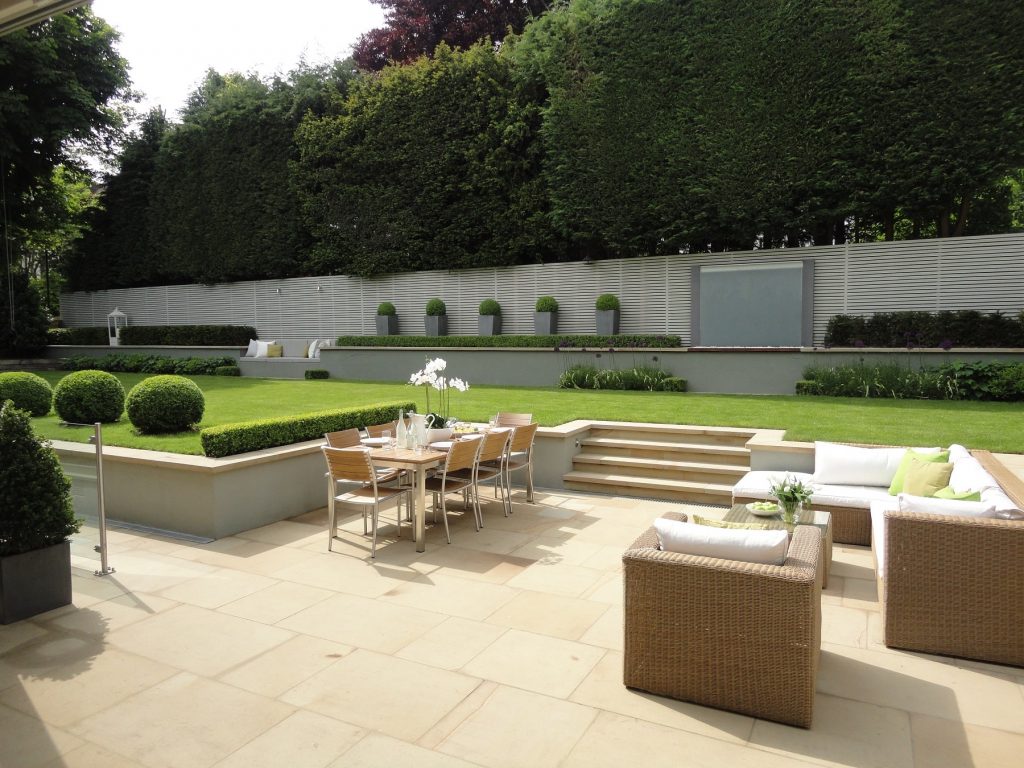 Britannia Buff Yorkstone - paving, steps and copings in all their glory - courtesy of Harrington Porter 
Completing our off-the-shelf Yorkstone range, in addition to sawn setts, are copings in 600 x 300mm straight, 400 x 300mm corner and 600 x 300 end pieces, all with a drip groove and pencil-round profile. Copings, setts and step treads are finished in-house by our expert stonemasons.
So that's all your standard Yorkstone requirements covered, and it seems we're unique to the market in taking the hassle out of obtaining one of the most sought-after paving stones. We still, of course, provide bespoke Yorkstone orders, but this way you know you can offer clients the immediate gratification of getting on with a job. This is a big plus in London where Yorkstone is generally highly desired to blend with the environment and sometimes demanded by planning officers.
Landscaping Solutions bring their A-game on this BALI Award-winning scheme, featuring Britannia Buff Yorkstone copings
We introduced our off-the-shelf Yorkstone range last September and this year the numbers of contractors taking advantage of the service has taken off. As ever, it's all part of London Stone's drive to make your life easier and provide what you need, when you need it.
For more information on our Buff and Grey Yorkstone products, don't hesitate to contact us or click on Live Chat at the top of the page.