Chatsworth had a few teething problems in this, its first year, what with traffic problems and heavy rain making access difficult. However, nothing could dampen the enthusiasm of the judges when it came to giving Neil Sutcliffe of Creative Roots a Silver Gilt medal for his Time for Everything garden, dedicated to Cruse Bereavement Care.
Based on the very personal experience of his family having to come to terms with his father-in-law's terminal diagnosis and death, it used many thoughtful details to illustrate the journey made by those who face this situation.
Grey Yorkstone played a major part in the message of the garden. "We started off wanting a good contrast with the self-binding gravel, which was a buff colour, and also wanted a contrast between old and new, which was a real theme at Chatsworth," says Neil.
"We had reclaimed Yorkstone in the dry stone wall, so we wanted the same material in a contemporary style." The Sawn Brushed Yorkstone was used for the bespoke curved wall copings, also along the silver stainless steel rill, with which it worked "really nicely", and for the dramatic stone cube.
This cube was, Neil tells us, one of the features that people commented on most. A solid block would have been impossible to lift, so we created it out of two pieces, each weighing around half a tonne. "The Brushed Yorkstone has really fantastic markings, especially on the stone cube when wet,"
The water bubbling up out of the cube represented the bubbling up of emotion on the diagnosis of terminal illness. It then fell into the rill, on either side of which were names of loved ones whom contributors to the garden had lost, engraved into the Yorkstone copings. The engraving was, of course, completed on our CNC machines. "People really liked the engraving," adds Neil. "It was perfect."
BBC Gardeners' World Live gardens
Shows are coming thick and fast at this time of year, and almost as soon as Chatsworth closed, BBC Gardeners' World Live opened in Birmingham, with London Stone products featuring in two of the five gardens on APL Avenue.
We love this element of the show because, as our MD Steve Walley says, "As well as showing off the skill and creativity of our landscape specialists, they play an important role in educating the general public on exactly why they should employ the services of professional landscapers and designers."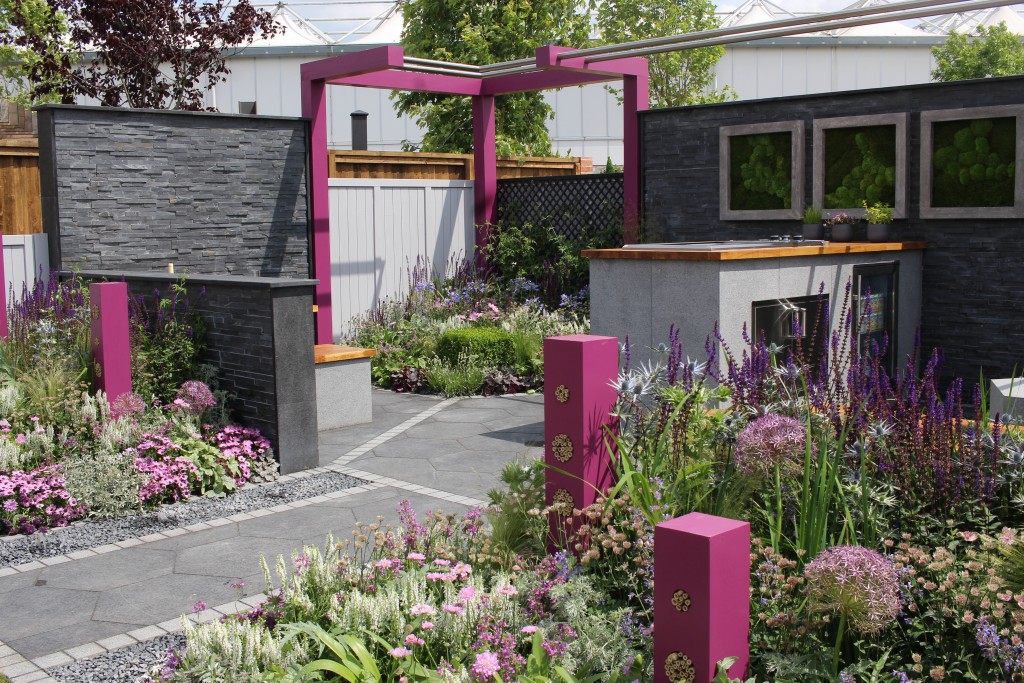 Special congratulations are due to Martin Lines and Lanwarne Landscapes which built the Lanwarne Landscapes Bee and Butterfly Garden, not only winning Silver-Gilt, but also Best Construction Award.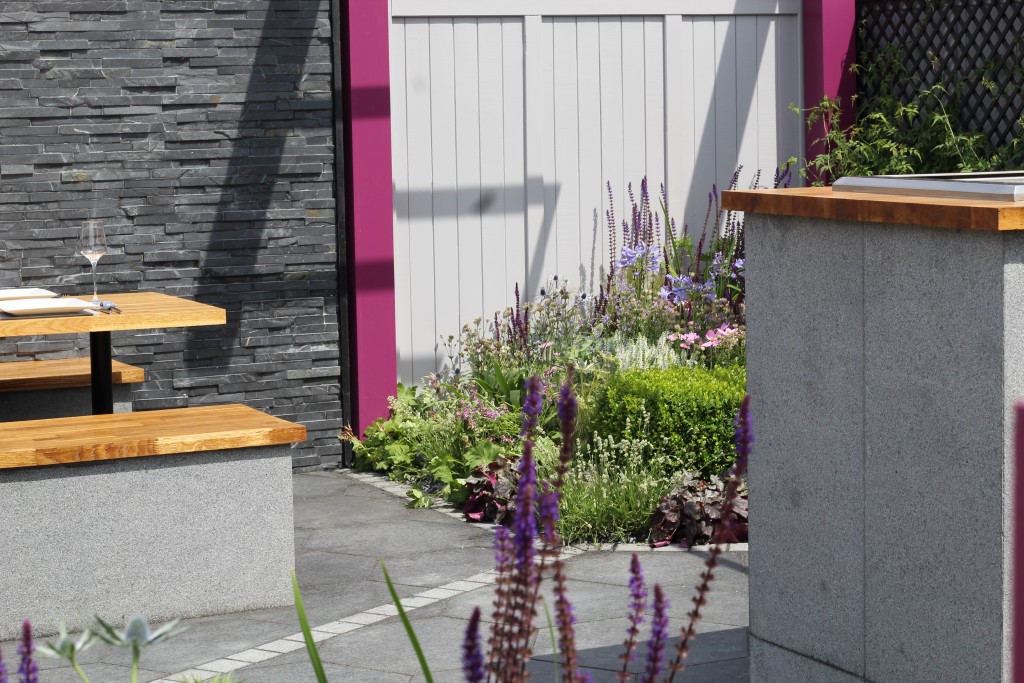 Designed for a socially active 30-something couple who work long hours, and to complement a modern refurbished house, its aim was to demonstrate that contemporary gardens with modern features, such as outdoor dining and a fire pit, can also be nature-friendly. Timber posts incorporated bee and insect houses and bubble fountains offered water.
Hard landscaping featured Black Basalt Paving cut into eye-catching  bespoke hexagons, and matching Blue Black Slate cladding, with a counterpoint of Blue Grey Granite setts adding energy in dividing the paved area, as well as Shropshire Grey Chippings.
Also with a focus on wildlife, the Living in Sync garden, designed by Viv Seccombe, built by Artemis Landscapes and awarded Silver-Merit, used recycled, permeable and low carbon materials to create a sustainable space that would attract pollinators.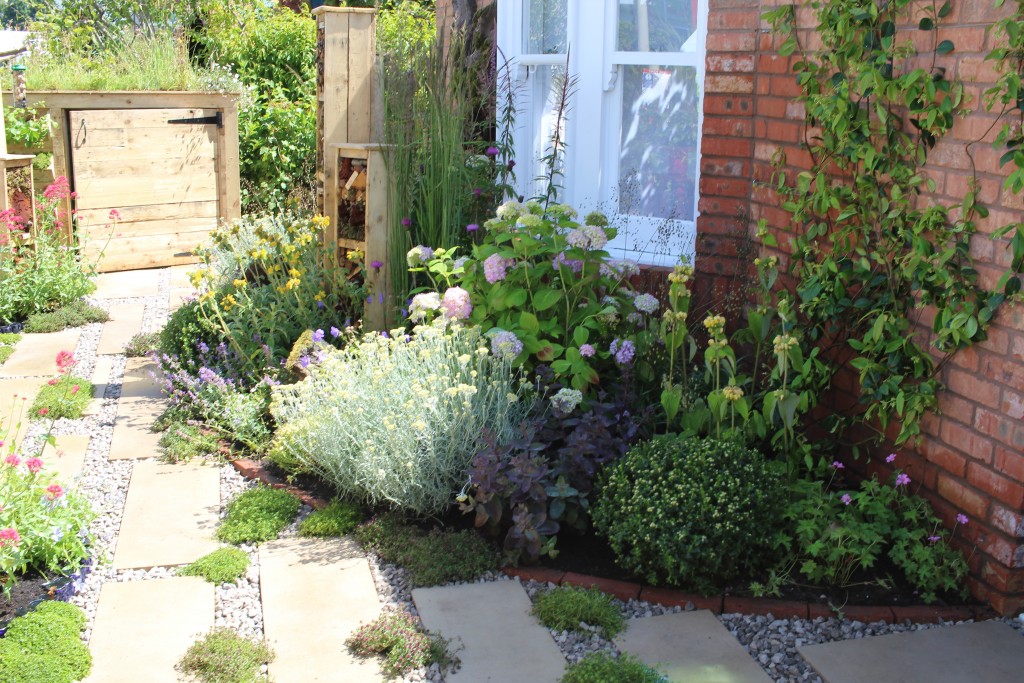 Cleverly, the paving was created from Darleymoor Yorkstone offcuts, ensuring a rather gorgeous-looking path while recycling pieces that had been unsuitable for other projects. Laid on gravel, the plank shapes gave direction to the eye across the garden, so making it appear bigger while remaining part of a permeable landscape.
So, that's three beautifully executed gardens, all showing exactly how inventive a design can be when professionals are involved, and all containing ideas that undoubtedly made visitors think about the potential of their own garden.
As Steve (we just call him 'Guru') also says, "Show gardens are good for the whole landscape industry."