Phew! Chelsea Flower Show really put us through our paces this year, with eight different gardens paved, and some very bespoke elements provided.
The Chelsea Barracks Garden by Jo Thompson won Gold. Picture: Jonathan Ward, Ginger Horticulture.
While we sink gratefully into a heap in the corner (but not for long - Hampton Court is on the horizon), here's a round-up of the super designs that we're proud to have had a part in.
Precision cutting was the name of the game for Jo Thompson's garden. Picture: Jonathan Ward, Ginger Horticulture.
Jo Thompson's Chelsea Barracks Garden gave us one of the most Bespoke orders we've ever fulfilled for a show garden, from the basaltite, ordered specially from Italy, to the precise curves of the large format paving, which had to marry exactly with the bronzed edging,
Curved lines etched into the stone echoed ripples in the River Westbourne. Picture: Jonathan Ward, Ginger Horticulture.
"It was a massive amount of stone," said Jo. "We've got a polished version for the rill, and the paving is etched to create the idea of the river." That river is the Westbourne, one of the lost rivers of London that runs under the Chelsea Barracks grounds.
The soft creamy Harvest Sawn Sandstone creates a precise edge to frame the beds. Picture: Jonathan Ward, Ginger Horticulture.
Pro-Corda Trust—A Suffolk Retreat by Frederic Whyte
For Pro-Corda Trust – A Suffolk Retreat, Frederic Whyte chose a stalwart in the London Stone stable – Harvest Sawn Sandstone. The colour toned with the cream of the decorative wall panels, and its soft finish made a lovely frame for both the beds and the flint panels, which recalled the flushwork found in Suffolk churches of the medieval period.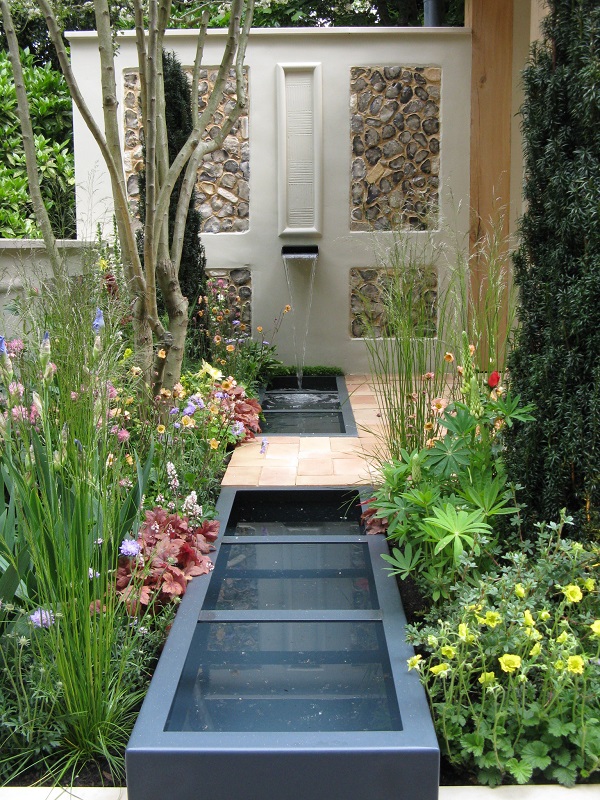 Harvest Sawn Sandstone frames the flint panels. Picture: Helen Gazeley.
"I often use paving as a frame in quite a formal way," said Frederic. "It sets off the exuberant informality of the planting."
The Fine Brushed Grey Yorkstone combined in two paving sizes to create a path that leads you straight into the greenhouse. Picture: Jonathan Ward, Ginger Horticulture.
Hartley Botanic Show Garden and Trade Stand by Catherine MacDonald
Also sticking with traditional materials was Catherine MacDonald who had not one, but two designs on show, in  the Hartley Botanic Show Garden and the Hartley Botanic trade stand. However, in a subtle twist she chose the same Grey Yorkstone for both, but with two different finishes. The Fine Brushed Grey Yorkstone gave the trade stand (which won 5 stars) a warm, professional quality that made you want to dive into the greenhouses and get growing.
The stepping stone effect with Grey Yorkstone. Picture: Jonathan Ward, Ginger Horticulture.
For the show garden, the Brushed Grey Yorkstone blended with the woodland setting. "I wanted a link in the material between the two sites," said Catherine, "but for the show garden to stand apart."
A false lintel and coping in Grey Yorkstone adds detail. Picture: Helen Gazeley.
The paving stones are spaced widely. "It's not too neat," added Catherine, "more like stepping stones." The Yorkstone featured elsewhere too, in the false lintel of the entrance to the glasshouse and the coping on top of the wall. "I was keen to do the lintel," said Catherine. "I like that it gives it a bit of rustic character."
Sintered Stone was used in black and white wall panels, including the black frames, and in the plank paving. Picture: Jonathan Ward, Ginger Horticulture.
Solus Decor Urban Retreat by Jack Dunkley
Totally new for us and two designers this year was Sintered Stone, a very hard type of Porcelain. Jack Dunkley used it for the Solus Decor trade stand, Urban Retreat, where it set off the smooth, elegant precast concrete planters and firepits. Not only was it used as floor tiles, but on the walls. It's well suited to this, as it's dense enough to be used in very thin panels.
Jack liked it. "I'd definitely use it again," he said. "It feels lovely underfoot and, barefoot, it feels soft."
Bullnose edges to the coping stones in the Modern Slavery Garden by Juliet Sargeant, which won Gold. Picture: Helen Gazeley.
The Modern Slavery Garden by Juliet Sargeant
Sintered Stone also played a starring role in The Modern Slavery Garden by Juliet Sargeant. "I'm really excited by it," said Juliet. "You can do almost anything with it."
The textured threshold and simple edging with pencil-round edges were complemented with charcoal mulch. Picture: Jonathan Ward, Ginger Horticulture.
The paving slabs on the threshold were textured. "It harmonises with the rest, which is very smart and polished," she added. "There's a lovely bullnose on the coping and the edging had a pencil-round edge, to make a crisp frame for the plants. I'm very proud of my swish edges."
Porcelain features in our last two gardeners. For such a newcomer, it's fast becoming the paving of choice for many.
Golden Stone Porcelain in Ann-Marie Powell's Greening Grey Britain Garden. Picture: Jonathan Ward, Ginger Horticulture.
Greening Grey Britain by Ann-Marie Powell
Ann-Marie Powell chose Golden Stone Porcelain for her RHS feature garden, Greening Grey Britain, not just selecting it for the colour, though she did describe it as "a beautiful stone, one of the best porcelains I've seen. It looks very natural." The garden was intended to encourage people to think about doing more with their front garden than merely turning it into parking. "Porcelain is slip-resistant, so perfect for the front garden," added Ann-Marie, "and its density means that it won't take on pollution."
Words were inscribed in the Golden Stone Porcelain with our CNC machine. Picture: Jonathan Ward, Ginger Horticulture.
Into the paving were inscribed words for Happiness in various languages. We won't pretend these weren't something of a challenge for Piotr, our expert CNC machine operator, because Porcelain is a very hard, dense stone to cut, but this also gave the words precision edges and he got a lovely contrast between the texture of the Porcelain surface and the smooth inscription.
David Harber looks pleased on his winning stand designed by Nic Howard. Picture: Jonathan Ward, Ginger Horticulture.
Finally, many congratulations are due David Harber, who garnered Best Trade Stand with a lovely design by Nic Howard. Silver grey porcelain contrasted well with brick pavers and complemented David's striking silver sculptures, creating a garden that combined modern and traditional elements into a winning formula.
Silver Grey Porcelain combines with brick pavers to show off the striking sculpture. Picture: Jonathan Ward, Ginger Horticulture.
Designer Nic Howard is very happy with Porcelain. "It looks like natural stone," he says, "and has all the attributes of natural stone without the downside. There's no tolerance. We did 2½ mm joints and could get away with that because there's absolutely perfect tolerance."
He uses it "an awful lot". "The quality of the Porcelain is unbelievable. It harder to cut and you need specialist blades, but when you think we did our first one 18 months ago, now 90% of all the gardens we do are with Porcelain."
So that's it for RHS Chelsea 2016, with a huge thank you to everyone involved. We've got ourselves up from the corner now and back to work, preparing to tell you in a couple of weeks about forthcoming gardens at Hampton Court Flower Show in July.