The creation of a show garden is a serendipitous process which involves the gathering of a unique constellation of people, and places.  Show gardens, of any size, convey messages and tell the stories of the causes they promote and the many individuals who contribute to their realisation.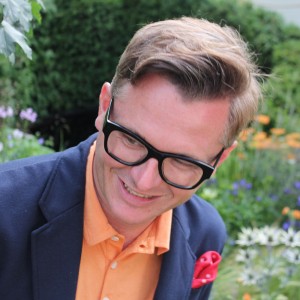 Frederic Whyte.
The origins of show gardens are often casual, and coincidental.  My first RHS Chelsea garden was cooked up over a long lunch in the Tuscan hills.  At the time, I had been living in Italy for over a decade, surrounded by that magical cluster of High Renaissance and Mannerist gardens between Rome and Florence.  The APCO Garden (2012) was appropriate 'Italianate': a development of my own design blend of the Italian and the English, the artisan work of contemporary stonemasons and the global mission of our sponsor, APCO worldwide.
The story of The Pro Corda Garden: A Suffolk Retreat, began last year with, as is often the case, a reflection of the designer's –in this case my own- narrative.  I returned to live in Suffolk in 2014 and, quite early on, the seed was sown for a garden that would somehow celebrate the arts, crafts and magical landscapes –both natural and manmade- of my home county.  Having been working on a rather desolate, Benjamin Britten-esque coastal garden, I met Andrew Quartermain, the CEO of the Pro Corda Trust, a musical charity based amidst the romantic ruins of Leiston Abbey.  We initially met to discuss the landscaping of the Abbey grounds, a truly exciting project that will hopefully optimise the grounds for generations to come.  Our conversation, fueled by Andrew's infectious enthusiasm, soon led us to the notion of presenting a garden at Chelsea: blending Suffolk, and music; my own story, with that of Pro Corda.  Brooding beach huts coated in black tar and wind-warped hawthorns were thrown out of the proverbial window; to be replaced by a soft, secluded, and welcoming summer house surrounded by a floriferous planting palate based upon cottage garden favourites.
In fact, to justify their ephemeral existence and the expenses involved, show gardens need to tell the story of the causes they represent.  This year, with another RHS Chelsea garden and two at RHS Hampton Court during the interim, I have designed another garden for the Artisan category, in partnership with a charity unique in its field and a team of highly talented, dedicated artisans and craftsmen.  Having worked with the Bounce Back Foundation, a charity that helps ex-offenders find their feet, and Amnesty International, I feel privileged to be working with such a fulcrum of creative passion and care that is Pro Corda, one of the leading music course providers in the UK.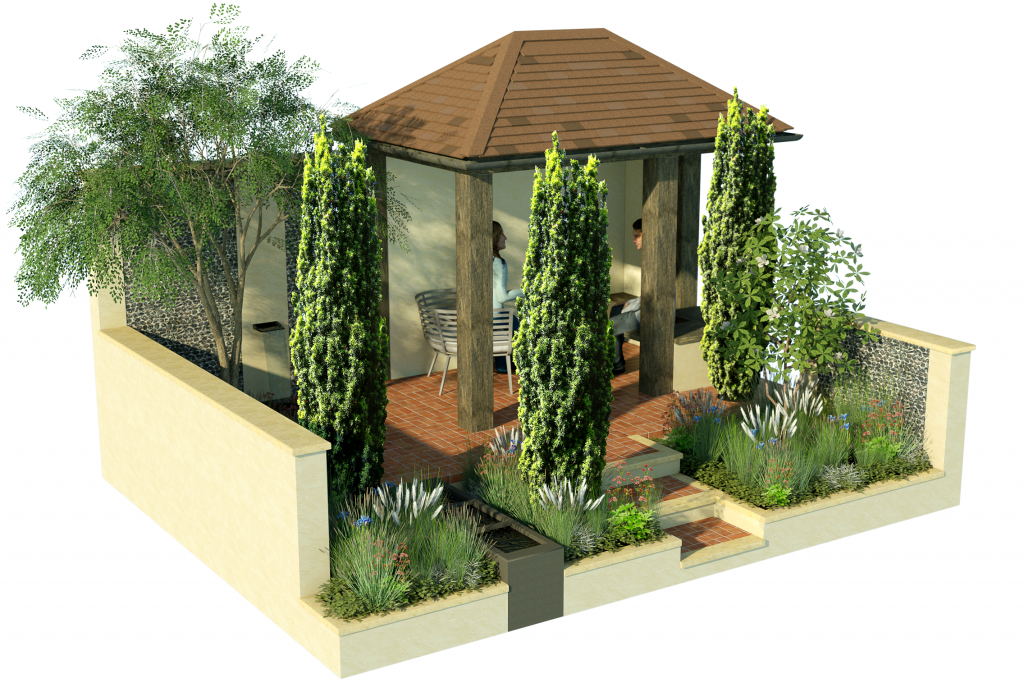 Image supplied by Frederic Whyte. Credit to Sam North.
In particular, the trust helps children with Autism through music. The term Autism is one of those labels that has taken on a life of its own in daily parlance.  I've been guilty of making generalising assumptions myself. Working with Pro Corda; devising the garden's purpose, observing courses and researching, I have learnt that there are many forms of Autism, a whole –to use the term- spectrum of creative and very special individuals who simply see the word in a different way from what we consider the norm.  Our garden narrates Pro Corda's mission: it provides a tranquil place for music practice and a corner in which children with Autism can retreat, and relax.  It creates an inspiring backdrop for music rehearsal and a calming, sensory retreat.
Many designers, lured into the media circus that is 'celebrity' would benefit from remembering that show gardens are all about people.  The gardens need to resound with the voices of the people they are about and the people who have helped to build them.  Medals belong to everyone involved but, I have always believed, should be shared with the landscapers, in particular.  I have been privileged to work with some extremely talented garden builders.  This year, I am especially lucky to have Tecwyn Evans of Living Landscapes on board for both RHS Chelsea, and Hampton Court.  Working with him is a pleasure, and many of the stresses and anxieties of show garden creation have vanished in a puff of smoke.
The design has been inspired by the tranquillity of Leiston Abbey and by the vernacular architecture and artisan crafts of Suffolk, and on the journey from design to submission and onto the nuts and bolts of planning, I have met a group of highly-talented artisans and craftsmen.  Conceived in the Arts & Crafts style, garden elements focus on the quality of design, and the craftsmen working in traditional idioms in contemporary ways.
Not wishing to create controversy, I have always felt that the term 'artisan' has been (mis)interpreted in a very narrow way by many designers at RHS shows.  Artisan does not necessarily signify the (re)creation of shabby sheds covered in rampant climbers and surrounded by rolled out wildflower turf.  Artisan does not imply a pair of grubby old boots artfully placed on an equally contrived muddy threshold.   I suppose there is a place for pastiche, but for me –and building on the principles laid by the use of contemporary Italian stone in The APCO Garden: A Suffolk Retreat showcases the talents of today's artisans, working with today's aesthetics and with today's technologies.
Secluded and soothing, the garden is surrounded by low, lime-wash rendered walls with flintwork panels by a company based in the county: Mark Bilner Construction.  Associated with the glories of Suffolk ecclesiastical architecture, we have sought to present this ancient craft in a more contemporary key.  A narrow path, laid with traditional Suffolk bricks leads into the summer house, crafted from weathered oak and Suffolk peg tiles.  Both brick pavers and tiles have been provided by the Bulmer Brick and Tile Company, which is based on a site with kilns dating back to the Middle Ages.  The walls and paving have been finished off with London Stone's own Harvest Sawn Sandstone, setting off these traditional materials with their precision-cut, bespoke finish.
Image supplied by Frederic Whyte. Credit to Sam North.
The small summer house, surrounded by beds billowing with grasses and perennials creates a tranquil, secluded retreat for children with Autism, and doubles up as a rehearsal space for trios and quartets.  Inside, it is decorated by a triptych of pargetted panels, inspired by the garden and its musical theme.  The old craft of ornamental plasterwork dates back to the 16th century.  Today, it is enjoying a renaissance, in many ways led by the work of Johanna Welsh, a third generation pargetter who has been working with ornamental plasterwork since her mid-teens.
Natural music is created by the sound of running water and wildlife.  The Suffolk-based manufacturer Harrod Horticultural was commissioned to make the bespoke water feature and blade, quirkily inspired by old-fashioned pig troughs, a familiar sight in the Suffolk countryside.
There are many others involved with the creation of The Pro Corda Garden: A Suffolk Retreat: the fundraisers and the donors; the suppliers and nurseries; Tecwyn's team and the hand-picked planters who will all weave their own stories into the garden as it is constructed.  But perhaps, most importantly, the garden, once relocated at the Abbey, will be a place in which Pro Croda students will be able to discover and develop their own and very special narratives.