Imposing a minimalist, Eastern-influenced courtyard garden into the middle of quintessentially English countryside could have resulted in something that looked utterly out of place. Instead, Matt Keightley of Rosebank Landscaping has not only created a restrained garden that reinterprets the style to make it completely at home but wins first prize in our Photography Competition for the best picture featuring London Stone products.
Grey Yorkstone, taken by Matt Keightley, Rosebank Landscaping.
Matt started with a completely blank space, as the area was the tarmacked hard-standing for a set of garages (now refurbished into a three-bedroom house).  After in-depth discussions with the owner, who particularly wanted the Japanese look, Matt took the three classic elements of a Japanese garden—water, hard landscaping and sculptural planting—and put them together in a way that draws in the surrounding countryside, rather than repels it. Clipped yew and dwarf pines add texture as well as shape, while multi-stemmed magnolias, Iris sibirica, and Pin Oaks (Quercus palustris) bring moments of colour through the seasons.
Picture: Matt Keightley
Matt chose Grey Yorkstone to partner the other two elements. "Grey Yorkstone gives the planting a muted structure. In the normal light of day, where planting can appear ordinary, against this stone it really pops out."
The paving consists of two notable paving formats. The extra large slabs measure 1680 x 980mm and took a crane and stone magnet to get them into place. "They make the space more exciting and interesting, but it's a restrained way to do it, and they have a clean, contemporary look because of the minimal joints." One of the lovely aspects of Grey Yorkstone is the character it offers, brought to the fore in the extensive slabs. ""With the natural marbling and veining," said Matt, "every piece feels like a piece of sculpture."
Picture: Matt Keightley
In contrast, Grey Yorkstone planking edges the water. "It draws the eye from the source of the water, along the rill and up the vertical stone at the end of the garden," says, Matt, "which makes the space feel like a panorama, with a sense of journey even when standing still."
The shape of the rill also plays its part in this, in a clever balance of dynamism and serenity. Creating a mirror for the planting and boulders and maintaining the garden's rectilinear stability, the water nevertheless zigzags across the garden, taking the eye to the distant corner.
Its simple lines hide a complicated build. As the rill turns a corner, it couldn't take the fall in paving normally built in for drainage, so all the stone is perfectly level, laid on pedestals, without pointing, so water drains through to the concrete base hidden below, where the fall is built in. This made the jointing even more critical. "The tolerances London Stone gave us were fantastic," says Matt. "We could set slabs with a 3-5mm joint all round for a really crisp feel."
Meanwhile, the pumping and filtration unit for the rill is placed well outside the garden. "This is so that you only get to experience the garden, with no perception of how it works, and is calm as you walk through."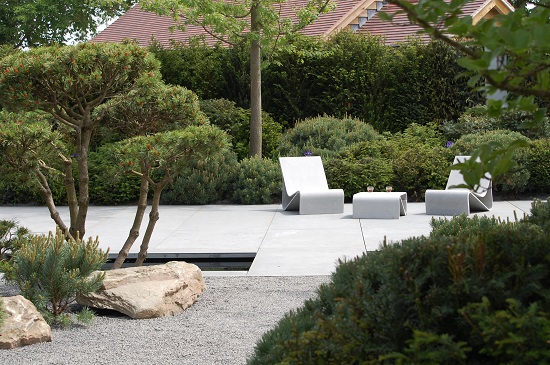 Picture: Matt Keightley
We're pleased to find that our winner is as thrilled with his prize as we are with his picture. Not only is he off to the Big Apple, which will be a new experience, but his build will be on show all year as a double-page spread in our 2017 brochure.
"It's a huge honour to be in the brochure," says Matt. "London Stone are top of the industry and at the top of their game.  It's not just great to work with them—with thoroughly like-minded people—but we're part of a brochure where we can inspire other contractors to take a standard product and use it in a different way."
How to take a winning photo
Good photography relies on lighting. That's why keen photographers are always out early morning or evening when the light is soft and arrives at a low angle from the sun. Matt was up at 4.30am to take his winning entry. "Conditions couldn't have been better," he says. "It was blissful."
Obviously, though, the scene itself must be photogenic and Matt's Gold-winning Chelsea experiences have resulted in some useful tips for entrants to our next Photo Competition later in the year. "Funnily enough, after Year One at Chelsea, someone said to me that you've got to start thinking about design with a photographer's eye. Obviously, this is a private garden so others aren't going to see it,  but you still need framing—particularly views through space so that clients can appreciate the design fully, wherever they're standing within that space.
"When a design is so restrained, lining up joints in stone, placing every boulder, using trees to frame the water behind—you become obsessed with optimising views."
Picture: Matt Keightley
It's an approach that serves both designers and photographers well. And now it's won Matt a well-deserved holiday for two to New York. We're looking forward to seeing the High Line in a new light, Matt!