London Stone's New Surrey Showroom Opens In Farnham - our fifth, and largest showroom opens
A new baby. Always exciting. And the latest addition to our family is our new Surrey Showroom, taking us out beyond the M25 into an area where so many of you are based. You won't even have to navigate the Heathrow traffic to reach us!
London Stone's Surrey Showroom hosting an APL Cluster Group, 12.11.2018
Very spacious, there's plenty of room to see our products in helpfully large formats, and our displays really bring to light the enormous wealth of off-the-shelf products we offer.
With areas dedicated to our full range of Porcelain, Natural Stone, DesignBoard, DesignClad and Millboard, there's also room for our newest addition for 2019; DesignBoard Cladding (more on that at Futurescape), as well as displays incorporating gorgeous pierced screens from Stark & Greensmith, and Vistagreen which provides a remarkably attractive artificial wall-covering alternative for those without the time, light availability or budget for a living green wall.
Edge profiles to suit all designs - in natural stone and porcelain
We've brought "outdoor" space indoors, so you'll find a granite and sandstone landscaping feature, with planting devised by horticulturalist Jamie Butterworth, as well as an outdoor fireplace faced with DesignClad and Grey Yorkstone, and a svelte powder-coated aluminium pergola.
Farnham means easy access from Hampshire, West Sussex and Berkshire, as well as being within right in midst of Surrey where so many of your potential clients are based.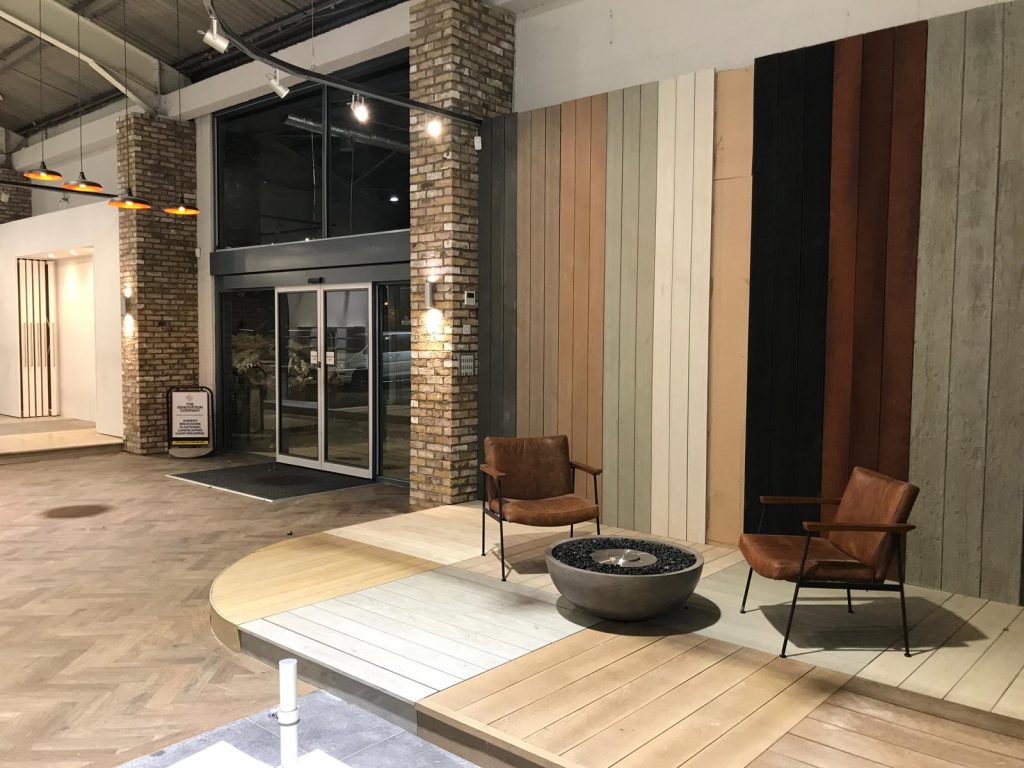 Composite Decking can be viewed around a cosy fire pit
As with our North London Showroom, Surrey has been developed with the needs of landscapers and designers in mind. The showroom gives you an attractive and convenient place to meet your clients, where you can also talk privately in one of our meeting rooms.
The entire showroom is also available for industry events. We'll be holding a few of those ourselves, bringing the demo room into play for landscapers' days on how to install our products and new product launches.
With the design conceived in-house by Design Project Manager Piotr Przytula and Director Gavin Walley, we've included elements that will be familiar if you've already visited our North London showroom. We consider it the London Stone feel - the tall airy glass entrance, plenty of space to move around in, a relaxed atmosphere, offices out of the way on the mezzanine floor, and (though we say so ourselves) a rather gorgeous water feature.
All the touches you've found in our other showrooms - complimentary refreshments, free customer Wi-Fi, bean-to-cup coffee - are, of course, here at Surrey.
There's plenty of room to host talks and networking events in the Surrey Showroom
We think you'll be impressed. More importantly, we think you'll be very comfortable bringing your clients here.
How does Piotr feel about his new baby? "I am pleased," he says, "but I am never 100% pleased because I have great ambitions." Well, we all think it's pretty incredible, Piotr!
Come and visit, browse our full range of off-the-shelf products, and tell us what you think.