Four years is a long time in the life of a showroom. While we reeled from the realisation that our South-East London showroom at Cooling's Green & Pleasant in Knockholt had been open so long, we were in no doubt it was due for a refurbishment.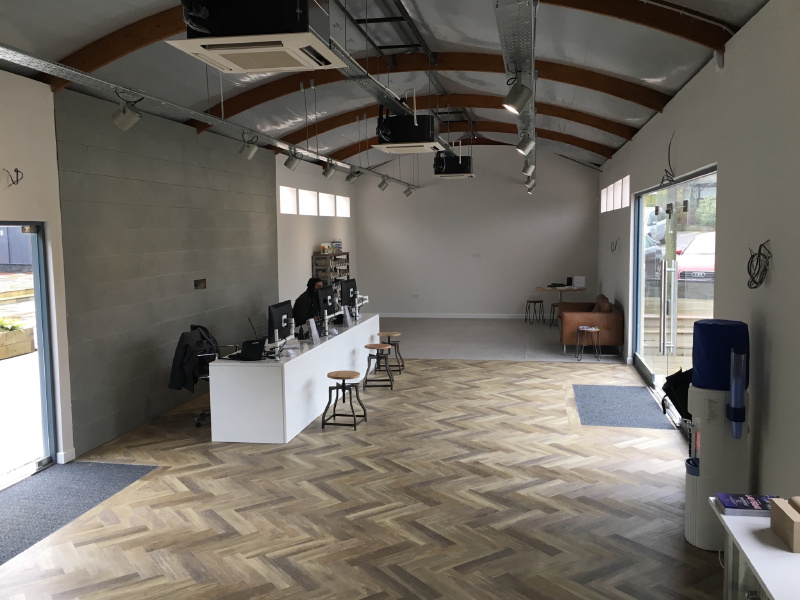 The South-East London Showroom, near Junction 4 on the M25, is one of our most popular for walk-in custom, so we've redesigned the interior to ensure there's always a place to make yourself comfortable; even when it's really busy.
First off, we gutted the showroom, relocated our back offices to a new building and removed internal divisions. The result? An airy, open-plan area that's much bigger, with plenty of areas to sit and browse, more comprehensive internal displays, and plenty of samples to help yourself to.
Of course, we've retained an area for customer meetings, so you can chat with clients around the table, removed from the main showroom area, but within easy reach of any samples you'd like to show to them. And what would our showrooms be without our ever-popular bean-to-cup coffee and refreshments, fresh fruit and The Times newspaper for when you need a moment of downtime?
The new layout - glass fronted, spacious interior - now gives our Sales Advisors a great view on to our inspirational displays, so they know faster when you need assistance, but we're also finding that visitors are enjoying the enticing environment and the fact that it's obvious where everything is.
Still just a step outside, the outdoor displays are there for you to compare stone in situ and show clients how their patio will look after it's been laid for a while. And don't forget that we carry ninety-nine percent of our off-the-shelf natural stone stock at Knockholt, so if you're a few pieces short on a job, you can drop by and collect what you need on the day, while Porcelain will be there for you to collect the day following your order.
Our refurbished South-East London Showroom won't be the only sparkling improvement to our premises, however. We're gearing-up to open two more showrooms in 2018; keep an eye on our social media for more updates soon!
In the meantime, why not drop in to Knockholt and admire our improvements? That coffee machine is ready for you, as always.