A cornucopia of colours, textures, patterns and sizes. Check out our new ranges of bright modern wall tiles for a fresh look for your home.
Fire your imagination with twenty-four new wall tiles
From high-gloss, saturated colour to spa-ready, marble-effect tiles with a matt finish, this new range of ceramic wall tiles offers plenty of scope for a completely new feel to your bathroom, kitchen, hallway or living space. Particularly fun are the brick-effect tiles in a wide range of colours from cool cream, through rich blues, to deep black. The brick shape offers plenty of design options in the laying patterns, from herringbone to stacked bond for a traditional or rectilinear style. Add chair rail and skirting tile options for a classic look with a modern twist, or mix plain with Décor tiles at random to add textural contrast.
Meanwhile, cool, marble-effect tiles offer an opulent ambiance. Contrasting bands of texture, using the matching textured Linear option, will break up wall space into classic proportions. Check out our images and set fire to your imagination. Prices start at a pocket-friendly £18 + VAT.
Don't forget the floor, though…
New glazed porcelain tiles to add distinction to your designs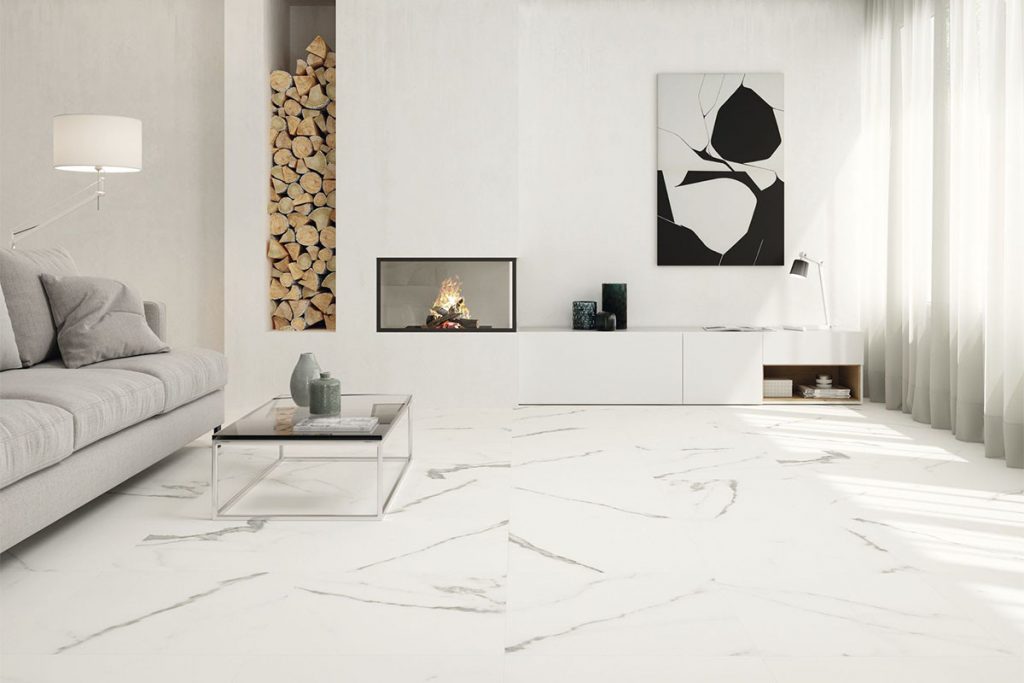 To match our marble-effect wall tiles, our glazed matt and gloss options complete the look. There's nothing to beat the calming effect of matching walls and floor—a deceptively simple décor that nevertheless speaks of luxury.
Or why not consider something completely different with the smaller, Savoy options? They're ideal for more intimate spaces. Combine their understated concrete effect with the delicate matching Décor version for a real artisan vibe. Prices start at £25 + VAT.
But they're not the only pattern to follow…
Porcelain patterns – don't miss our new additions
Hot on the heels of our Cementina and Tarsia patterns, which we brought to you last month, are four new patterned tiles with a completely different character. Our new encaustic-effect patterned tiles offer a bright, light feel that give a warm welcome in hallway or conservatory.
Or how about a slightly more rustic feel? The mix of geometric and floral designs on our Savoy patterned floor tiles have understated colours that give an impression of hand-painting on concrete tiles. Give yourself a completely bespoke design by mixing and matching the various packs. Prices start at £22 + VAT.
There's so much to feed your flair for design. What will you choose? Treat yourself to a coffee and browse our new ranges now.