Jamie Butterworth Blog – exploring the relationship between hard and soft landscaping, and which combinations work well.
Rosebank's Matt Keightley provides stunning contrast at RHS Chlesea 2018
When I joined London Stone nearly a year ago to the day (yes; already! How time flies when you're having fun), I was keen to develop a greater understanding of the combination between hard and soft landscaping. Identifying the relationship between stone and plants, how they can work together to form something truly incredible.
Far too often we see projects where the planting has been an afterthought, the budget over-stretched on building works, leaving just a slither for the greenery that will bring the garden to life. Professional planting, that is designed with longevity in mind not only improves gardens but makes gardens. For what is a garden without plants?
Equally, a garden with no hard landscaping becomes an impractical space, overwhelming and high maintenance. The key lies in balance, applying everything in moderation and considering the garden as a whole. The colours, textures, shapes and feel of the planting should surely be considered alongside hard landscaping materials.
Below are three projects that I feel highlight how, when considered correctly, the dynamism between natural stone and planting can bring gardens to life, creating stunning projects.
Matt Keightley – RHS Chelsea Flower Show 2018 (RHS Feel Good Garden)
Low-level planting creates dappled shade across the inviting smooth texture of London Stone's Jura Beige Limestone
Matt's designs never fail to excite and inspire, and this garden is no exception. A masterful combination of stone and plants created an inviting and inspiring space as the RHS's main showpiece at the 2018 RHS Chelsea Flower Show. This garden is designed to showcase the positive links between gardening and mental health, with the garden being re-located to the Camden & Islington NHS Trust after the show.
Specimen Gledistia 'Sunburst' erupt out of the terraced Jura Beige limestone, providing height, structure and a colourful overhead canopy. Chosen as they still allow light to pass through creating a more dappled appearance. The ground planting is made up predominately of textural perennials and shrubs; plants such as Rosemary, Salvia, Thyme and Stipa, knit together to create the perfect balance between foliage and flower.
The limestone seating area provides a tranquil space for visitors to reflect and enjoy the space. The planting softening the stone, in a way that invites you to stroke, touch and enjoy the aroma of the plants.
Lara Behr – Blue Grey Granite Steps and Paving
Lara has created fantastic contrast using areas of hard landscaping to guide the eye to the soft, colourful planting. Photo: Annaick Guitteny
This is a project that really caught my eye on social media. A simple yet powerful combination of Blue Grey Granite, gravel, and sumptuous planting. The refined hard landscaping palette allows the colours within the planting to pop, adding a true explosion of colour through bright oranges, reds and pinks that clump form to soften the space overall.
The Blue Grey Granite steps leading into the house spill-out into the area of aggregate, providing continuity to the design contrast brilliantly against the bold planting. The restrained use of materials helps make this garden a real show stopper, and a garden that will continue to provide enjoyment throughout the year.
David Neale (Neale Richards Garden Design) – The Silent Pool Gin Garden Chelsea Flower Show 2018
Textural differences within the hard landscaping elements enhance the togetherness of the soft landscaping
Within the 'Space to Grow' category at this year's Chelsea Flower Show you could find a feast of garden inspiration for smaller spaces. David's garden was the perfect example of this, with a clever pallet of hard landscaping and plants that created a delightful and inviting space to enjoy. The colours are key to this garden, with bold blues and oranges taking centre stage to working brilliantly alongside the Steel Corten DesignClad walling.
The planting adds to the calming atmosphere created by the clever use of water and hard landscaping. With multi stem trees providing structure and architecture to the planting whilst also adding a dense canopy to create a safe and protected atmosphere.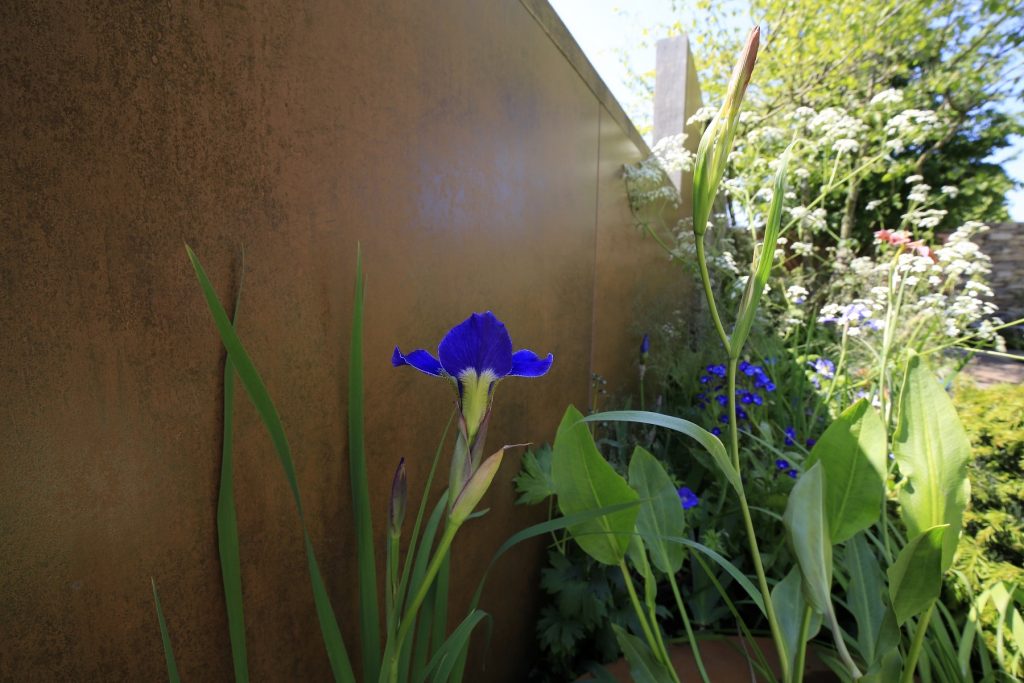 True blue - David Neale makes this Iris a stand-out performer at this year's RHS Chelsea
With every garden providing a different atmosphere and aesthetic, studying the relationship between materials, both hard-and-soft, continues to be a joy for me, and I'm sure for many of you as well.