With space inside our home at an all-time premium, we are all looking for ways to expand. Find out how Indoor Outdoor porcelain tiles are the perfect solution to creating the impression of a larger living area.
Indoor/Outdoor As A Trend
This trend doesn't involve planning permission to grow your home, but instead focuses on transforming your outdoor space to create a more unified feel with your interior. Using Indoor Outdoor porcelain tiles, you can extend the space inside your home to the outside in a cohesive way, and at the same time produce a functional outdoor space for you and your family to enjoy.
Whether connecting your kitchen, dining or living room with your garden, create a seamless transition by using our matching indoor porcelain tiles and outdoor porcelain paving slabs, perhaps through large patio doors or french windows. This simple process of matching the tiling will create a flow from inside to outside for a wonderful feeling of continuity.
The beauty of this approach is that it works equally well whether you have a small courtyard or an extensive patio.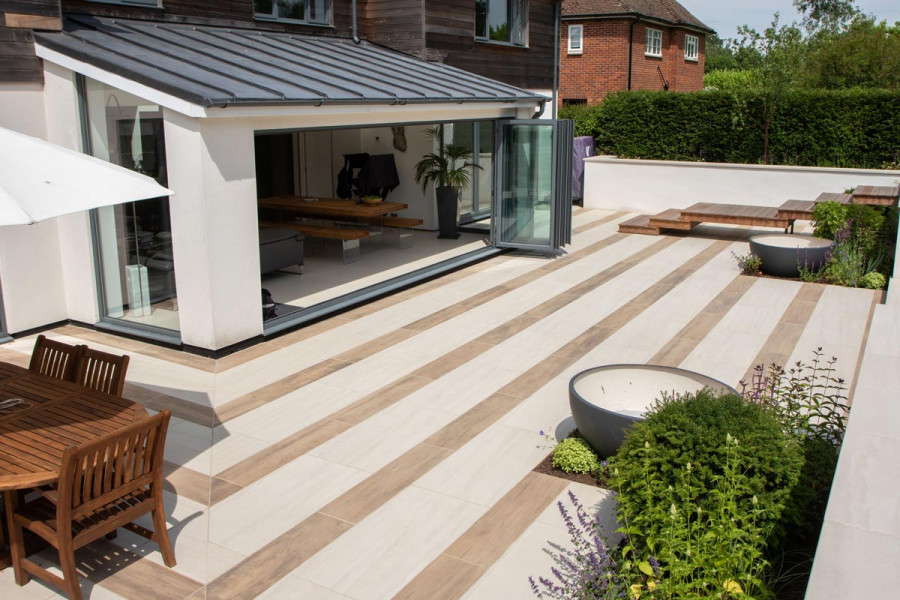 Why Porcelain
Porcelain is an ideal material for laying both inside the house and outside in the garden. It is extremely durable, with low porosity, making it both water- and frost-resistant, perfectly for enduring adverse weather conditions outside and inevitable spills inside the home.
Stain-resistant and scratch-resistant, and very low-maintenance, porcelain is the ideal choice of material to withstand day-to-day wear and tear. A hygienic and easy-to-clean option for inside the home, it is every bit as practical in the garden.
With an extensive range of colours and finishes to choose from, it is also stylish and modern, with something to suit every scheme. Indoor Outdoor Porcelain Tiles are a truly versatile option that helps you make the most of your home.
Product Focus
Inside Outside Porcelain Tiles come in a wide range of styles and colours to offer exactly the look you want for your home. Whether it is the warm, natural feel of a wood-effect tile, or the contemporary chic of neutral porcelain designs with their ultra-consistent colour and texture, there is a choice to suit. Our Indoor Outdoor range currently consists of 15 options to choose from.
Size and pattern
For those looking to make a bold statement with extra large porcelain tiles, our Yard Porcelain paving offers the ideal solution. Light grey in colouring, these tiles are perfect for contemporary settings.
For a unique patterned feel there is our Tarsia Porcelain which will add instant character and distinction to a design. Supplied in randomly mixed boxes of 36 different patterns, these tiles offer the chance to get very creative.
For a wood-effect porcelain there are our Cinder and Rovere products. Both create a calm, natural ambiance to them and will produce an organic feel in the design, but with the more durable qualities of porcelain.
Colour
Those looking to create a neutral setting with a light cream palette will love our Comblanchien, Cement, Faro, Gea, or Slab Khaki porcelain options. Ranging from slightly off-white tones to richer creams and organic-feeling hues, these are perfect for creating a relaxed setting.
If your scheme is more looking for a dark moody feel, our Cave Porcelain fits the bill. Rich, charcoal tones will bring instant luxury to a scheme.
Grey is ideal for all kinds of designs. Truly a designer's dream, the grey options we supply range from light greys that will create a bright-feeling space, to more stormy greys that bring depth and interest. Our grey porcelains include Sidewalk, Kirkby, Versilia, Slab Coke, and Ancient and will work perfectly in any setting.
Find more ideas of how to use Indoor Outdoor Porcelain Tiles. Or why not explore the range in full and start your home renovation today?