The wonderful, natural riven surface and wide variety of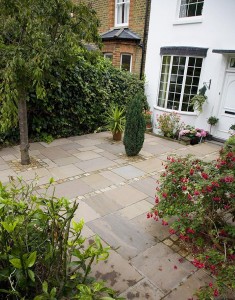 colours has made Indian sandstone paving one of the most popular choices for both small and large paved areas in either an urban or rural setting.  Some of the colours lend themselves more readily to particular locations. For example, Autumn Brown, with its hues of soft tan to darker russet shades and occasionally lighter, creamy brown, looks sensational in a traditional setting. Autumn Brown is hard wearing and needs little maintenance.
For a modern design, where a uniform colour is desired, Kandla Grey is a great choice as the blue-grey surface is more consistent than other Indian sandstones. The colour is an excellent foil for green foliage and combines well with pastel flower colours.
At the other end of the scale, where the designer is looking for contrast between the paving slabs, London Stone supplies two lighter Indian sandstones – Mint and Fossil Mint. As the name suggests, Fossil Mint has naturally occurring fossil ferns which give the stone an interesting appearance and people are intrigued by the different patterns they make on the stone's surface. These lighter, creamy-coloured Indian sandstones look best where the natural variations in tone can be admired.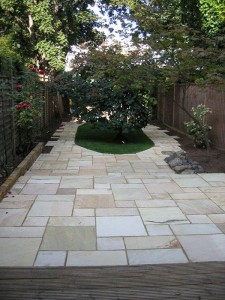 Last but not least, is Raj Green which is a truly versatile paving, largely grey-green and best emulates our English York stone. It not only looks appealing in a town garden, but also suits a countryside terrace.
All our Indian sandstone paving is available is four sizes: 900 x 600, 600 x 600, 600 x 290 and 290 x 290 and also in a mixed pack containing equal quantities of each size. For a modern, minimalist look the largest size laid in rows looks particular stunning. For a traditional look a random layout will give the best finished appearance.
To complement the Indian sandstone paving range, we provide pre-cut circles in three diameters – 2m, 2.8m and 3.6m. These may be used as stand-alone, focal point features or integrated into the design of the paved area. The centre stone makes the perfect position for a statue or sculpture, or even a water feature.
Hard landscaping design is all about attention to detail and our sandstone setts can be used to create patterns within the overall design, to edge paved areas and to create paths. Sandstone setts make the perfect transition between patio and lawn. London Stone supplies sandstone setts to two sizes – 100 x 100mm and 200 x 100mm and in colourways which match the Indian sandstone collection.
London Stone has been supplying Indian sandstone for many years. We only supply ethically sourced stone and can give you all the advice you might need for the perfect installation.