With just two weeks to go until the Chelsea Flower Show,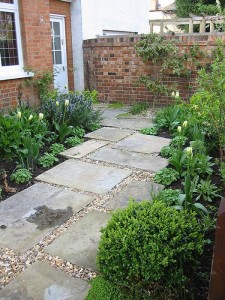 all eyes in the landscaping world will be turning to the show gardens for the latest trends in cutting edge garden design and horticultural excellence. Whilst the plants are often the stars of the show and the focus of media attention, the attention detail in the hard landscaping is what can make the difference between a bronze and a gold medal. The design of the hard landscaping and selection of the most appropriate materials for a relatively small space make for some tough decisions for the designers.
The 2014 Show will be remembering the centenary of the start of the First World War, so apt for its location in the Royal Hospital Gardens. Alan Titchmarsh has hung up his presenter's suit for the year and is back at Chelsea with a special garden celebrating 50 years of the RHS's Britain in Bloom campaign.
Cream porcelain tiles for the 'London Square' Garden
This year London Stone is privileged to be supplying some exterior porcelain tiles for a garden designed by Jo Thompson and built by the Outdoor Room called 'London Square' which is in the Fresh category. The cream tiles are a great foil for the mass of green and white planting set off by apricot coloured irises and white roses.
Other gardens where the design of the hard landscaping is crucial to the overall success of the gardens are:
The Brewin Dolphin Garden designed by newcomer, Matthew Childs and built by Bowles & Wyer. Its broad paths and generous seating area create a really interesting series of vistas through bold arches.
The Extending Space Garden built by PC Landscapes and designed by Nicole Fischer and Daniel Auderset is another geometric garden with a combination of hard landscaping textures.
Once again Cleve West has come up with a stunning design for a Paradise Garden for M&G which draws inspiration from the gardens of Persia. Bath limestone and flint has been used to create an octagonal pool surrounding a beautiful fountain.
Designed by Deakinlock Garden Design and built by Landform Consultants the Fabric Garden for House of Fraser has probably the largest amount of hard landscaping allowed by the RHS Chelsea rules. It will be interesting to hear the comments of the judges on this playful inside-out show garden.
The Le Tour de Yorkshire Garden, designed by Alistair Baldwin is sponsored by Welcome to Yorkshire. Its use of Yorkstone paving is integral to the design which hints at the North York Moors and the stone walling will provide an atmospheric backdrop to the garden.
Until judging day the jury is out but for my money this year's Chelsea is going to be a triumph of our great tradition of garden design and landscaping.