Learn what is on trend for tiles in interior design.
Interior tiles are an important element when it comes to home designs. There are now so many different shapes, colours, prints, patterns and styles to choose from. They are the perfect way to breathe new life into tired rooms. But it can be hard to know where to start when it comes to interior design. We have put together this easy guide to help you to start planning your home transformation.
Colour
There are a few ways that you can use coloured tiles in your bathroom or kitchen. Block colouring is a big new look for bathrooms. Either use a block colour on one wall, all walls, or the floor! Our Navy Porcelain Tiles would be a perfect choice for this. If you do not want to over-colour and overpower the room, limit the coloured tiles to a specific, smaller area of the room.
Another choice for using coloured tiles is to add a splash of colour into a plainer scheme. Start with your neutral colour, like our Comblanchien Porcelain Tiles, and then add your coloured tile for an element of fun.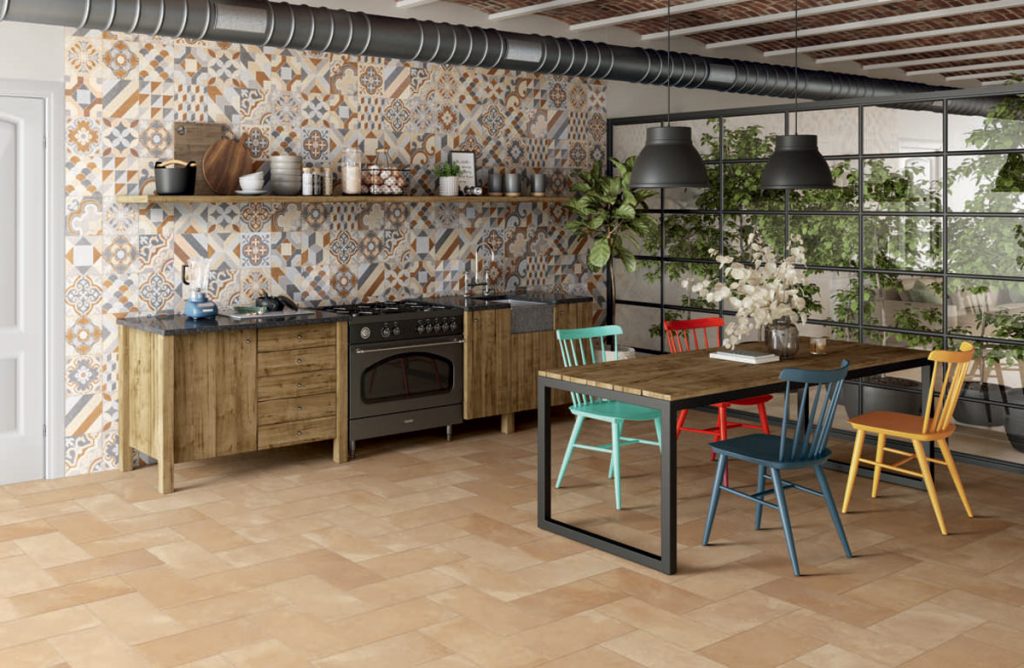 Patterns
Patterned tiles are a great way to make a statement in any room of your home. Add a beautiful, patterned tile to your floors or walls to give your scheme plenty of playful character. This trend is making a big comeback, particularly using small, patterned tiles in large spaces. Take a look at our Cementina and Cementina Mixed Patterned Porcelain Tiles. Be cautious in keeping the rest of the décor relatively plain in order to not overwhelm the space.
Keep it Light and Bright
If you are looking to optimise the amount of light that pours into your interior, then this is the style for you. Fresh white tiles in the bathroom or kitchen are a simple way to lighten the space. Keep the space light on the walls and floors and choose a darker tile for the floors to create a contrast. To reinforce the light and open feel of the room, keep accessories to a minimum and go for natural elements like wood and planting. Don't forget that with this trend it is important to keep those tiles looking fresh white. Read our blog for best tips to keep your porcelain tiles looking brand new.
Dark drama
Extreme-dark, or even black tiles, are ultra-chic, particularly in the bathroom. A moody palette just oozes that luxury feel. Black on black with dark grout creates an expressive and artistic interior. Try our Brazilian Black Slate Tiles in the kitchen or living area and our Nero Atlante Matt Porcelain Tiles in the bathroom. This trend is only for the bold but, when done right, can surprisingly make a small space feel bigger.
Indoor, outdoor tiles
We've introduced you before to the new trend of indoor-outdoor tiles, but this growing fashion is worth mentioning again. Using the same tiles inside and outside your home is the perfect way to create an almost seamless feel. Using the same tile blends your indoors and outdoors to create one impressive space with a cohesive feel. Our TC Mint tiles are a great choice for this; an already impressive tile, it will look twice as good joining your spaces.
See our full range of tiles and start to get creative with your interior design now.