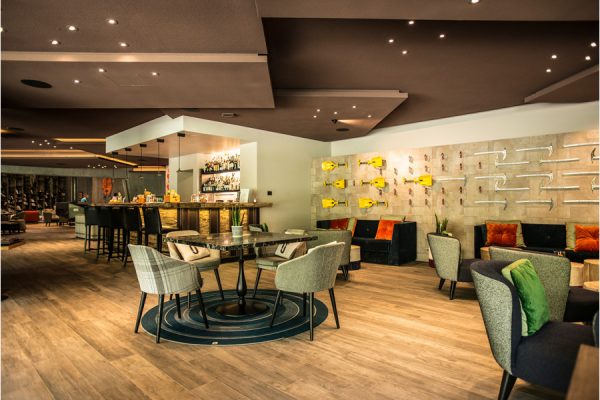 Learn how to style oak wood effect floor tiles to transform your home.
Oak wood effect floor tiles are growing in popularity. They are versatile and practical and beautifully replicate the look and feel of real wood. Wood-effect porcelain is now so impressive it can even mimic the appearance of knots in the wood for a truly organic feel. But how do you style it in your home?
These Oak Wood Effect Floor Tiles create the perfect relaxing space. This space features our Rovere Porcelain Tiles.
The benefits of tiles over natural wood
Before we jump straight into styling, let's talk about the qualities that make oak wood-effect floor tiles the perfect choice. These tiles have many advantages over wooden floors. They are more durable and easier to maintain than real wood. Underfloor heating can be installed with these tiles. Unlike real wood, the tiles will not fade and lose their colour over time. Finally, the tiles are much less susceptible to wear and tear, such as scratches and dents that occur from day-to-day foot traffic.

Our Cinder Porcelain Tiles create a stylish, minimalistic space here. 
Kitchen
Kitchens can be bold and sophisticated or colourful and playful; each one has its own unique character. Wood-effect tiles easily complement either style. To create a stylish contemporary space, pair the tiles with glossy whites and blacks. The use of neutral block colours on the cupboards and kitchen island will keep the kitchen feeling fresh and clean, whilst the wooden flooring will keep it from looking to clinical. For a more relaxed feel, use bursts of colour throughout the kitchen. Use the undertones of the wood to choose your colours. Pair darker wood with rich blues and greys, whilst lighter tones of wood will make a stunning pairing with bright colours like yellows or oranges.
Bathroom
Quite often bathrooms are decorated in a way that is very cold and dreary. Wooden tiles will instantly give the bathroom a warmer, more inviting feel. The aim in the bathroom is to create a relaxing space. Pair the wooden tiles with other natural textures like stone and living elements like planting.
This stunning wooded space has a lovely calming feel, using our Rovere Porcelain Tiles throughout the scheme. 
Living Room
When it comes to the living room the world really is your oyster. Make this space a reflection of your own personality and style. The wooden tiles will create the perfect base for you to add your own touch with paint, furniture, art rugs and lighting.
If you are looking to create a vintage feel, use wood-effect floor tiles with a reclaimed oak feel and pair them with natural materials. Add natural stone , like slate, into your design and even some real wood touches, either in open beams, artwork, or furniture pieces. In terms of colour scheme, keep the paint to pastel colours to create a relaxing, homey vibe. Don't forget to add some cosy textures in rugs and pillows.
For a contemporary style keep to neutral colours like whites and greys for the main. Scale back on the accessories and keep them clean and minimalistic. Incorporate a coffee table with a floating effect created by hidden lighting underneath for an ultra-modern feel.
To give your living room that cottage feel, lay the wooden tiles in a herringbone effect and add plenty of texture. Use colour, wood, and planting to create a cosy welcoming feel.
Creating a sophisticated style, pair the wood-effect tiles with rich colours like deep blues, emerald greens and, even, black. Gold touches are a popular choice for this look to give your design a real elegance.
Now that you know how to style our range of wood-effect floor tiles, find the rich colour for you and begin your home transformation.