The design of a garden will usually follows a set of principles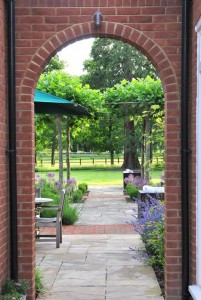 including balance, unity, scale and proportion. Dividing up the garden using the 'rule of thirds' helps the designer create a design which conforms with these principles – for example, one-third paving to two-thirds soft landscaping, one-third planting to two-thirds lawn, two-thirds shrubs to one-third perennials, and so on. These 'rules' work well in a town or suburban garden but when it comes to a large garden in a rural setting the designer is faced with such a large space that the proportion of hard landscaping and planting will be far lower than the 'rule of thirds' (and the budget) would determine. The challenge for the designer is to link the architecture of the house with the surroundings. Formal shapes near the house may evolve into the less formal linking the garden with the landscape beyond.
Selection of paving
As with all gardens, seating areas near the house will be paved with paving stones which complement the brick, stone or render of the building. Sandstone paving with a riven or tumbled surface, such as Raj Green or Autumn Brown are superb choices for patios, terraces and paths around the house.
Using larger paving slabs will suit the scale of a large garden and for a traditional look may be laid in a random layout. The transition between the paved areas and the lawn can be edged with Indian sandstone, granite or tumbled setts which are either square or rectangular in shape.
Choices for pathways
Setts are also a good choice for natural looking paths where they can be laid to curve round beds. Our sandstone setts come in a wide range of colours – Autumn Brown, Fossil Mint, Grey and Raj Green – hand cut, with riven faces, they combine perfectly with the matching paving slabs. For edging borders, paths and drive, Buff Yorkstone setts, sawn on all faces is a hard wearing choice combining with its matching paving slabs. The gentle, cream colour with some veining suits many situations. For a consistent colour choose Grey Yorkstone setts.
Feature areas within the garden
A large garden affords plenty of pace to display sculpture, pools, fountains and other features which would overwhelm a small space. Our range of sandstone circles matching our Indian sandstone range set within the lawn, a flower bed or an area of gravel makes the perfect hard landscaping choice for displaying these features. Alternatively, our bespoke stone-masonry service is able to cut and finish any of our paving to your design.
There is little doubt that a well laid out garden with the appropriate amount of paving and easy access from the house to the farthest corner is not only a worthwhile investment but also a place where family and friends can spend time together entertaining and relaxing.