We took time out this week to talk to Paul Amondsen, our Production Manager at the Bespoke Stone Centre. In the last 18 months since he joined London Stone, he has implemented a whole raft of efficiency improvements and the demand for stone cut to order  has increased dramatically.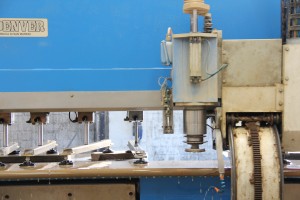 Paul's previous experience in manufacturing in various roles, including production, transportation and purchasing means that he is ideally qualified to manage his 11 strong team. The Bespoke Stone Centre now employs three in the cutting team, a further three stonemasons and three in the sealing department, as well as a shop floor supervisor and a yard man.
Since his arrival the number of orders for bespoke stone in the pipeline at any one time has more than quadrupled to almost 140.  This increased capacity has been brought about by the introduction of machinery such as the CNC machine. This machine is used to cut and shape the edgings of coping stones, steps, pillar caps, patio slabs and many other bespoke stone paving in five axes. As the range of patio ideas increases so the demand for different products increases.
Paul ensures the production process runs smoothly by creating a scheduling spreadsheet which is updated weekly and follows the various cutting jobs around the shop floor. The Bespoke Stone Centre is not only responsible for cutting the stone but for sealing, drying, wrapping, packing and sending to the transport department for onward shipment to the client. Coping stones, patio slabs, and pier caps may also require hand finishing which is carried out by our stone masons.
Over the past year there has been an increase in demand for sealed products. Certain sandstone paving is rather porous and therefore benefits greatly from sealing. Clients are looking to protect the surface of their paving slabs and create an easy to clean surface. The treatment of paving slabs, in particular Indian sandstone, reduces the growth of certain algae which discolour the surface of the stone and makes it water resistant adding to its longevity.
Paul has been instrumental in the installation of a water treatment and recycling system which has dramatically reduced the need to use costly mains water. Water is required to lubricate the stone and blades during the cutting process. It also helps to reduce the amount of dust created resulting in a cleaner, safer working environment. The water then drains away into a guttering system and is collected, filtered and treated. Clean water is also used by the high pressure hoses which clean the stone following cutting.
Although a fan of using technology to improve the production process, Paul appreciates the need for the hand finishing skills of the true craftsman: "There will always be an element of the human touch in all that we do." Paul gives all the projects which go through the Bespoke Stone Centre the same high level of attention and attention to detail from a complex set of steps to delicate engraving.